When it comes to making cocktails, glassware becomes so much more than just a vessel to hold a drink in. The visual appeal of a glass, such as an iconic champagne flute or elegant coupe, can make a lasting first impression whilst subtly manipulating the drinking experience with clever design. This guide is a run-down of some of the most popular cocktail glassware and explains why bartenders serve drinks in particular glasses.
Tumblers
Highball
This long glass tumbler [pictured right] is used to serve tall cocktails that contain a spirit and a large proportion of mixer, such as a Seedlip & Tonic, poured over lots of ice to keep the drink colder for longer.
Sling
Another long, tumbler-style glass with a stumpy stem and sturdy base. A sling was originally a North American drink combining a spirit, water and sugar. Because of its narrow shape, ice isn't used in a sling.
Rocks Glass
This is the classic tumbler shape. Shorter than a highball, a rocks glass is used for stronger, shorter drinks served over ice. We use a rocks glass to serve a NOgroni, a Negroni without the alcohol. The rocks glass is designed to serve bold, intense drinks and gives a good hit of the liquid's aroma before it's tasted.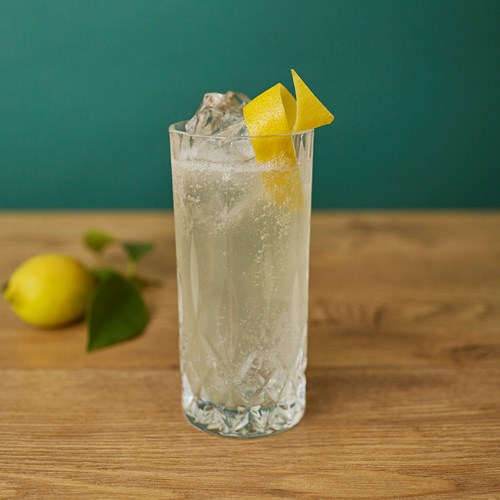 Stemware
Wine Glass
Wine glasses are perfect for cocktails paired with food. They capture delicate aromas with their bowl-shaped design and like a great wine, you engage with a wine glass in a unique and captivating way by swirling the liquid around and embracing the colour. More importantly, it's a glass that prompts a joyful "Cheers!"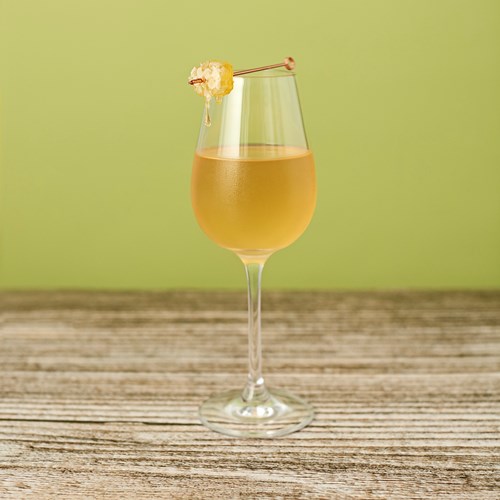 Cocktail Glass
More commonly known as a Martini glass, this is the iconic shape most synonymous with the cocktail but now feels a little dated. Its short, angular cup lends itself to chilled mixes shaken or stirred with ice, but served straight up.
Flute
The flute has a timeless elegance. Invented to enhance the experience of drinking Champagne, the glass has an inward taper near the lip to reduce surface area and retain carbonation of the fizz. The long, narrow bowl shape enhances the drink's visual appeal and aroma.
Coupe
Another glass suited to serving straight-up drinks. The exact shape of the coupe can vary but each design will feature a broad, shallow bowl on a stem. Once a favourite for serving Champagne, it fell out of favour in the 1960s to be replaced by the flute. With the rise of historical drinking dens it's making a comeback in bars around the world to serve cocktails. We use a coupe for our Espresso MartiNO, a twist on the classic Espresso Martini, and MartiNO our non-alcoholic version of a Martini using Seedlip Garden 108 and the Dry variant of Æcorn Aperitifs.
Odds & Sods
This section includes unusual ways of serving a cocktail that make use of miscellaneous tableware that you might have lying around the house.
Masu or Sake Cup
Originating from Japan, this four-cornered wooden box is a traditional way of serving Sake, a type of rice wine. Used at special occasions, you should hold the Masu Cup diagonally towards you, with your hands holding opposing corners so that you can sip from the third corner facing you. You might not have one knocking about at home but vessels like these add a sense of ritual and belonging to the cocktail-drinking experience.
Ceramic Vessels
Before buying anything new, check the cupboards. You might already have a collection of beautiful dipping bowls or unusual ceramic cups suited to serving cocktails. Using unusual items adds intrigue to drink and will capture the attention of your guests who will feel more encouraged to sip and ponder over the flavours they're experiencing.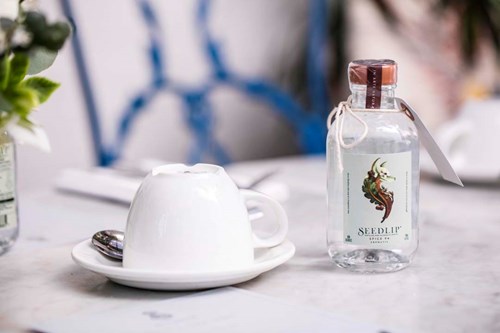 Tea Cups
Think Mad Hatters Tea Party and surprise your guests with an elegant tea-based cocktail served in a tea set. It's a perfect way to encourage sharing, and can be quite fun when paired with scones and jam.