A Guide to Seedlip Garden 108
We understand the unusual flavour of Seedlip Garden 108 may do with a bit of explaining. So, here's a handy guide to our herbal blend.
'The one with the Peas' is a phrase we hear often at Seedlip. Our second distilled non-alcoholic spirit was launched in 2016 and ever since, its hero ingredient, the humble Pea, has stolen the hearts and taste buds of so many–but it's still a bit 'too different' for some.
Our founder, Ben Branson created Seedlip Garden 108 to recreate memories of sitting in the fields on his family farm in Lincolnshire, eating freshly picked Peas with his grandfather.
The taste of Seedlip Garden 108 isn't like a gin – deliberately so – as there isn't any juniper, the ingredient legally required to call a product a gin, in the blend or other traditional gin botanicals. Instead, it's an entirely new, sophisticated flavour profile that celebrates the essence of the English countryside. 
Savoury top notes of Peas, Hay and Hops are followed by a complex herbal base character from traditional garden herbs: Spearmint, Rosemary and Thyme.
The bright, verdant flavour of this Seedlip non-alcoholic spirit is a delicious way to moderate your alcohol intake any day of the week and it's our go-to when we need a refreshing drink on a warm, sunny day. Simply topped with a splash of Tonic, Seedlip Garden 108 offers a unique, flavourful non-alcoholic cocktail that's incredibly easy to make. It can also be used as the base spirit in elegant, elevated serves such as the MartiNO, Rosemary Booch or Teatime Cooler.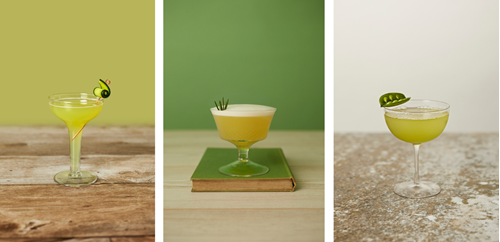 How is Seedlip Garden 108 made?
Seedlip non-alcoholic spirits are big on flavour, made using only the highest quality, globally sourced botanical ingredients. To extract maximum flavour from each botanical, we macerate each by steeping them in water and a small amount of Neutral Grain Spirit [ NGS ]. The liquid is then distilled twice, in a bespoke process, during which any residual alcohol from the maceration stage of the process is removed. Followed by filtration, these first few phases apply to each individual botanical. Those distillates are then blended, bottled, and prepared for distribution worldwide.
Tasting notes
The exact blending process of the six ingredients that make up Seedlip Garden 108 is a well-kept secret. But what are those six botanical ingredients that give Seedlip Garden 108 its unique flavour profile?
ENGLISH PEA
Think freshly cut grass and savoury flavours, Peas are the hero ingredient and they bring all the green notes to the blend.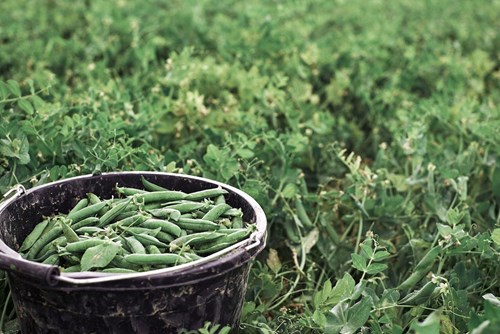 HOPS
The astringent flavour in Hops offers a particular mouth feel, similar to the experience of drinking red wine or tea. Most commonly used in beer, Hops add peppery and citrus-like elements to Seedlip Garden 108.
HAY
Unusual, sure, but the green and dry flavours of Ryegrass Hay are delicious –try baking vegetables in Hay –and compliment the fresh, brighter notes from the Peas and herbs.
SPEARMINT
Herbal and crisp, Spearmint offers menthol freshness at the fore of Seedlip Garden 108. If you ever opt to grow Spearmint in the garden, grow it in a pot as it has a habit of taking over when left to roam freely. 
ROSEMARY
A woody perennial herb with fragrant leaves native to the Mediterranean region, Rosemary brings a defining herbaceous character to Seedlip Garden 108.
THYME
Fragrant and floral, Thyme is piney and peppery on the palate with Mint and bitter Lemon notes.
Complimentary ingredients and food pairing
Apple, Rhubarb, Basil, Cucumber, Elderflower, Lime. These are the ingredients you should reach for first if you're thinking of making a seasonal shrub or syrup to accompany Seedlip Garden 108 in a cocktail recipe.
Or, if you're hosting a pairing dinner, Seedlip Garden 108 cocktails work well when paired with starters, white fish, salads, palate cleansers, and sorbets. The refreshing and surprising flavor combination will offer intrigue and elegance to your evening.
Top tip: Use ingredients which reflect, without overpowering, a dish.
Here are some of our favorite ways to enjoy Seedlip Garden 108. For more recipes visit our Cocktails page.
SEEDLIP GARDEN 108 & TONIC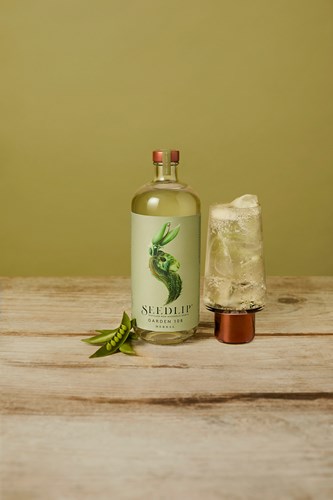 INGREDIENTS
Seedlip Garden 108: 50ml
Fever-Tree Indian Tonic: Top
GLASS & GARNISH
Highball
Sugar Snap Pea
METHOD
Build over ice.