Branches laden with round succulent Plums (Prunus domestica) ripe for the picking are a sign of the change in seasons. There are over 2,000 types of Plum, making it the most diverse of the stone fruit. Originating in China, Plums have been cultivated by humans for thousands of years with some records even suggesting they had been eaten in the Neolithic Period, around 12,000 years ago.
Myths & Legends
According to Chinese mythology, immortals fed on Plums to enhance strength and vitality. The Japanese believe the Plum is a protective charm against evil spirits and plant trees in the northeast of the garden, the direction from which evil comes.
Pershore in Worcestershire has its very own Plum Charmer who, in the Summer, plays music to plum trees to ward off spirits and ensure a bountiful harvest. The town is famous for growing plums and during the First World War, they sent tons of Plums by train to support the national food shortage. Great Western Railway thanked their effort by naming an engine The Pershore Plum.
Cultivars
The Japanese Plum, Prunus salicina, is the species you are most likely to find on supermarket shelves because the large fruits and its long shelf life make it more commercially desirable. Wild species of Plum are rare because the plant has been so extensively domesticated, but there is a wild variety in the UK called Prunus spinosa, the Common Sloe, and ripe berries can be found in hedgerows in September.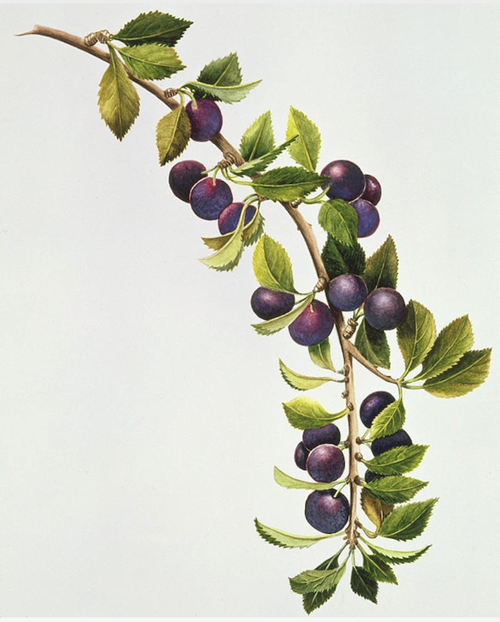 Other favourites include:
I. 'Victoria'
Perhaps the most well-known Plum cultivar. It's an orangey-red dessert plum that is ready to pick in August to early September. Victoria plums are self-fertile, which means you don't need two different plum trees to be able to produce fruit.
II. 'Marjorie's Seedling'
This is a culinary Plum, blue in colour, that has good disease resistance. Similarly to Victoria, it is self-fertile and can be grown in northern regions. Harvest in September.
III. 'Mirabelle de Nancy'
This is the most popular Mirabelle Plum. It produces small, cherry-sized golden fruit that is sweet in flavour from August to early September. It's very popular in France for cooking or jam-making. It's only partly self-fertile.
Tasting notes
Stewed with sugar for pies and crumbles, eaten raw, and dried into prunes, Plums have many culinary uses. Damson Plums make the best jam because they are rich and sour in flavour, and dark purple in colour. Greengages have recognisable yellow-green skin and are great for desserts. Mirabelle Plums are popular in Europe. Best eaten when fresh, a Mirabelle Plum can be identified by its dark yellow, almost orange colouring.
Why use plums in cocktail-making?
The sweetness of the flesh and the tannic dryness in the skin of a Plum creates a complex, multi-layered flavour profile that is ideal for cocktail-making. Like Grape skin used in wine, Plums vary greatly in taste and appearance, and thanks to their infamous preserving qualities, you can capture the unique flavours early and continue to enjoy them in the months to come.
Laxton's Gage
Ingredients
Seedlip Garden 108: 50ml Greengage Preserve: 1 bar spoon Lemon Juice: 15ml
Glass & Garnish
Wine glass Garnish wth an edible flower
Method
Shake & fine strain into a wine glass full of ice. Top with soda water.