We adore nature and will never stop celebrating its beauty. Even though travel has been restricted this Summer, we want to take this time to celebrate spending time outdoors by sharing with you our favourite roof top bars & pub gardens across the country because there's nothing quite like drinking Seedlip al-fresco.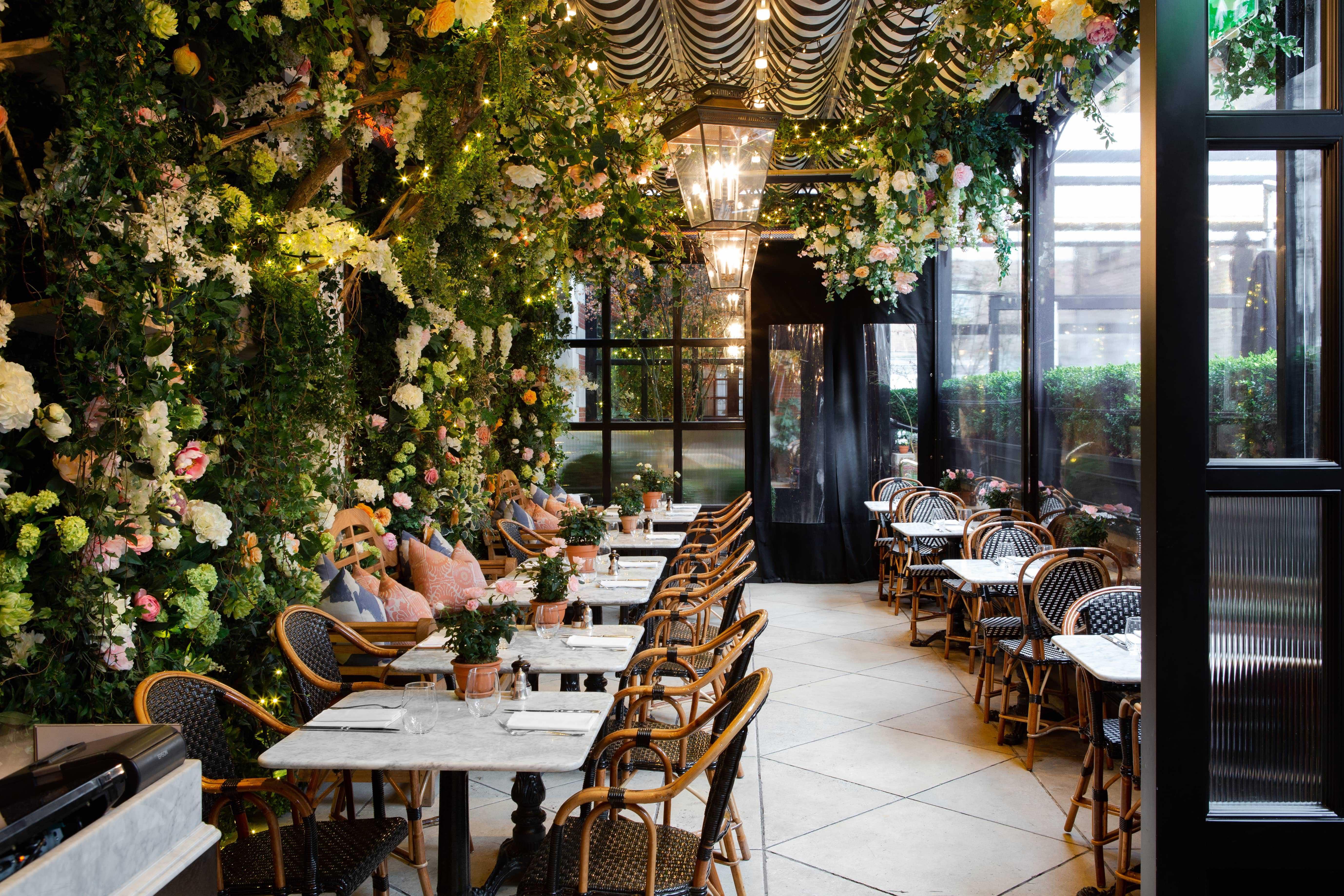 I. DARWIN & WALLACE
No 32 The Old Town, Clapham Common & 601 Queen's Rd, Wimbledon
Two of our favourites in a collection of eight bars by Darwin & Wallace named after their individual addresses. No. 32 The Old Town is a busy independent neighbourhood bar with a a covetable roof terrace overlooking Clapham Common.
What to order: Seedlip Grove 42 & Tonic
II. DALLOWAY TERRACE
16-22 Great Russell Street, Bloomsbury, London WC1B 3NN
Dalloway Terrace is a celebrity hangout and one of London's most instagrammable restaurants.
What to order: Living in Coral. Seedlip Spice 94, Pineapple & Earl Grey Shrub, Coconut Water, LE Soda Water
III. THE IVY IN BATH
39 Milsom St, Bath BA1 1DS
The Ivy Bath Brasserie and Seedlip celebrate their first terrace takeover in the centre of the historic city of Bath in September 2020. Together we've created an exclusive limited-edition cocktail menu with recipes inspired by the Pea. Our hero ingredient in Seedlip Garden 108.
What to order: The Garden Party
IV. LINA STORES
20 Stable Street, London N1C 4DR
Transport yourself to the trattorias of Italy. Lina Stores King's Cross has reopened as Lina in Piazza; an al fresco restaurant on Lewis Cubbit Square. The Italian vibe is complete with a classic gelato cart and a Piaggio Ape mobile bar. It's the place to go for Aperitivo.
What to order: The NOgroni. Seedlip Spice 94, Æcorn Bitter & Æcorn Aromatic.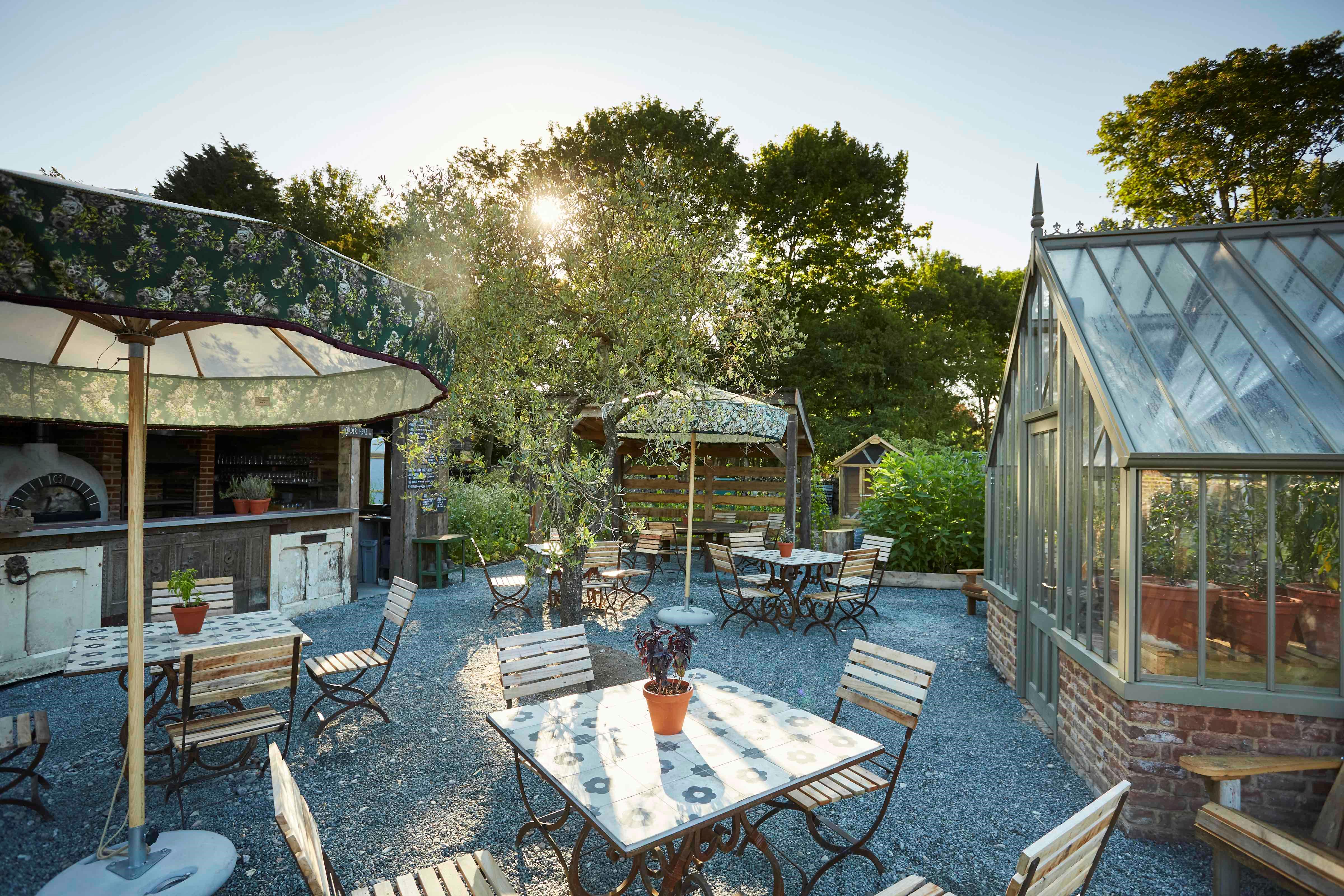 V. NO. 131
131 Promenade, Cheltenham GL50 1NW
Situated right in the heart of Cheltenham, the front terrace at NO. 131 is a sun trap and out the back, there's a whole other terrace to enjoy complete with an outdoor bar.
What to order: Seedlip Grove 42 & Fever-Tree Orange Tonic.
VI. THE PIG HOTEL, BRIDGE PLACE
Bourne Park Rd, Bridge, Canterbury CT4 5BH
Just 56 minutes by train from central London, THE PIG at Bridge, as with every Pig the hotel group owns, has an obsessive commitment to home grown and local produce.
What to order: Black Forest. Seedlip Spice 94, Kentish Garden Blackberries, Fennel Anise Sugar, Lemon, Cranberry with a Blackberry garnish.
VII. THE PIG, NR BATH
Hunstrete House, Hunstrete, Pensford, Bath BS39 4NS
Tucked away in the Mendip Hills, Hunstrete House is a rural getaway with an impressive kitchen garden.
What to order: The Southwest Side. Seedlip Grove 42, Lemon, Garden Basil Syrup topped with light tonic.
VIII. ME LONDON
Strand, London WC2R 1HA
Located on the 10th floor of ME London, Radio Rooftop has incredible views across the River Thames from the Shard and St. Pauls to the London Eye and Big Ben.
What to order: Grapefruit sour. Seedlip spice 94, Grapefruit juice, Lemon, Fever-Tree Mediterranean Tonic
IX. STANLEY'S
51 Sydney St, Chelsea, London SW3 6NT
Inspired by the English country garden, Stanley's can be found just off the Kings Road. They focus on British seasonal produce and showcase the best of British ingredients in a relaxed, modern way.
What to order: Seedlip Grove 42 & Tonic
X. THE PRINCE
14 Lillie Road, London SW6 1TT
More like a street than one pub, The Prince calls itself London's largest pub garden. There's plenty of space to enjoy a relax with a Seedlip in hand and their food menu has some tempting dishes to choose from too.
What to order: Seedlip garden 108 & Fever-Tree Elderflower Tonic
XI. WILD BY TART
3-4 Eccleston Yards, Belgravia, London SW1W 9AZ
Housed in a former power station and coal store, Wild by Tart combines a restaurant, bar & deli, but it's their outdoor pop-up on Eccleston Yards that has us excited this month.
What to order: Seedlip Garden 108 & Tonic. Topped with a Rosemary & Apple garnish.