What have hedgerows ever done for us?
Ah the humble hedge. Symbolic of the English countryside and teeming with life, there are over 30 different regional styles of hedgerow in the UK. A border, a boundary, a home and even a fruit basket, in late Spring, these iconic landmarks come into their own as bright young leaves sprout from bare branches and the first wildflowers appear.
Why hedgerows are important
Hedgerows are an amazing resource for plants and wildlife. According to the People's Trust for Endangered Species [PTES], one study counted 2070 species in one 85 metre stretch of hedge. Songbirds feed on fruit, seeds and insects harbouring in the foliage and Hedgehogs are so synonymous with hedges, they've been named after them. But it isn't just wildlife that benefit; hedges provide shelter for livestock, the trees that make up the main body of the hedge have deep roots, which help to reduce flooding and because hedges are brilliant windbreaks, they prevent soil erosion too.
A small history of the hedge
Hedgerows and traditional hedgelaying declined rapidly after the Second World War. Concerns over food security led to hedges and trees being 'grubbed out' at an alarming rate to make room for crops like wheat and potatoes, and many of the men who knew how to lay hedges never returned from the front, so the traditional skills were lost.
On a more positive note, the garden hedge has always been popular. They are more manicured in appearance than hedgerows and are often topiarised into peacocks or clipped into straight lines. In the 16th century, mazes became a form of entertainment for the upper classes who like to hold secret meetings within the meandering foliage. According to the Guinness World Records, the world's largest permanent hedge maze is the Yancheng Dafeng Dream Maze in mainland China. It covers 35, 596.74 square meters and the pathway is 9,457.36 metres long.
Protecting hedgerows
Neglect is the biggest threat to British hedgerows. Left to their own devices, they eventually grow into a line of trees. To raise awareness of hedgerow conservation and to encourage more people to take up the traditional craft of hedgelaying, the National Hedgelaying Society [NHLS] holds a National Hedgelaying Championship each year.
If you have a hedge, let it grow a little wilder and leave the grass around its base to grow a little longer. If you don't, think about laying one in the traditional way with native trees such as bramble or blackthorn. Very soon you'll find more wildlife in your garden and you'll be rewarded with your own crop of blackberries and sloes.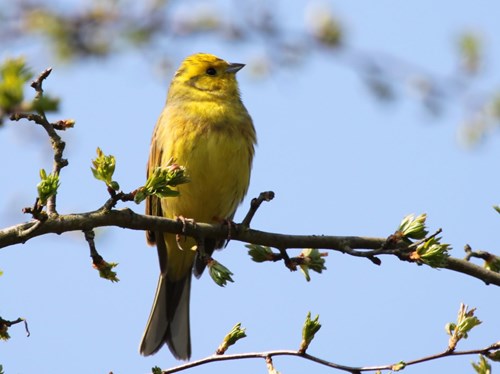 Hedgerows support woodland birds such as the endangered Yellowhammer [pictured]