A delicacy in the 17th century, kings were known to wow guests at banquets with platters of freshly picked Peas. Peas are nitrogen fixing (good for the soil) and there is more protein in a cup of Peas than in an egg, more fibre than in a slice of wholemeal bread and more vitamin C than in two Apples. They bring all those fresh green notes to Seedlip Garden 108. Eat your Peas, please.
We burrow into the world of Peas to show you why we think this plant needs celebrating, plus explain why it has become such a key ingredient for Seedlip.
Seedlip & the Pea
It's no secret that, at Seedlip, we're a bit obsessed with Peas.
Our deep-rooted love for this humblest of vegetables stems from our founder, Ben Branson. Ben's family have been farming for over 320 years and have thrived on Pea production. Ben has the word Peas tattooed onto his knuckles.
We as a team have visited Ben's family farm to help with the Pea harvest and in 2018, Seedlip won a Gold Medal for its Pea-themed Garden at RHS Chelsea Flower Show, designed by Catherine McDonald.
But, most importantly, the Pea is a key ingredient in Seedlip Garden 108.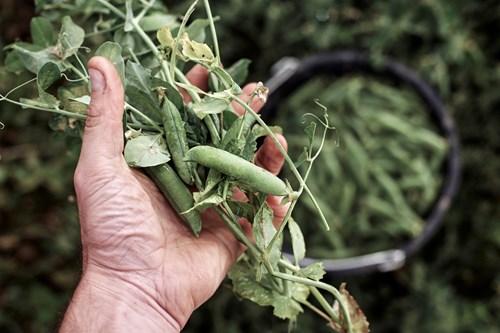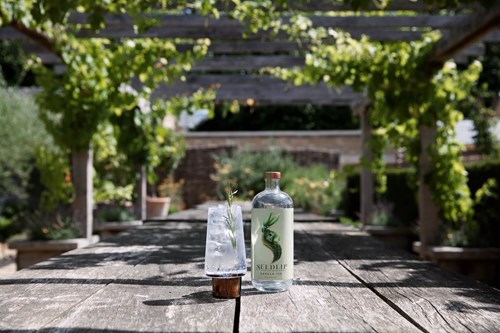 Seedlip Garden 108
This fresh and floral member of the Seedlip range of non-alcoholic spirits captures the essence of the English countryside. Peas, Hops and Hay, provide the liquid with its sophisticated top notes, while Spearmint, Rosemary and Thyme add a complex herbal base character.
To make the perfect Seedlip Garden 108 & Tonic, pour 50ml over ice and top with Tonic. Garnish with a Sugar Snap Pea.
Why the 108? On average, from the day they're sown, Peas take 108 days to grow and mature enough to be harvested.
Eating
These are three main types of Peas we grow and eat.
Sugar snap peas Pisum sativum var. marcrocarpon
Coca Cola was invented long before the Sugar Snap Pea. Only 35 years young, this particular type of Pea has quickly established itself as a household favourite and it's our go-to garnish for Seedlip Garden 108. First bred by Calvin Lamborn in Idaho, USA, Sugar Snaps are more cylindrical than Mangetout or English Peas and both the plump seeds and sweet pods are edible to avoid the time-consuming task of shelling.
Recommended cultivars: Cascadia, Sugar Ann, Sugar Daddy, Super Sugar Snap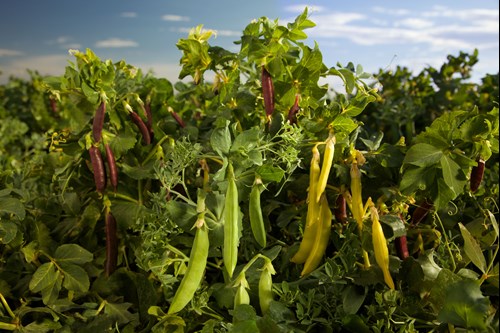 Snow Peas Pisum sativum var. saccharatum
More commonly known in the UK by their French name, Mangetout, Snow Pea pods are almost flat in appearance. Hold them up to the light and small seeds can be seen through the pods translucent skin. These Peas are best eaten whole and add sweetness and crunch to dishes such as stir fries and salads. Our advice if you're growing your own ¬– harvest them before the pods toughen up.
Recommended cultivars: Golden Sweet, Oregon Giant, Oregon Sugar pod, Mammoth Melting Sugar
English Peas Pisum sativum var. sativum
The Peas of your childhood – the ones that ran around your plate while you desperately try and spear them with the prongs of your fork – are English Peas. You're more likely to buy them frozen than fresh, as big Pea giants such as Birds Eye conveniently do all the shelling from the tough, pretty inedible pods, so you don't have to. If you are thinking of growing your own English Peas, make sure you give the peas time to swell to a decent size before harvesting them.
Recommended cultivars: Green Arrow, Maestro, Lincoln, Tall Telephone
Drinking
An easy-to-make cocktail to introduce a little class to a Friday-night in or a garden party with friends.
MartiNO
Ingredients
Seedlip Garden 108: 40ml
Æcorn Dry White: 40ml
Glass & Garnish
Coupe of Martini
Lemon twist
Method
Pour over ice, into a cocktail shaker. Short stir. Strain. Garnish.