Andrew Gregson is the founder of experimental work space Green Lab in London. He has a passion for the natural world, and at one time dreamed of being a marine biologist. But life, as it does, took Andrew down a different route. He spent most of his youth working in tech, including Apple, BT & Sky and later set up a few of his own companies, one of which looked at social media and real-time news, another was a maker space called Fab Lab London.
Green Lab was next. Set up in 2015, Andrew wanted to move from a normal maker space to a lab that looked at sustainable systems within nature, food, waste and water. Andrew describes the move as a "generational jump", bringing together his experience in tech innovation and his passion for nature.
It's hard to pinpoint exactly what Green Lab is, but in a way, that's the beauty of the space. It's unconstrained and facilitates out-of-the-box thinking. Green Lab offers an array of different services to support the growing need for sustainable business models, whether that is vertical farming, breeding insects, fermentation [kombucha], micro greens, mycelium or bio plastics; "projects that are quite interesting and could change the status quo" explains Andrew.
The key motivation behind Green Lab is adventure. "Green Lab looks for individuals who don't simply want to tinker, but actually want to make a difference" says Andrew, stating that impact orientated businesses or start-ups are the type Green Lab attracts. "Thanks to the serendipitous nature of how the space works, agriculturalists, botanists, scientists, engineers & designers can mix and play to come up with quite wacky ideas".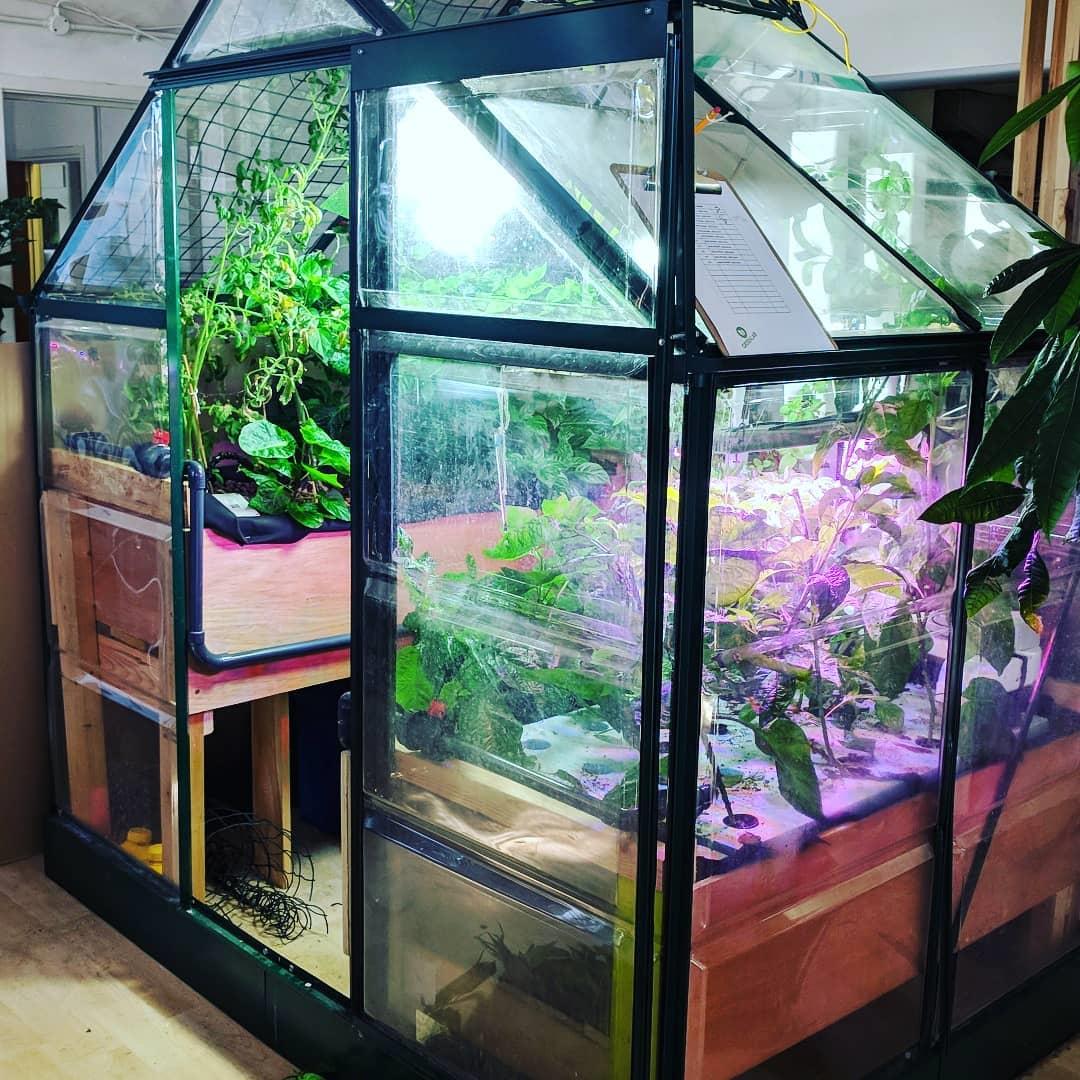 Green Lab is the name for the space as a whole but there are in fact four labs within Green Lab itself:
I. Material Lab, which contains a material library; a wardrobe of different materials from chicken bone china to urine-based ceramics and banana peel dye.
II. The Fab Lab has laser cutters, 3D Printers, plus access to robotics and photography equipment.
III. The Grow Space is filled with plants & animals such as Tomatoes, Chilli plants, Insects and Fish, and is used as a hub for events and co-working. It's also home to a 4x3m vertical farm.
IV. Bio Lab is the most recent addition to the group.
The need for institutions such as Green Lab is growing, fuelled by the realisation of how our lifestyle is impacting the planet. "Consequences of the decisions made now are going to impact a generation 10, 20, and 40 years from now" Andrew says, but he's well aware of the struggle to make positive changes in a volatile political and social climate "we're trying to change the aeroplane whilst we're flying it, and different pilots are jumping in and out."
When quizzed about a small change each individual could make to their everyday lives to make a big impact, his answer is simple; "Think about the plastic surrounding the food you buy every day. Apples are encased in plastic wrap and you can't recycle it. Cucumbers are covered in cellophane. Buy less, and eventually the pressure will build to use less."
You can find out more about Green Lab here