Both rooted in nature and working with only the highest quality fresh ingredients, it felt only natural that THE PIG and Seedlip would team up this January. Going back over four years, our shared values towards the natural world and love for all things local, means that each Seedlip served across the eight hotels is truly unique to each rural location. Founded in 2015 by Ben Branson, Seedlip distils plants, botanicals, and herbs to create a delicious range of non-alcoholic spirits, featuring three unique flavours: the citrus Grove 42, aromatic Spice 94 and herbal Garden 108. THE PIGs' shared ethos influences both the bar and 25-mile menu, sourcing only the best and most sustainable produce their Kitchen Gardeners and Chefs can get their hands on.

Each variant of Seedlip can be mixed with tonic as a delightfully fresh, sophisticated non-alcoholic highball. Seedlip also provides an excellent base for mixing flavourful non-alcoholic cocktails. Much like how we create our serves at Seedlip, THE PIGs try to touch each drink with something from their gardens. Whether they are using leftover fruit to make syrup, infusing spirits, or dehydrating a Kitchen Garden ingredient to garnish, THE PIG Team are always searching for ways to make their ingredients go the extra mile.
To celebrate all the inspiring non-alcoholic options this January, THE PIG tasked their Bar Teams to create a winning zero-alcohol, zero-waste Seedlip cocktail for THE PIG and Seedlip to share both online and across their hotels throughout the month. The team really put their creative hats on and pulled out all the stops, finding ingredients in and around the hotels to create something truly unique. Experts at reducing ingredients down into syrups for cocktails, the teams mixed up 'Seeds of Sensibility' which was made with a zero-waste syrup using leftover oranges, rosemary, and clove, as well as 'Zhero' created with Seedlip Spice 94, Champagne Soda and leftover beetroot reduced into a syrup. 'Toast to the Garden' took inspiration from Toast Beer, using strained focaccia from THE PIG Kitchens and rosemary from the garden. Also making the most of going from garden to glass was 'Seedlip Spice and Everything Nice' infusing Seedlip Spice 94 with mint and ginger from our gardens with a delicate cucumber ribbon garnish.
The show-stopping serve was created by Calum and the Bar Team at THE PIG-in the South Downs. Introducing… The Crème Bru Nay.
The Crème Bru Nay

Ingredients:

35ml Used Coffee Ground Infused Seedlip Spice 94**
35ml Fresh Coffee
35ml Creme Brûlée Cream*
10ml Caramel Syrup

Method:

Stir all ingredients in mixing glass with ice.
Strain into Nick and Nora or Martini glass.
Garnish with coffee beans.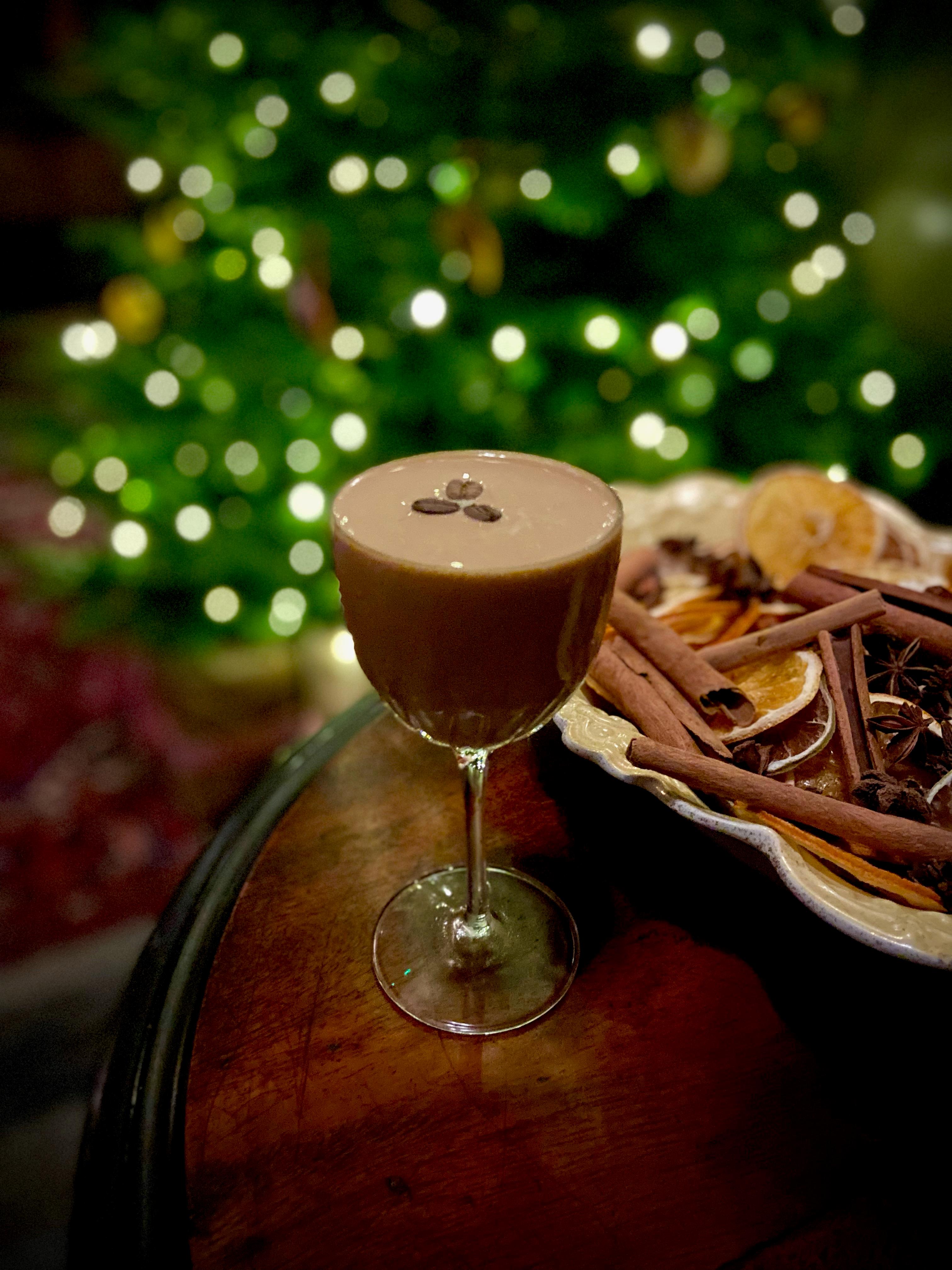 "When it comes to toasting the occasion, nothing is ever quite able to replace that celebratory Espresso Martini. Even the bartender's valiant effort to muddle together some form of non-alcoholic version often seems to fall short. That's why we decided to create something that could rival even the very best espresso martinis out there and still contain zero alcohol. Introducing the Creme Bru Nay, our decadent non-alcoholic Espresso Martini."

"Our sustainable twist was something we wanted every household to be able to make the most of! Although you can use spent coffee grounds for many things: fertilizer for your garden, to exfoliate your skin, or to grow mushrooms, we have opted to infuse our used coffee grounds into Seedlip Spice 94. The warming flavours of allspice berries and cardamom along with the woody notes from two bark distillates of the Seedlip Spice 94, works excellently with the bitterness of the coffee grounds to produce the base of our non-alcoholic Espresso Martini."

This one was too good not to share - head to any PIG to try it for yourself this January, or if you're feeling extra creative you can recreate at home…
*Creme Brûlée Cream
Ingredients:

400ml Double Cream
100ml Whole Milk
50g Caster Sugar
1 Whole Vanilla Pod (split in half and scrape seeds into mix, then add the vanilla pod itself)
Pinch of Salt
(Pinch of espresso powder if you have it)
**Seedlip infusion
Ingredients

100g of used coffee beans
700ml Seedlip Spice 94

Method:

Mix 100g of used coffee grains with 700ml of Seedlip Spice 94
Mix well and leave to infuse for an hour.
Strain mix through muslin cloth.
Zero Waste: using old oranges that used in bar that have been peeled to make syrup 

Garden ingredient: rosemary in glass and as garnish

Ingredients:
35ml Seedlip Spice 94,
25ml homemade orange, clove and rosemary syrup, tonic water, orange slice and sprig of rosemary

Method: build in glass, muddle orange slice and rosemary at bottom of glass, add Seedlip, syrup and stir to mix. Add ice, top with tonic water then stir to mix through glass. Garnish with rosemary sprig.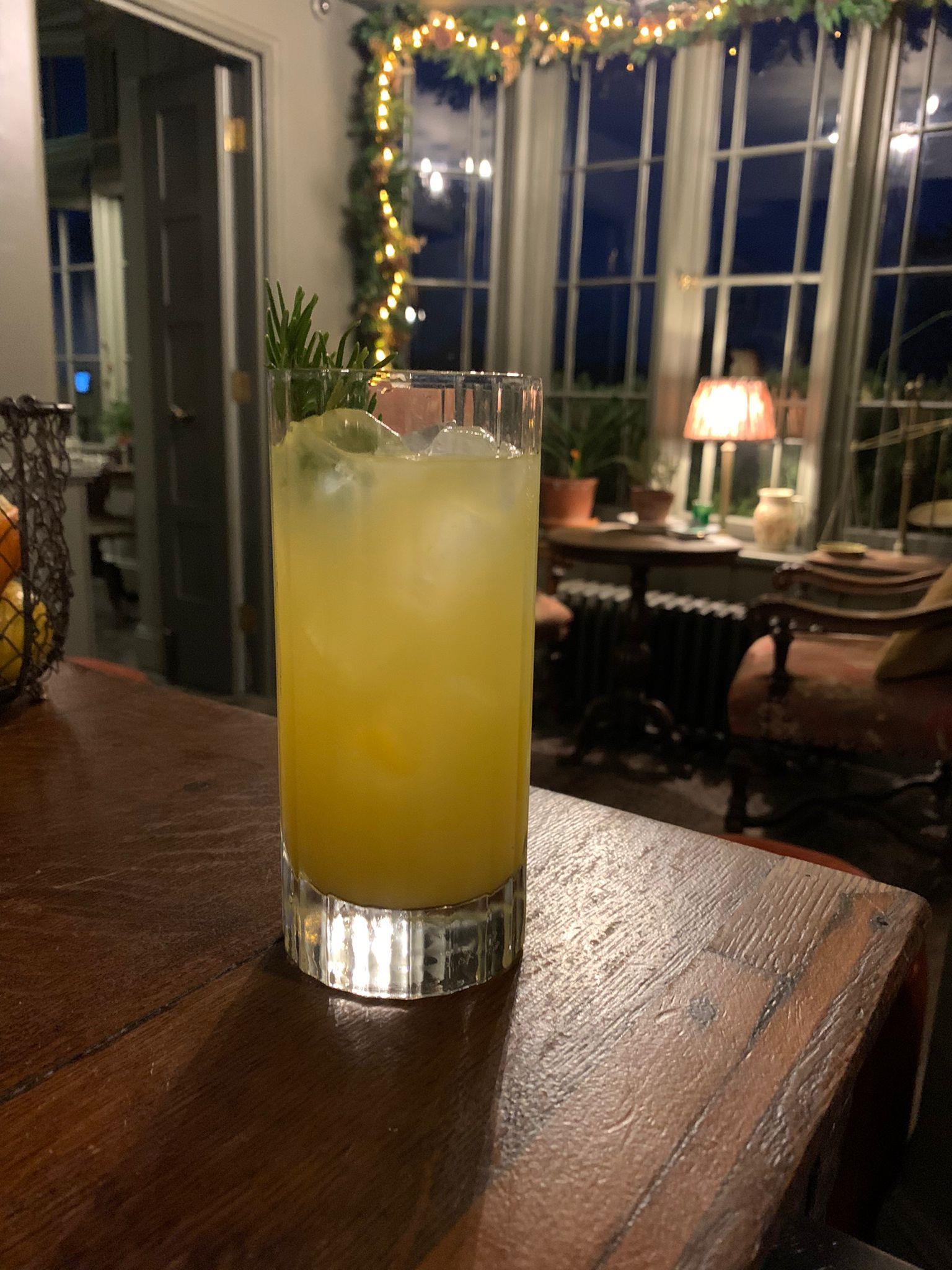 Ingredients:

Seedlip Spice 94
Beetroot shrub
"Champagne" Soda

Garnish: Beetroot Tuile, Rosemary & Douglas Fir

Method: mix all ingredients together.

Glassware: upcycled fruit juice bottle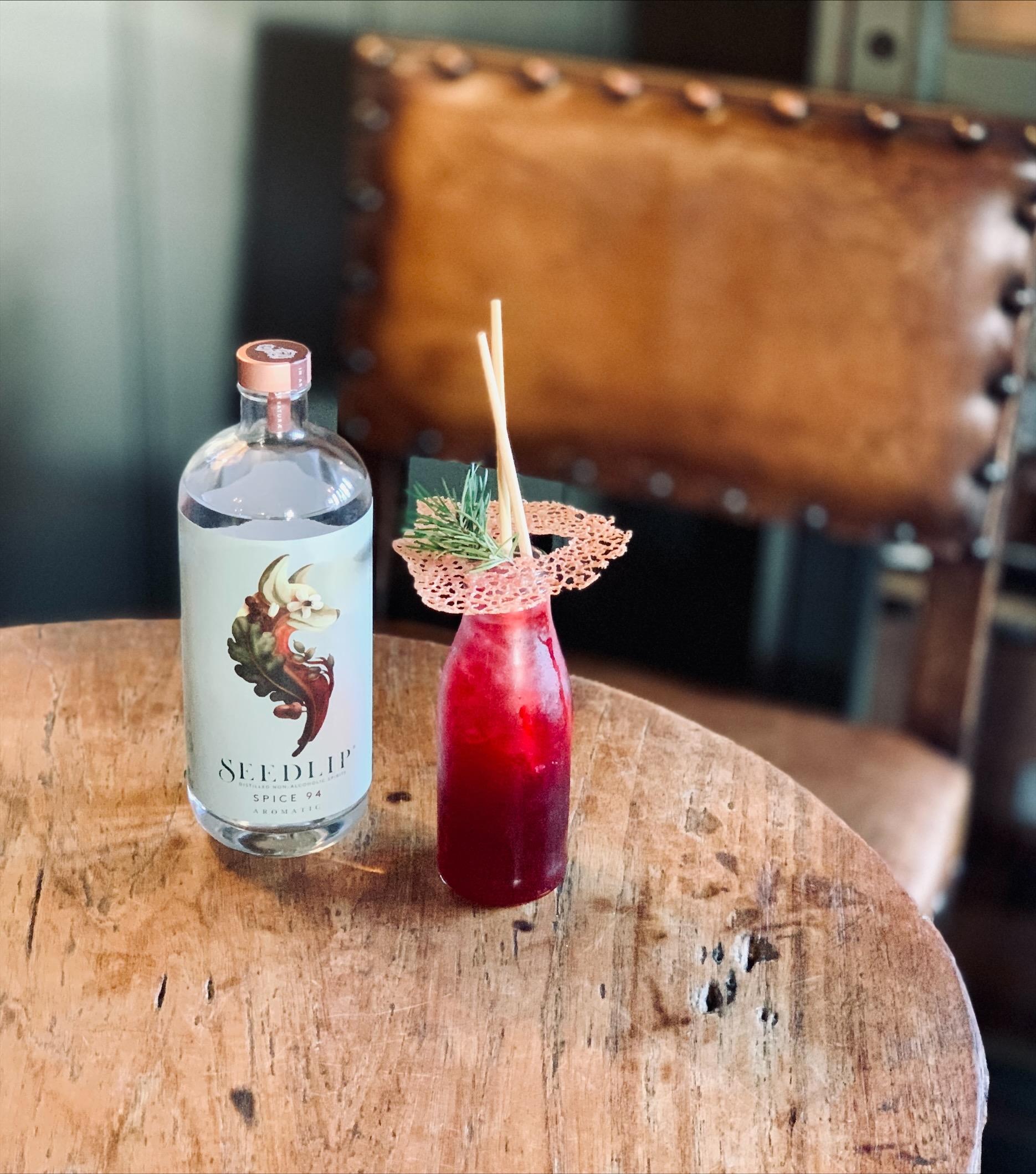 Beetroot Shrub:
Leftover beetroot from the kitchen turned into a reduction/syrup mixed with sugar and then mixed with 1:1 ratio of cider vinegar to create a shrub.
The leftover pulp/flesh has been dehydrated and turned into beetroot powder which is used for the beetroot tuile garnish.


Champagne soda:
Leftover/flat fizz, cooked reduced mixed with sugar & citric+lactic acid. The reduction mixed with filtered water and carbonated with Co2.
Ingredients 

50 ml Seedlip Grove 42
35 ml Citrus herb focaccia syrup
25ml Lime juice
Garnish - rosemary & thyme salt rim

Method:

Rim 1/2 the coupe with herb salt
Add 50ml Seedlip Grove 42,
35ml Citrus Herb Focaccia Syrup & 25ml lime juice to shaker,
shake with ice & double strain into a salt-rimmed coupe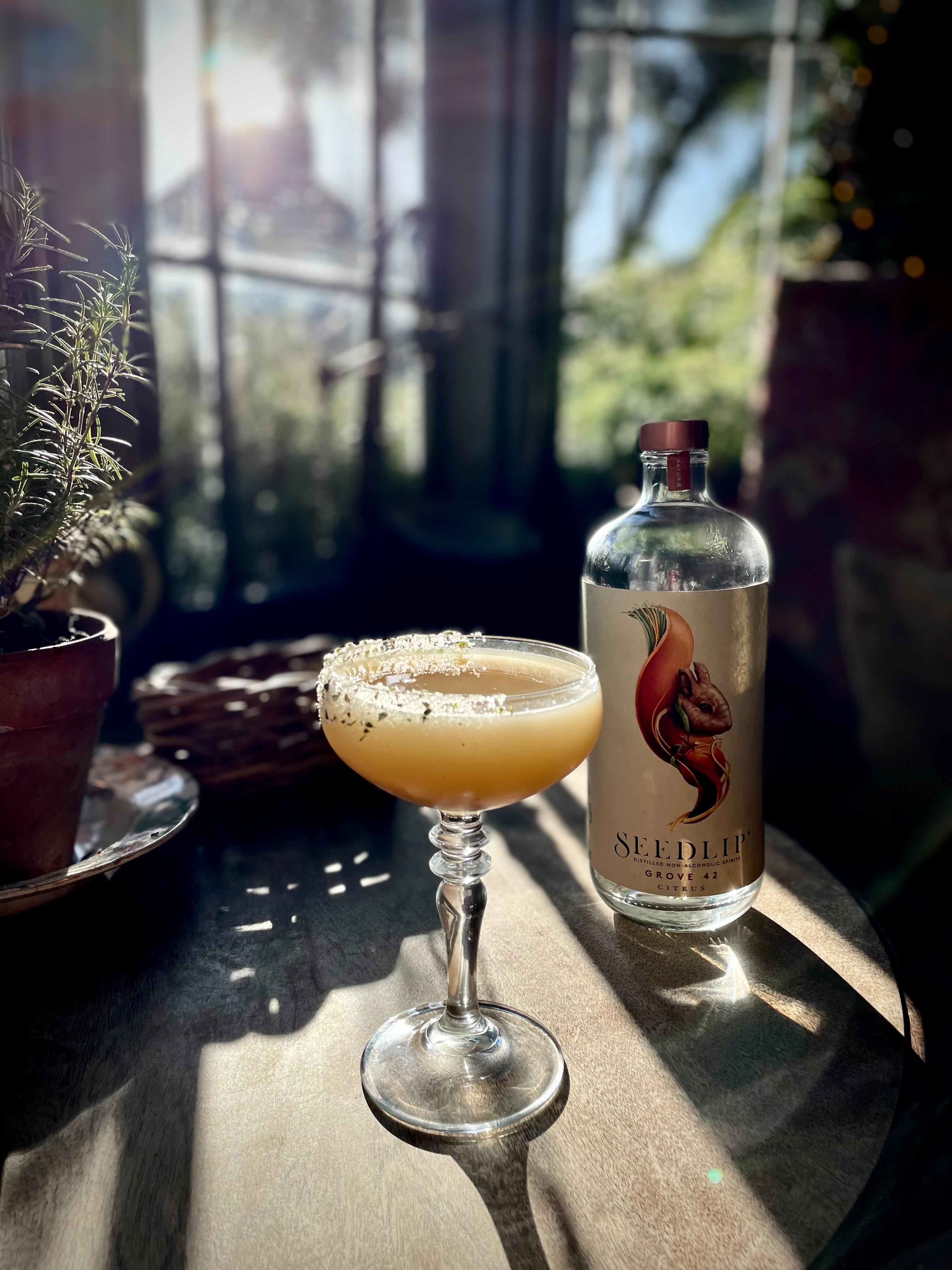 Citrus herb focaccia syrup:

Defrost bread first if frozen.Toast left over Garden rosemary & thyme focaccia
Break up into chunks & weigh.
Add 5 times weight in hot water, let infuse for at least 1/2 hour, fine strain
Add strained focaccia water to pan with same weight of unrefined soft brown sugar,  a few extra sprigs of rosemary & thyme from the garden and left over citrus (can be used straight from frozen)
Bring to the boil & simmer for 5/10 minutes
Once cool, fine strain and chill - will keep up to 1 month.
To make herb salt - add rosemary & thyme leaves to sea salt and blend 
Seedlip Spice and Everything Nice
Ingredients

50 ml Seedlip Spice 94
30 ml Spice syrup**
3 or 4 cucumber slices
Sweet and sour rim*
Cucumber shaving garnish

Method

Prepare the coupe by running a slice of lemon on the edge and dip the coupe upside down in the plate with the sweet and sour mix
 In a stirring glass muddle 3-4 cucumber slices
add 50 ml Seedlip Spice
add 30 ml Spice syrup
Stir all ingredients 
Single strain into the coupe and garnish with a cucumber shaving.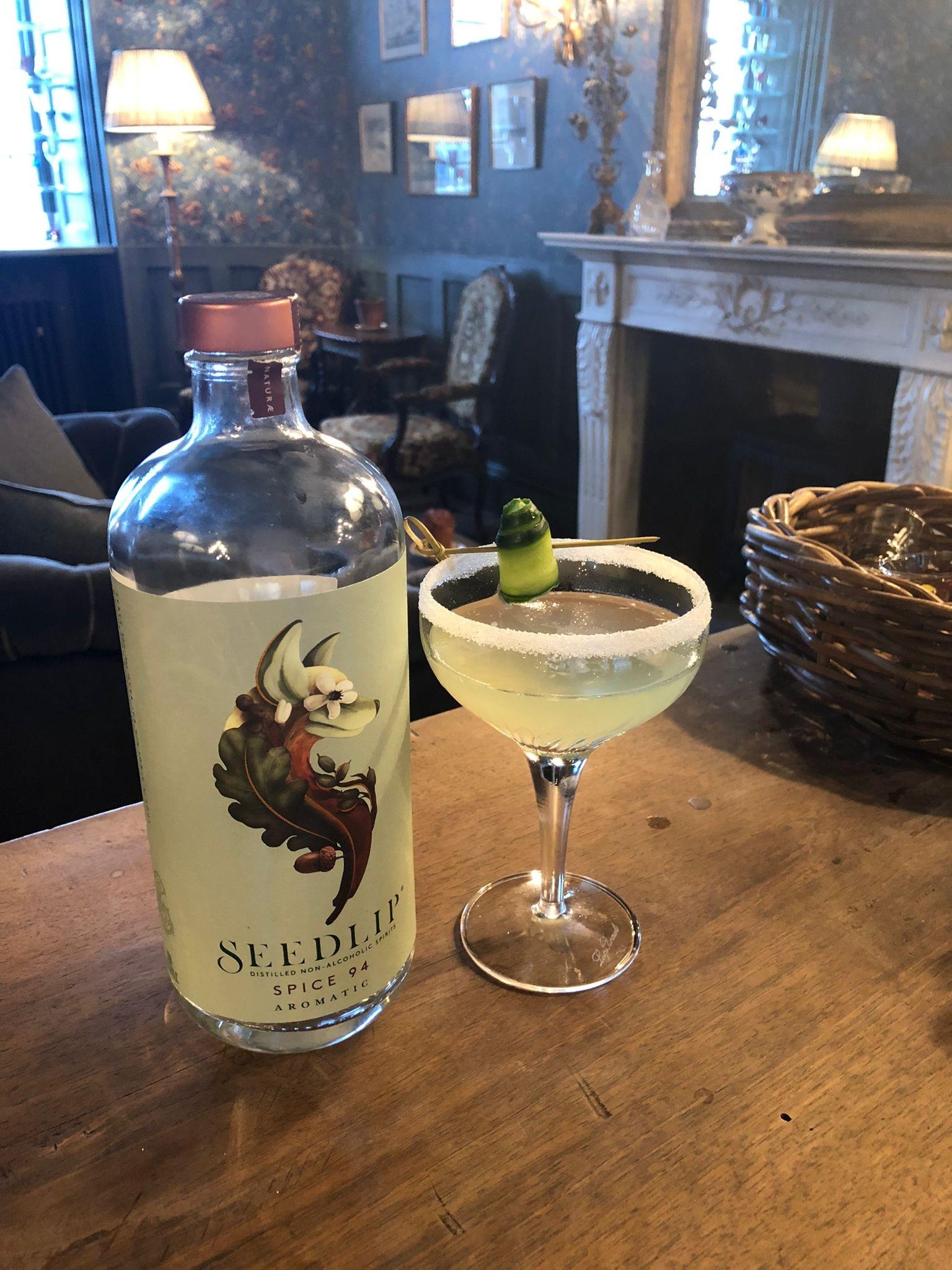 Spice Syrup**

400 ml simple syrup 
10 or 12 mint leaves
A hand full of White Pepper Corns (cracked)
5 or 6 ginger slices
3 star anise
To be left to infuse for 48 hours before straining into a bottle.
Sweet and sour rim*
On a plate mix 1 part citric acid to 5 parts sugar.