It's often thought that looking at certain colours impacts our mood and how we feel. Whilst yellow is one of the most obvious mood brighteners, instantly conjuring up feelings of warmth and optimism; shades of blue have been shown to be highly effective in creating a productive working environment, evoking feelings of relaxation and calmness. Colours surround us every day, and it is no wonder brightly coloured items elicit feelings of joy and happiness. Take a second to fill your mind with pictures of birthday balloons, sprawling rainbows, different flavoured ice creams topped with brightly coloured sprinkles, fireworks, butterflies…. Colours can shape our everyday thoughts, feelings and ultimately our behaviour. We have an emotional connection to these images, and colours generate that within us.

As trend experts Pinterest foresee a summer of joyful colour everywhere from fashion to food, Seedlip has created three colourful cocktails to show you how to get a taste of the trend! Our three colourful cocktails are inspired by vibrant natural ingredients and each use one expression of Seedlip. We are lucky to be exposed to the true beauty of colour in the natural world every day. Picture the scene of a beach sunset- the yellow, red, and orange colours appearing like an oil painting across the sky fading into the blue hues of the ocean. Or a long stroll through a forest filled with endless shades of green and bursts of vivid eye-catching flora. Nature is abundant with colour – you only have to walk through a veggie patch or a local market to see the incredibly rich range of colours in fruits, vegetables, herbs, plants and spices. Below we've taken 3 of our favourite colours and created a tasty Seedlip tipple using natural produce you can find in local markets and shops. We know you're going to love them!
The colour green instantly springs to mind the natural world that surrounds us – something we at Seedlip are constantly inspired by. Spending time surrounded by trees and plants can make us feel more grounded, present, and connected. Even just a short daily exposure to nature makes me feel fresh and focussed.

Our Seedlip Garden 108 is distilled with fresh green herbs such as Mint, Rosemary, and Thyme as well as green garden Peas – I couldn't think of a more fitting colour to make this cocktail. It is vibrant, delicious, and versatile – if you have any leftover herbs in your kitchen this is an excellent way of using them before they wilt. I hope this Green Garden Cooler brings some brightness to your dinner table, garden party, or wherever you happen to be enjoying it. It also works well as a sharing serve so grab a carafe and get shaking!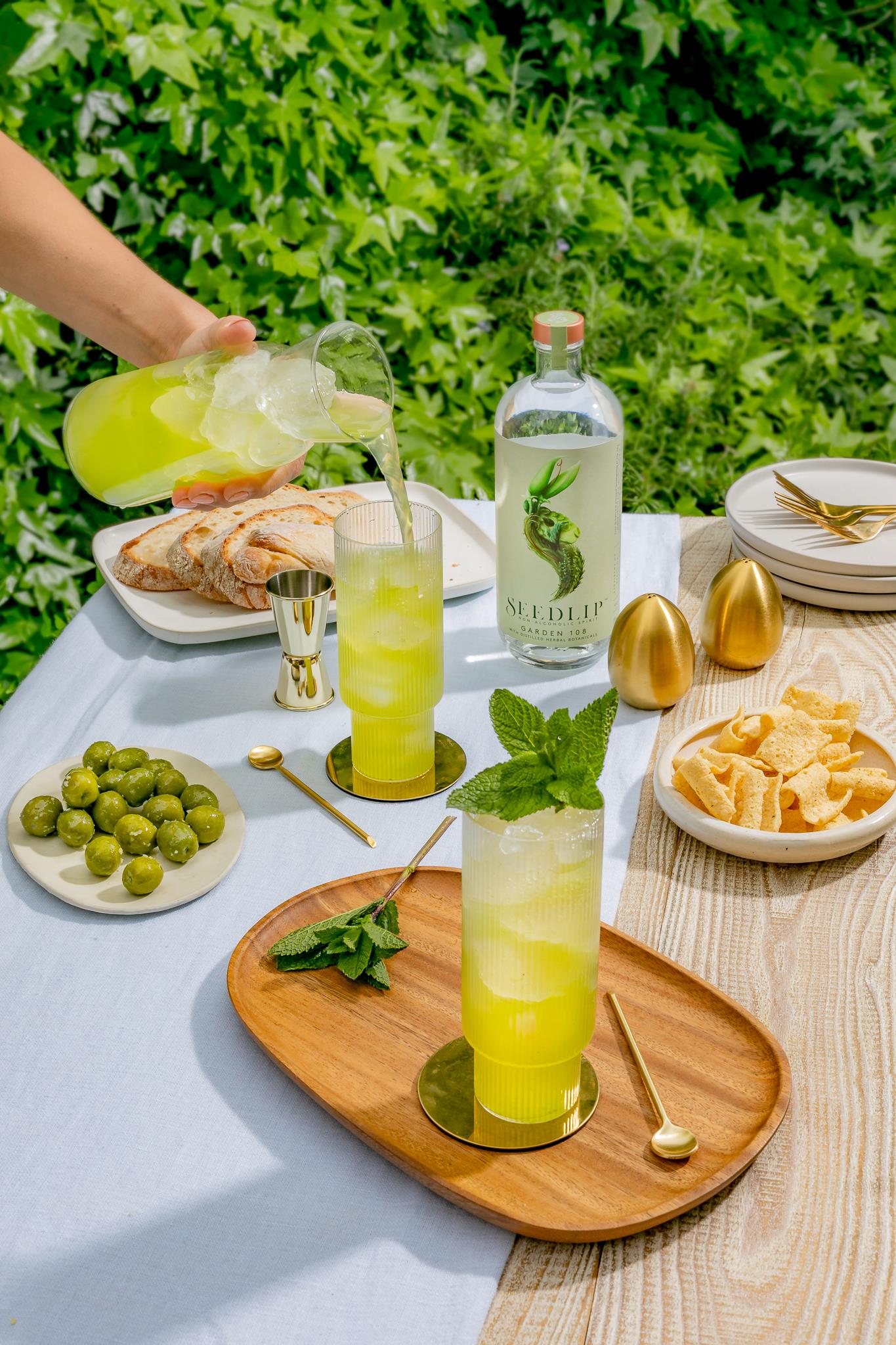 You will need:
- 50ml Seedlip Garden
- Leftover fresh leaf herbs – (I used Basil, Mint & Spinach, but it would work with other combinations too like Coriander, Mint and Rocket!)
- 10ml Apple Cider Vinegar
- 10ml Lemon Juice
- 25ml Elderflower Cordial
- Soda water

Method:
1. Add all ingredients other than soda water to your shaker with ice
2. Give it a strong shake
3. Strain into a highball over ice
4. Top with soda & garnish with fresh herbs
Although colour is subjective depending on culture, the individual and past experiences, the colour pink often evokes a feeling of compassion, nurturing, and love. It is an optimistic and hopeful colour, remember the saying "rose-tinted glasses", meaning seeing something with excessive optimism?

I personally find the colour pink encourages my creativity – it also brings to mind some of my favourite fresh ingredients like Rhubarb, fresh Berries, Pink Grapefruit and Beetroot. For our Seedlip Grove colourful cocktail I wanted to bring some of this bright pink creative energy to the serve. Seedlip Grove 42 is distilled using 3 varieties of orange, as well as uplifting spices like Ginger and Lemongrass, and it works excellently in this zesty, fruity sour. It's super simple to make at home and you can keep the Strawberry syrup in the fridge for drinks, baking cakes or simply to drizzle over your favourite ice cream.

You'll be surprised at how simple and satisfying making homemade Strawberry syrup is – simply take a large bowl and fill it with Strawberries (you can chop them in half to speed up the process, but no need to remove the green tips). Cover the Strawberries in caster sugar, toss it around gently, put a cover on the bowl and let it sit for as long as possible (overnight would be best, but give it 3 hours minimum). Take the cover off the bowl and strain your syrup through a fine sieve into a glass bottle you can store in the fridge!
Top tip: keep your candied strawberries to enjoy on Greek yogurt or if you like home baking these are a great addition to any cake/tart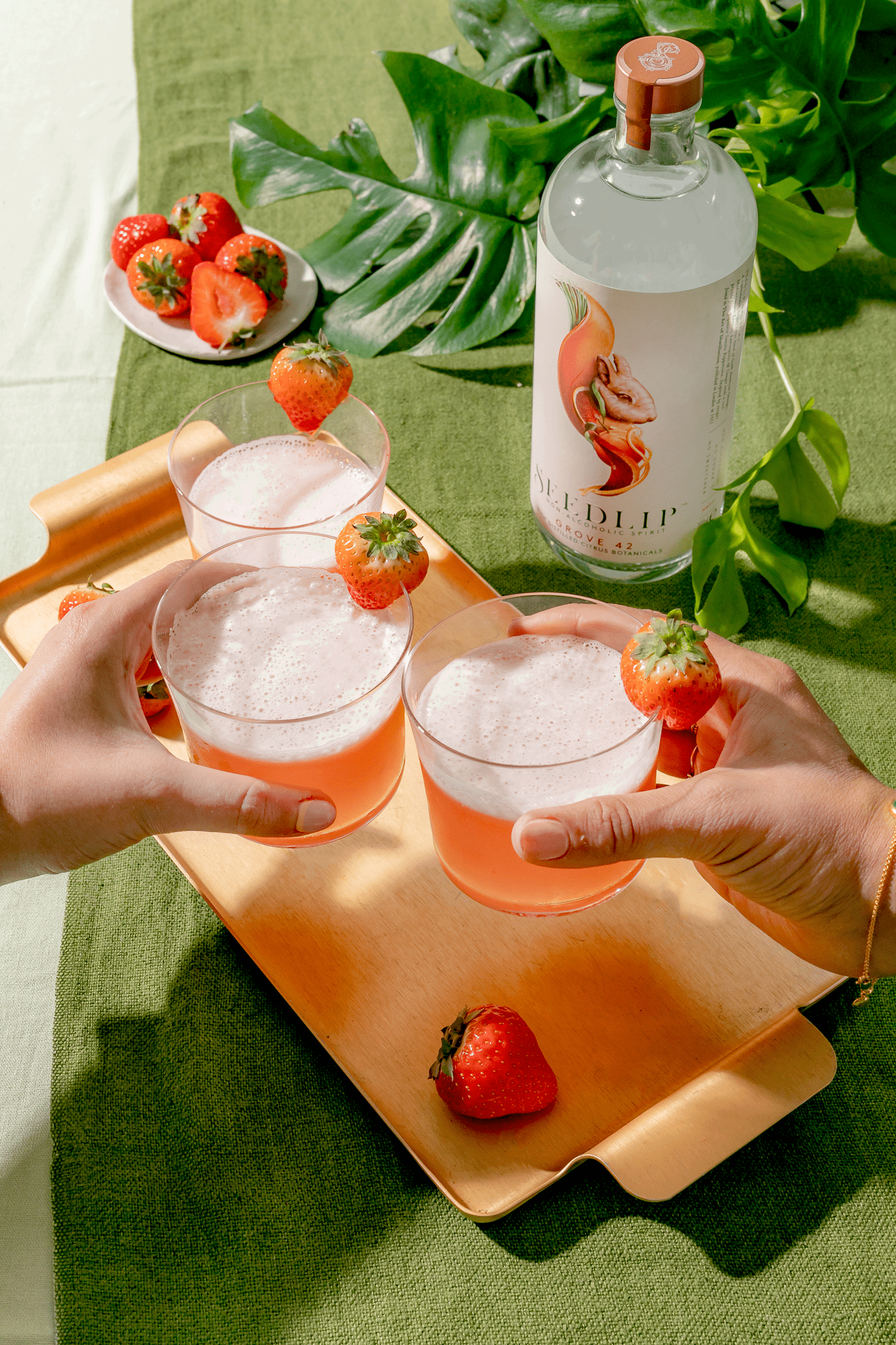 You will need:
- 50ml Seedlip Grove 42
- 30ml fresh Pink Grapefruit juice
- 20ml homemade Strawberry syrup
- 1 whole Egg white or 20ml of Aquafaba

Method:
1. For that beautifully fluffy, silky texture of a sour, firstly 'dry shake' your cocktail (this
just means shake it without ice and it helps activate the fluffy texture)
2. Then, fill the shaker with ice and shake it again as hard as you can
3. Pop your shaker open and strain the cocktail into a rocks glass
4. Use one of your sugary Strawberries as a garnish
For our third Seedlip Summer of Colour cocktail, I wanted to use the vibrant colour orange. Whilst the colour red is filled with energy and stimulation, and yellow is responsible for happiness and cheerfulness- orange is a perfect balance between the two. What do you think of when you see the colour orange? Fresh Carrots? Warm sunsets? Flavoursome spices? Autumnal leaves? Juicy Tangerines?
This cocktail is a twist on a traditional savoury brunch drink – The Bloody Mary. Swap the Tomato juice for fresh Carrot juice for a lighter, fresh take on the classic. For an extra kick of flavour, use a Lemon wedge to wet half the rim of the glass before rolling in a Maldon Sea salt/Cayenne spice mix. This Humble Root Mary is to be sipped and savoured whilst enjoying long, joyous conversations with loved ones.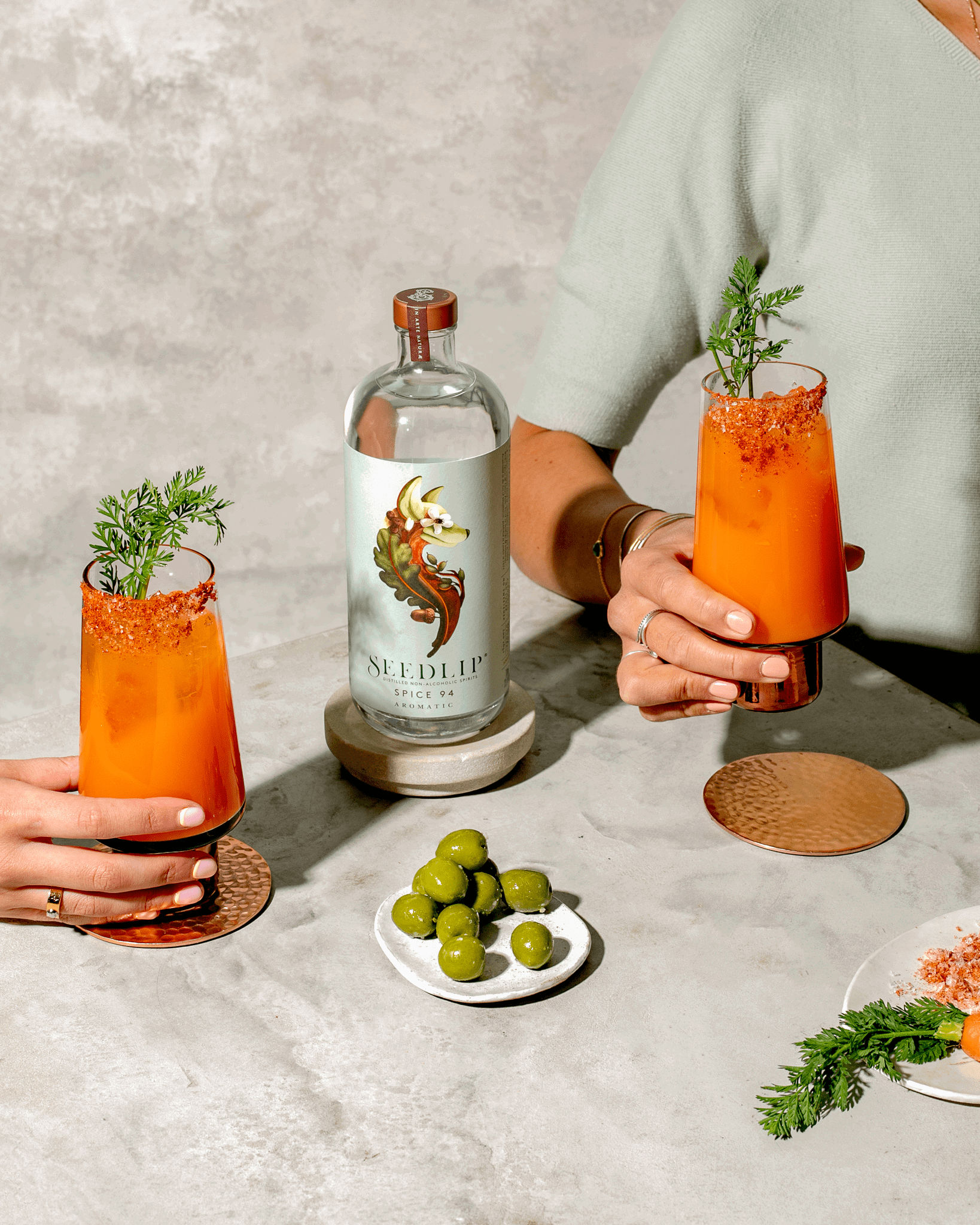 You will need:
- 50ml Seedlip Spice 94
- 50ml Carrot juice
- 1 pinch Turmeric or 1cm fresh juiced Turmeric
- 1 pinch Cayenne
- 20ml Maple syrup
- 25ml Lemon juice

Method:
1. Stir all ingredients over ice for 1 minute
2. Strain into a highball filled with ice
3. Garnish with carrot tips
Summer 2022 is predicted to be all about colour! From 'dopamine dressing' with people opting for bold prints and feel-good colours, to making and shaking playful cocktails full of fresh flavours and bright hues. We hope you feel inspired to try out your own summer of colour serves with Seedlip at home.
Christie Knight