Seedlip isn't just for January. Thanks to the rise in demand to give non-drinkers a seat at the bar, finding a tasty alcohol-free cocktail in London has become much easier. The city is full of exciting drinking destinations and you can enjoy drinking Seedlip cocktails all year round
Every cocktail bar in the list below will have a hard-to-choose-from menu of sophisticated drinks mixed with and without alcohol, which means their doors are open to any and every social occasion where a great tasting drink is sought after and appreciated.
Skilled bartenders, who understand that Seedlip isn't trying to be a non-alcoholic gin but something entirely new and unique to the market, work with the botanicals in Seedlip's non-alcoholic spirits to concoct cocktail recipes with flavour combinations that will blow the mind of anyone who is used to being served sickly, sweet mocktails.
That's why this is not just a list of London's best cocktail bars, but a list of some of the world's best venues for an unforgettable experience, whether you're drinking or not.
So where can you go to drink non-alcoholic cocktails in London? Take a look at our suggestions below.
Do you have a favourite that we missed? Get in touch via hello@seedlipdrinks.com and let us know.
Lyaness
Sea Containers London, SE1 9PD
The predecessor to Lyaness, Dandelyan was No.1 on the world's best bar list in 2018. After gaining the coveted title, award-winning bar owner Ryan Chetiyawardana, AKA Mr Lyan, promptly closed Dandelyan to open a stunning new bar with a menu centred around seven core ingredients: Infinite Banana, Purple Pineapple, King Monkey Nut, ONYX, Aromatised Milk Wine, Old Fashioned Whiskey, Ultra Raspberry.
Seedlip recommends: Pre-lude. Seedlip Garden 108, purple Pineapple, Grass, Æcorn Dry Apéritif, and lactic acid soda.
FAM
Cnr. Picton place & Duke Street, W1U 1LG
At FAM bar, locally sourced and rescued ingredients are the focus of the cocktails on the menu, and that goes for the non-alcoholic options too. The warm atmosphere and neighbourhood-friendly vibe within echoes the name above the door, which is London slang used to describe family or close relationships. The décor includes vinyl records on shelves so guests can choose their own soundtrack.
Seedlip recommends: Izzy Einstein. Seedlip Spice 94, Raspberry leaf, fermented Apple, Honey & Citrus.
American Bar, The Savoy
The Savoy, The Strand, WC2R 0EZ
As well as being the oldest surviving cocktail bar in Britain, the American Bar at The Savoy ranks second place in the list of the worlds' 50 best bars. The Savoy Songbook is their menu, which pays homage to legendary artists and songwriters who once entertained guests drinking in the bar. The non-alcoholic cocktails featured in the book champions both Seedlip and Æcorn Aperitifs.
Seedlip recommends: Moon Shadow. Made with Seedlip Grove 42, Æcorn Bitter and Grenadine. Topped with Cardamom & Rhubarb soda.
Gibson
44 Old Street, EC1V 9AQ
At Gibson there's a cocktail for every month of the year and the ingredients in each corresponds to the season. Built inside an Edwardian pub, guests drink at an old copper bar with a 1920s vibe. It's unlikely that you'll find many classic cocktails on the list, but we promise there will be plenty of other tipples to peak your interest including non-alcoholic cocktails such as the No ABV Brine Toddy below.
Seedlip recommends: No ABV Brine Toddy. Seedlip Spice 94, Honey, Lemon, Pickle Juice & House Marmalade. Served warm.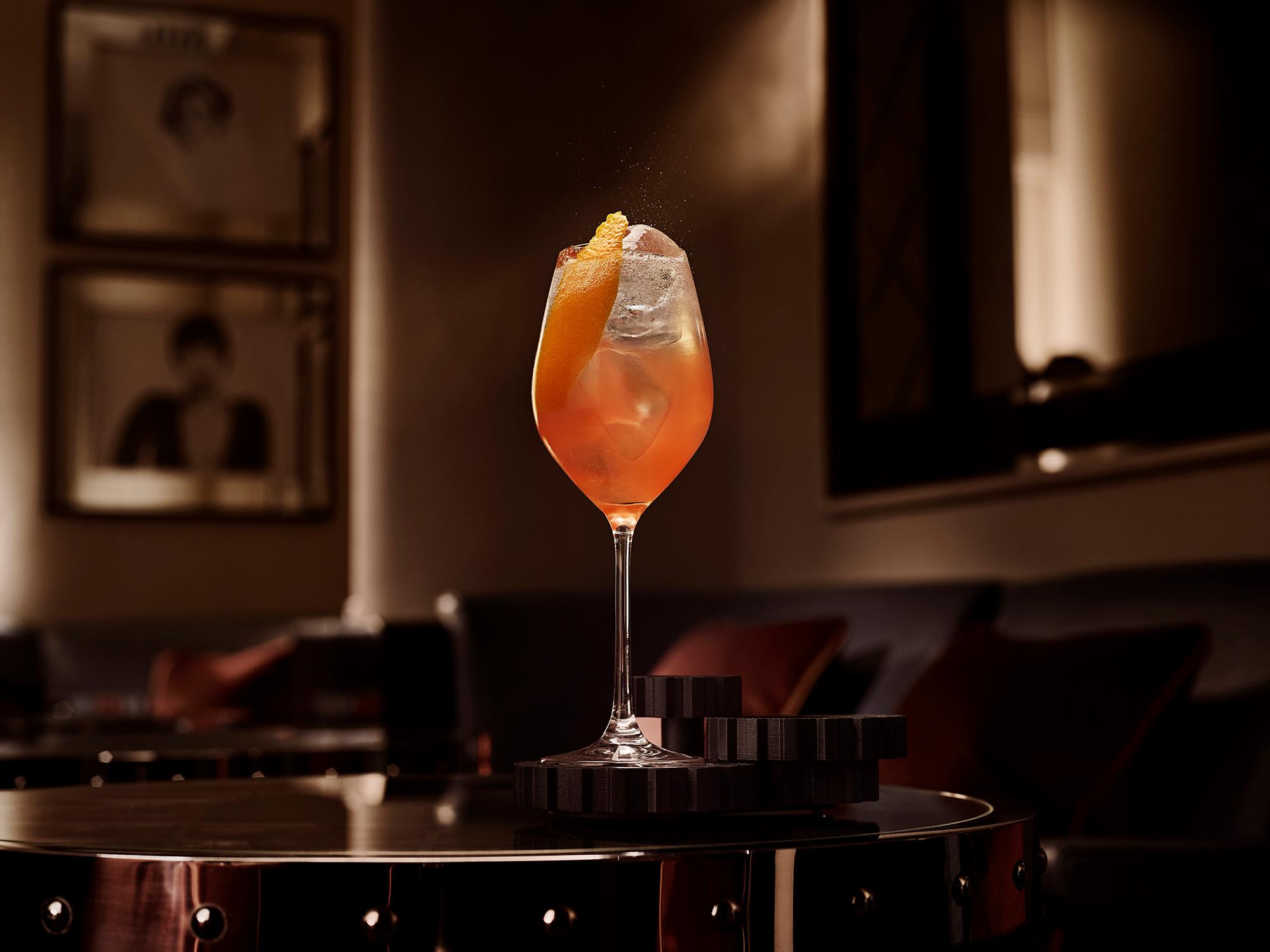 Behind This Wall
Basement, 411 Mare Street, E8 1HY
The drinks served in the basement bar at 411 Mare Street in East London bring together design, music and drinking. Cocktails are made with seasonal ingredients and drinks are free from unnecessary sugars.
Seedlip recommends: Fosse. Seedlip Garden 108, house ponzu kombucha, violet CBD syrup, Peter Spanton Cardamom Tonic, Lime wheel.
Bar Three
65a Brushfield St, E1 6AA
Divided into alcohol strength the menu at Bar Three, a subterranean cocktail bar in Spitalfields, starts with alcohol-free options and grades upwards through light and medium to full. The free section has three non-alcoholic serves, one fresh, one floral and one fruity.
Seedlip recommends: Sling. A mix of Seedlip, Pineapple, Raspberry and soda.
Little Bat Bar
54 Islington Park Street, N1 1PX
Situated in the heart of Islington, Little Bat Bar has a cocktail menu that follows an Alice in Wonderland theme and each drink is inspired by a book. If you're not drinking, skip to Chapter 2: Wonderland. All the cocktails here can be served with Seedlip spirits.
Seedlip recommends: The Gooseberry Net, inspired by The Tales of Peter Rabbit.
Swift
12 Old Compton Street, W1D 4TQ
Swift in Soho is modern but has a light touch of old-fashioned moodiness. The Upstairs Bar has a short menu of light cocktails and you don't need to book. The Downstairs Bar has a mix of seating from bar stools to cosy booths, an extensive cocktail menu and a reservation is required.
Seedlip recommends: Bloodhound. House Juniper "Vermouth", Seedlip Garden 108, Lime, Cucumber, and Melon.
Nightjar
129 City Rd, EC1V 1JB
A destination for "old-school glamour" Nightjar, in Shoreditch, has a menu that is split into Pre-prohibition (1600 – 1918), Prohibition (1918 – 1932) and Post-war (1940 – 2000). Plus, a signature menu of in-house inventions. If you're looking for more than just a great drink to sip on, Nightjar plays host to vintage jazz, blues, ragtime, and swing every night of the week from 9.30pm.
Seedlip recommends: Pura Sangre. Seedlip Garden 108, fresh squeezed Grapefruit, Aronia Berry Juice, Bee Pollen, Franklin Rosemary Tonic.