In honor of the six plants we work with to create each of our Seedlip Spirits, we're putting six questions to makers and creators whose life and work is influenced by the natural world.
Julio Enriquez
Hot on the heels of the announcement that Blue Hill at Stone Barns has been awarded two Michelin Stars, we sat down with the restaurant's bartender Julio Enriquez to find out more about Blue Hill's zero-waste philosophy and their use of hyper-local ingredients. Plus, we wanted to ask Julio why he loves working with seasonal ingredients when creating new cocktails.
I. Blue Hill at Stone Barns works to source local & seasonal ingredients. What are the most unique ingredients you have used in a cocktail?
There are many ingredients that come to mind, but two have really stood out while co-curating the cocktail program this year. The first one is Pawpaw because it feels so tropical and is intensely aromatic. The taste is somewhere between a Mango and a Banana, which is unexpected considering the northeast climate is far from tropical. It's in the same family as a Cherimoya which is a Peruvian fruit, so I'm really drawn to using it. It's only around for a short period of time – three weeks at most.
Second is fresh Turmeric. We grow Turmeric at the Stone Barns Center's greenhouse, and it is probably, hands down, my favorite ingredient. Blue Hill at Stone Barns experiments with making its own fermented soda, utilizing just the skins of the Turmeric. Using fresh Turmeric root rather than the powder you find in the store, is a game changer.
II. What is a day in the life of Julio Enriquez like?
On my off days I like to go foraging, but there is a lot to learn. I like to do some of my own research, but I learn even more at work by foraging the grounds with Laura Perkins, Stone Barns Center's gardener and orchardist. Our connection is ultimately what infuses the flavor of the farm into each drink. Making that link between the farm and the bar is a crucial part of what Blue Hill at Stone Barns is doing.
III.If you were a herb, which one would you be and why?
I've really got to think about this one. There are so many herbs unique to the northeast and we incorporate many into the cocktail program. It's hard to pick a favorite so I'll be sentimental and choose something that brings me back to my childhood. Chamomile reminds me of when I was a kid and my grandmother would make Chamomile tea for us so that we could easily fall asleep. It's instant nostalgia for me.
IV.Dead or alive, who would you most likely go for a cocktail with?
Again, I think of my grandmother. I'd just like to show her all the things that have come from the experiences that I had with her as a kid, and how I have tried to apply those lessons to my life and work. And since our time together was so short, I'd really appreciate the chance to get to know her better.
V.Traditionally, is it harder to make a non-alcoholic cocktail as opposed to its boozy counterpart?
When people typically think of non-alcoholic drinks, they think of soda, lemonade and iced tea. Seedlip has been great for the non-alcoholic movement because it has helped to shift that perception. Seedlip is a great base for the non-alcoholic cocktails we make. Traditionally, if you wanted to make a non-alcoholic infusion, it would be something like a tisane, and the finished product needs a partner. Seedlip can play that role, and then some.
VI.Who are your mentors?
There are so many people who have influenced me.
Dan Barber for his support and exposing me to the vast variety of flavors, ingredients and techniques within Blue Hill at Stone Barns' kitchen. Working with a chef like Dan forces you to learn and to think about foods in a very specific way. Philippe Gouze for training me to work within fine dining. There are also two colleagues who come to mind; Peter Warner, who I work with every day, taught me the basics including recipes and techniques, and Adam Nystrom. Adam was assistant sommelier at Blue Hill. From the moment he arrived, Adam started challenging me with questions like: "How can your cocktails be even more farm-centric? n?Adam knew the answers, but he pushed me to find them on my own. They all have taught me to be more thoughtful in my work and absolutely changed my way of thinking.
Photography by Andre Baranowski
FOLLOW: JULIO ENRIQUEZ @JULZ_COCKTAILS BLUE HILL STONE BARNS @BLUEHILLFARM
FUN FACT: AS PART OF SEEDLIP'S INDUCTION PROCESS, WE ARE ASKED TO READ CHEF DAN BARBER'S BOOK 'THE THIRD PLATE'.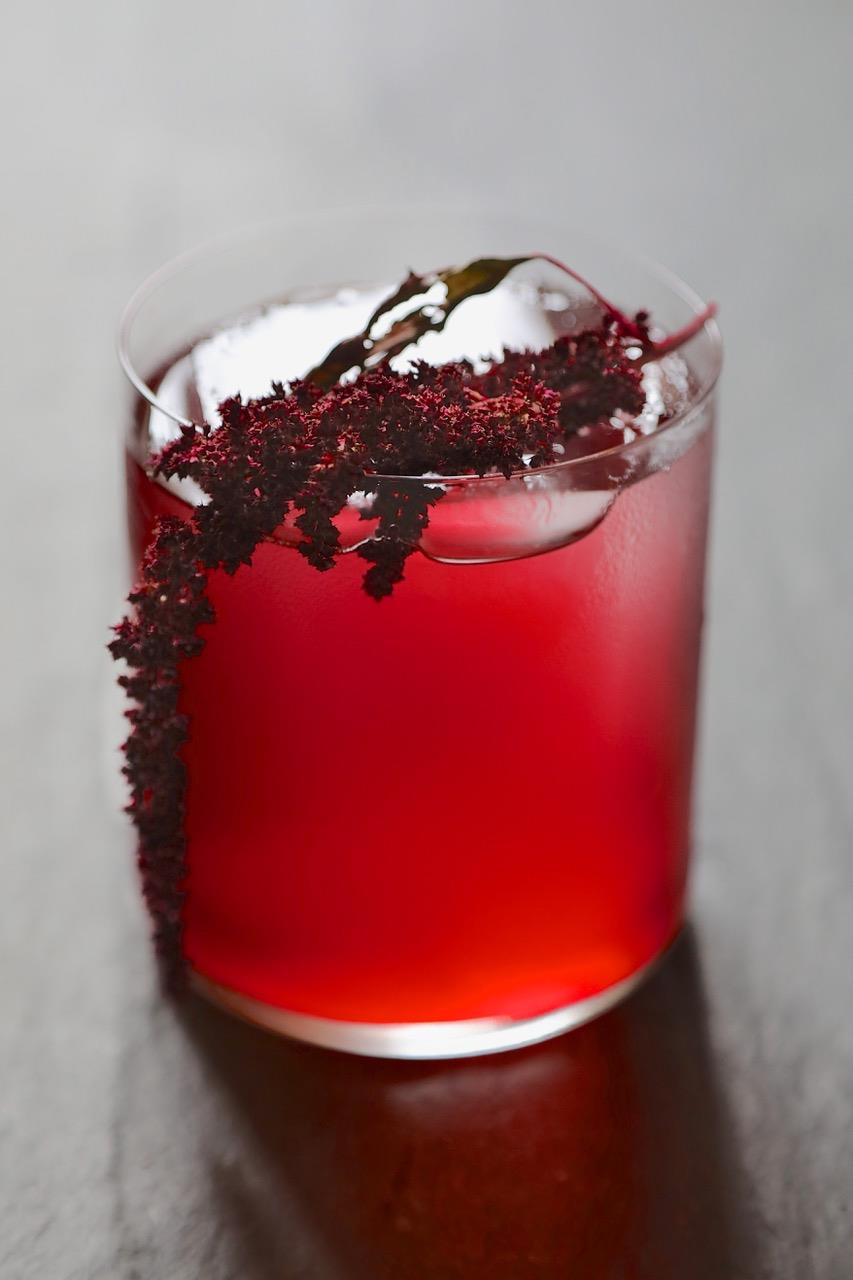 INGREDIENTS
1 ½ oz Seedlip Spice 94 infused wth amaranth 1 oz Red verjus infused wth Rose petals 1 ⅓ tbl Cherry syrup (2 cherries to 1 sugar by weight) 1 ⅔ tbl Soda water 1 tsp Tonic 10 Drops smoke water 10 Drops Fee Brothers Orange Bitters 3 Drops Saline
METHOD
Combine all ingredients Quick stir  Served over a big rock
Glass
Rocks Glass