Seedlip recently partnered with Cat Cora, Iron Chef America's first ever female champion. Her victory on the popular Food Network show was just the beginning of an impressive culinary career. Since then, Cora has opened over 18 restaurants including Cat Cora's Kitchen, Ocean by Cat Cora and Mesa Burger, all with the goal of bringing fresh & organic ingredients to guests around the world. While her culinary career has contributed to much of her success, her passions for health, wellness & sustainability are equally as inspiring.
I. You made television history in 2005, becoming the first female Iron Chef on Food Network's 'Iron Chef America.' How are you continuing to pave the way for female chefs?
I definitely think the scene is changing as more and more female chefs are rising to the top and gaining success, but it's taken a few trailblazers to get us to where we are now, and we need more! I challenge myself and other women in the industry to excel in whatever we do, and we should continue to set a good example for young chefs out there, female as well as male. In 2018, I launched my Women's Empowerment Culinary Internship Program to mentor, give back and help women succeed in the culinary arts. Each year, my family and I will host a female student in culinary school for a week in Santa Barbara, CA. The candidate will be given the opportunity to have hands on experience in both the back and front of the house at my restaurant, Mesa Burger. Additionally, they will experience the daily operations of my business in its entirety.
II. Your food aspirations began at an early age, and by 15, you had already developed a business plan for your own restaurant. What advice do you have for chefs starting out in the culinary arena?
My advice to young chefs and anyone with a dream: Stay the course, never give up, always pay it forward and don't be afraid to take risks. Cook a lot and seek out new exciting culinary trends but also keeping a hand in tradition. Learn as much as possible. As soon as you can, get into a professional kitchen and learn. Nothing great comes easy, so work your ass off!
III. As a chef, tv personality, entrepreneur, author and mom of six, how do you find time for self-care and what is your regimen?
I work out every day. I have a degree in Exercise physiology and nutrition, so I like to live a clean lifestyle. I meditate in the morning and set my intentions for the day. I am a very outdoorsy girl… surfing, hiking, cycling and running. I like to mix up my activity routine. I find spiritual balance in prayer, living with integrity, and my wife and kids give me the inspiration to find balance my life.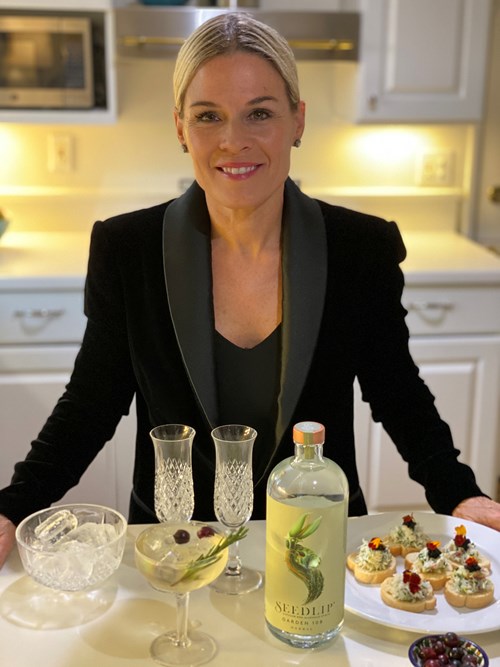 IV. If you could throw a dinner party with 5x guests, dead or alive, who would they be?
Ruth Bader Ginsberg, Julia Child, Kelly Clarkson, Dr Ruth, Dalai Lama
V. Name your go-to comfort food?
Well it depends on what kind of comfort I need :) and the seasons, but I would say my mom's Greek Cinnamon Stewed Chicken on Orzo Pasta. Or if it just me and my wife, My Lover's Spaghetti with chanterelles and truffles. Romance!
VI. Resolutions for 2020?
To continue always living a life of integrity and honesty, to live a clean life- indulging in deliciousness in moderation but also eating cleanly, exercising and meditating to stay balanced (80/20 way of life). Painting as much I can fit into my extracurricular schedule while also honing my acting skills to begin auditioning for film. And giving my best work with my career and entertaining fans and well-wishers. Most importantly Spending as much time nurturing our kids and my wife and being the best wife and mom, I can be. Helping others and striving to be the best human I can be in the world.
Cat Cora & Seedlip Follow Cat @CatCora