This month's Six with Seedlip features Kristen Voisey, founder of Toronto's Cocktail Emporium. In addition to sharing the inspiration behind selling non-alcoholic options, like Seedlip, in her stores, Voisey gives recommendations on must-have items to add to your bar cart in order to easily craft delicious cocktails at home.
I. What inspired you to include a non-alcoholic section at Cocktail Emporium?
Kristen Voisey (KV): Seedlip! This was a non-category until we discovered Seedlip from Sarah Parniak and all the tasty concoctions that were possible. Now the category is very popular because people have discovered that it doesn't have to be boring not drinking. You can still make fun cocktails with all sorts of ingredients and keep the art of the cocktail alive!
II. What are some non-alcoholic trends that you have noticed?
KV: People are combining sustainable, local ingredients with non-alcoholic spirits that have a layered, complex flavor that doesn't rely on sweetness. So many non-alcoholic drinks that I have tasted in the last year have been so complex!
III. What are some must-have tools you think everyone needs for their at-home bars?
KV: MUST have basic bar tools: Jigger (multi-level) Shaker Spoon Strainer Proper Glassware (coupes, rocks, highballs) Citrus juicer (always use fresh juice)
Must haves tier 2: Mixing glass (technically you can stir in the shaker, but this way is much better) Muddler Fine strainer Y-peeler (for amazing garnishes)
Fun additions for EVEN BETTER cocktails: Fancy glass bitters dashers and misters Lewis bag and ice mallet Clear ice cube tray Large cube tray Channel knife Cocktail picks Metal straws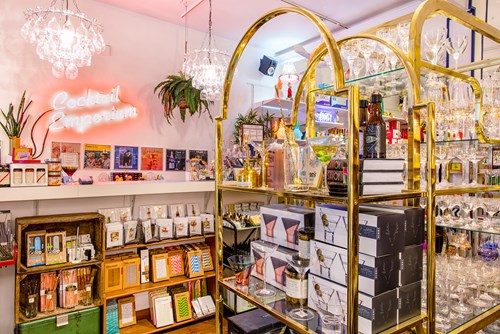 IV. How does one elevate cocktails at home?
KV: It's pretty simple to elevate at-home cocktails by just having three things: proper tools, ingredients and glassware. I am a HUGE "glassware makes a difference" person. My love of glassware has led me to design and manufacture them for our house line Potion House. Our store's selection of glassware is my favorite!
V. If you were a cocktail, what would you be and why?
KV: I would be a Cognac French 75 with a pet-nat topper. Classic with a twist, but one is enough!
VI. Who would you love to invite over for cocktail hour?
KV: Ricky Gervais.
Follow Cocktail Emporium on Instagram or visit the website here.