Bluebells
Bluebells, Hyacinthoides non-scripta, carpet the woodland floor in a haze of blue in spring. When bathed in the dappled light that shines through the tree canopy, this seasonal display of wildflowers is magical.
Native to the UK and associated to ancient woodlands, Bluebells flower from mid-April to late May. One stalk can hold up to 20 bell-shaped flowers, each with 6 petals. Sweetly scented, Bluebells range in colour from blue to white to pink.
Here are some of our favourite spots to see Bluebells in the UK.
(I) Hackfall Wood, Yorkshire
On the edge of Nidderdale in Yorkshire, an Area of Outstanding Natural Beauty (AONB), is Hackfall Wood. A Victorian woodland garden that has grown into a semi-natural ancient wood. Over the last few years, it has been restored to its former glory and boasts original features such as grottos, rustic temples and waterfalls, as well as carpets of Bluebells in spring and an impressive number of woodland birds.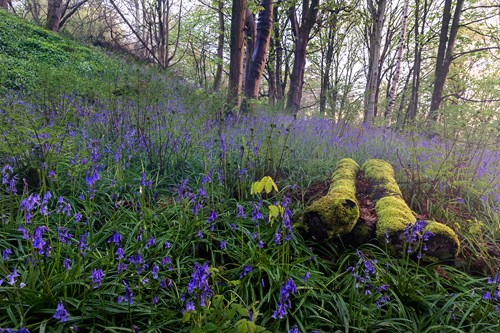 Adrian Ashworth - WTML - Bluebells at Hackfall
(II) Hampstead Heath, London
This 791-acre of green space in the heart of London is a patchwork of woodland and meadow. The best Bluebell displays can be found on Lime Avenue Bank, which runs across Hampstead Heath from East Heath Road to Millfield Lane. To get there, take the Northern Line to Hampstead Underground Station.
(III) Glen Finglas, Scotland
Glen Finglas epitomises the Scottish Highlands. It lies at the heart of Loch Lomond and The Trossachs National Park and is part of the Great Trossachs Forest National Nature Reserve. Glen Finglas has a wealth of wildlife, including Red Squirrels, glassy lochs and walks to suit all abilities. In April and early May, the ancient Oak woodlands are carpeted with Bluebells.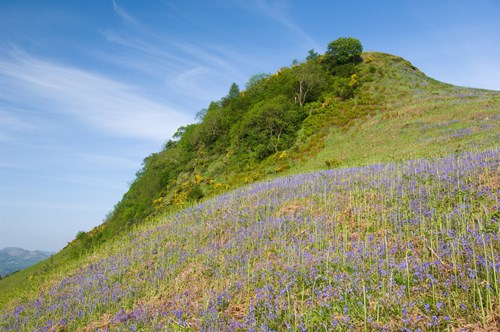 Niall Benvie - WTML - Bluebells at Glen Finglas
(IV) Pwll-y-Wrach, Wales
Nestled within the majestic landscape of the Brecon Beacons National Park is Pwll-y-Wrach, a small-scale woodland that lines the banks of the River Ennig. The Bluebells here are so spectacular in spring that the locals have re-named it Bluebell Wood. Look out for the double waterfall, pretty white Wood Anemones and swathes of verdant Wild Garlic.
(V) The Natural Area, Royal Botanic Gardens, Kew, London
On the North West side of Kew Gardens is The Natural Area. A wild space donated to Kew by Queen Victoria. Here you'll find one of London's finest Bluebell woods, part of which is 300 years old. In spring, Queen Charlotte's Cottage (pictured) is surrounded by Bluebells and Wild Garlic. A transformation fit for a fairy tale.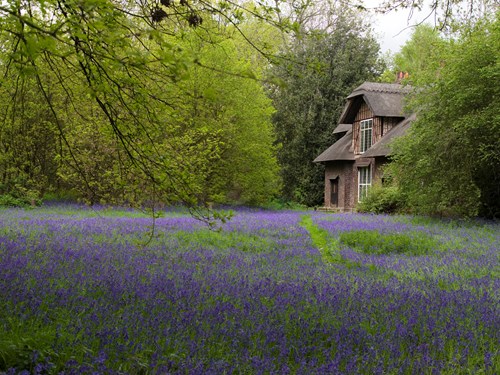 Bluebells at Queen Charlotte's Cottage, Royal Botanic Gardens, Kew