It's no surprise that we're big fans of fungi here at Seedlip. We've had the magic of mushrooms on our radar for quite some time, and recently developed our Mycelium packaging by harnessing their capabilities. So, when the opportunity presented itself to collaborate with Tonya Papanikolov's Rainbo… we seized it. In our latest Six with Seedlip interview, we chatted to Tonya about her work as a holistic nutritionist and founder of Rainbo – dipping our toes into the world of medicinal mushrooms with her guidance.
I. TELL US ABOUT RAINBO. WHERE DID YOUR FASCINATION WITH FUNGI STEM FROM? 
Rainbo is a medicinal mushroom company that I created in 2018. We cultivate our mushrooms sustainably in Canada and have a line of natural health products including tinctures, mushroom maple syrup and some exciting new additions coming soon.
My healing journey began as a teenager and those experiences really directed my focus from a young age. I've been studying nutritional sciences and holistic modalities ever since and have devoted my life's work to helping people heal through functional nutrition, mycotherapy and integrative lifestyle.
My first-hand healing experience with fungi began in 2011 which sparked my passion, reverence and belief in the magic of mushrooms. Since 2018, I've been building the Rainbo brand and we're now a small team of mycophiles who love to educate and inspire a mushroom lifestyle!
II. WHAT WAS THE FORMULATION PROCESS LIKE FOR THE VARIOUS SUPPLEMENTS YOU OFFER? 
For each product there's a slightly different process depending on the ingredients and level of complexity. But I create products based on necessities, what I would like to take and what I know is needed by our customers, communities and within the market.
11:11 was Rainbo's first product and the idea came to me as I realized I was taking a lot of different mushrooms daily and adding them to a drink separately. As I learned more about the concept of synergy, I knew I wanted to create a single formulation that had 11 powerful mushrooms all in one formulation. I chose the 11 mushrooms based on scientific research and their individual health benefits. I created this blend to deliver the synergistic properties of mushrooms to our customers. Synergy means that mushrooms work better together than they would alone.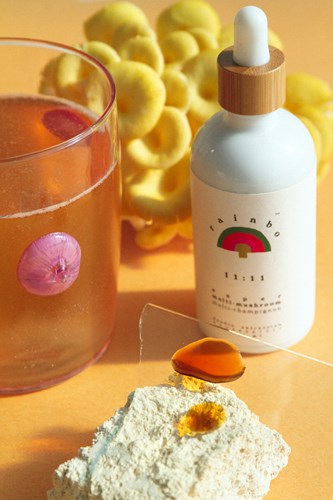 III. WHAT DO YOU RECOMMEND TO SOMEONE WHO IS ENTIRELY NEW TO MEDICINAL MUSHROOMS? 
It's easy and safe to start taking medicinal mushrooms, and all of them support your immunity! I always recommend getting acquainted with the mushrooms and their benefits and then check in with your body/mind to decide where you need the most support.
One of the most common questions we get is, 'Which tincture is best for me?' We created an easy-to-read graph on our mushrooms and their benefits. This has been really helpful for people to understand where to start.
IV. WHAT DOES A DAY-IN-THE-LIFE LOOK LIKE? WHAT WELLNESS RITUALS DO YOU INCORPORATE INTO YOUR LIFE? 
Pre-covid life was a bit different as I travelled more and took in-person meetings. But as of late my daily schedule looks like: I wake up after ~8 hours of sleep, drink water, do a 4-7-8 breathing exercise in bed and have a daily kundalini sadhana that I do most days, then I make a mushroom matcha latte, a green smoothie and jump into my day!
It's not unusual for me to have a 12–14-hour work day (startup life!) but I make sure to take breaks in-between, whether it's going on a walk, doing Pilates, jumping on my rebounder, going for a run, doing yoga, making a meal or catching up with a friend. I also get really energized by all the work we're doing at Rainbo, so it fuels me and fulfills me in a supportive way. Nighttime rituals can include: baths, journaling, sauna and it's pretty necessary that I take at least 1 hour before bed off electronic devices.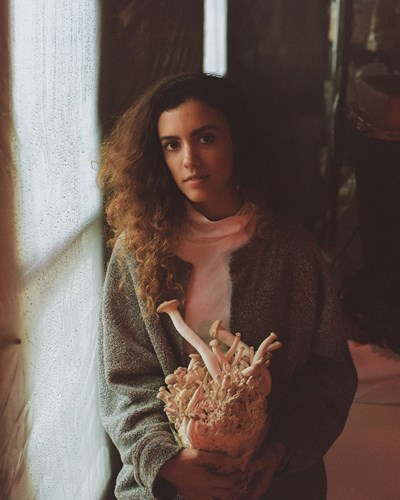 V. WHAT IS THE MOST AWE-INSPIRING THING YOU'VE LEARNED ABOUT FUNGI? AND ABOUT THEIR MEDICINAL PROPERTIES?
Mushrooms are environmental guardians; I like to think of them as Earth's immune system. Learning about how vital fungi's role on Earth is, has been the most awe-inspiring. They are incredibly versatile, resilient and were an essential part of life's progression out of water. They are our distant relatives too, fungi split from animals (us) about 1.5 billion years ago.
From a medicinal perspective, mushrooms are famous for their immunomodulatory benefits. Of the many medicinally-relevant compounds, beta glucans are the main players that impact immunity. Beta glucans are carbohydrates found in the cell walls of fungi. They are acid resistant, allowing them to pass through the stomach following consumption, and reach the small intestine where they activate receptors located on intestinal immune cells.
VI. HOW DO YOU DESCRIBE/INTERPRET THE RELATIONSHIP BETWEEN HUMANS AND NATURE, OR FUNGI SPECIFICALLY? 
We are more closely related to fungi than we are to plants! Humans share DNA–about 30 percent–with fungi, far more than we share with plants.
When two species benefit from each other, the symbiosis is called mutualism. Fungi do so much for human life: they create fertile soils for our food to grow, sustain the trees and plants that all life-forms need for survival, they are part of the nutrient cycle in ecosystems, they are an important source of food, yeast – a unicellular fungus – is required in the making of bread, we ferment fungi to make wine and cheese, fungi provide antibiotics that save lives, they open our minds through their psychedelic powers… the list goes on. Fungi are amazing! Humans can also help to spread fungi spores by going on walks in forests, mushroom hunting and by using myco-remediation-based technologies to clean up and heal habitats.
Bonus Q: If you could share a cocktail with anyone – dead or alive – who would it be, where, and why?
I'd love to share a mushroom-infused cocktail with Terrence McKenna. I would take him to a special place called Nind'An and share a sunrise in the apple orchard, or a sunset down by the river, while we talk at length about the fabric of reality and consciousness!
Visit www.rainbo.com to explore their line of functional foods & dietary supplements.
Follow @tonyapapanikolove & @rainbomushrooms on Instagram.
Shop Seedlip non-alcoholic spirits.