Did you know that Toronto is actually the fourth largest city in North America, following Mexico City, New York City and Los Angeles respectively? Our neighbors to the north are truly just a hop, skip and a jump away, and the capital city of the Province of Ontario is worth a visit when you have the chance. Its vibrant and diverse culture of food, drink and art in the main urban area is juxtaposed by lush and tranquil natural landscapes in the form of countryside, forests and lakes.
This itinerary may span beyond a single day [worth it!], but read on for our recommendations for how to spend 24 Hours In: Toronto, Ontario.
WHERE TO GAIN CULTURE
Consider a trip to the Museum of Contemporary Art and start the morning at Forno Cultura, the coffeeshop within that serves up delicious baked goods alongside the standard suite of coffee options. After fueling up–or with your coffee in-hand–leisurely stroll the exhibits at MOCA. Located in the West End, through both the art and environment within which it's situated, MOCA puts on full display the specialness of Toronto's cultural diversity.
Naturally, exhibits change throughout the year, but a fascinating newly opened installation entitled Acts of Erasure by Fatma Bucak and Krista Belle Stewart explores perceptions of heritage, indigeneity, and political identity–and we feel it's worth exploring.
WHERE TO IMMERSE IN NATURE
In truth, we could spend an entire trip at Langdon Hall and it'd be time really well spent. A quick drive from the city, Langdon Hall is a country retreat nestled within the Carolinian Forest. Its luxurious guest rooms and suites, some with their own private terrace and stunning views of the garden, epitomize relaxation and restoration. Moreover, there's so much to do on- or around the property: trails to hike, gardens to read or meditate in, a full-service spa to experience, and more.
We love how this property is an ode to nature. They go so far as to even incorporate nature into their bar program–like the beautiful nature-inspired drinks crafted by Aaron Hatchell and photographed by Cheers to Happy Hour for their Adventure Series. While Langdon Hall, of course, offers Seedlip non-alcoholic cocktails, one of their alcoholic tipples come with a unique add-on: with each order, a Maple sapling is planted in their forest in an effort to reforest the area with native species. How neat!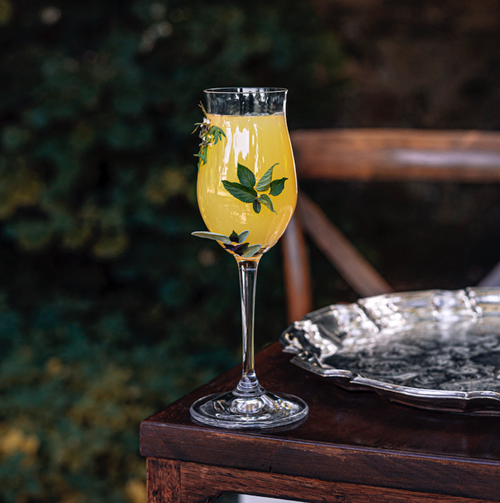 WHERE TO GRAB A DRINK
Influenced by the aesthetic of Wes Anderson films and the grand hotel lobbies of yesteryears, Bar Mordecai is another must-try when traveling to Toronto. This deeply community-centric bar-restaurant evokes a cozy, nostalgic vibe in a playful environment. Great atmosphere coupled with delicious food and drinks checks off all requirements on our list.
The patio is open Wednesday to Sunday for the time being, and we highly recommend swinging by to try a Seedlip cocktail or any of their creative concoctions.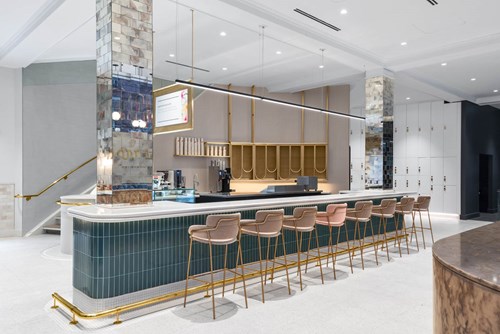 WHERE TO WORK UP A SWEAT
It's in its name: Sweat & Tonic. This three-story wellness space combines workout studios, a coworking space, bar, cafe, and a spa–all under one roof. There's a studio for cycling, yoga, and HIIT workouts, so you can truly pick your poison here, and train with some of the city's best fitness aficionados. Then, conveniently pick up a healthy bite, smoothie, or drink of choice to replenish your system before setting off. A one-stop shop for all things wellness, and we are here for it.
If you prefer to workout from home–or your hotel room–Sweat On Demand with one of their virtual class options.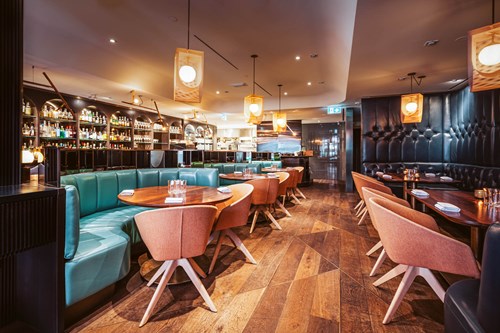 WHERE TO DINE
Arguably one of the chicest spots in Toronto is Alobar in the Yorkville neighborhood. It satisfies any setting under normal circumstances with a walk-in bar, banquette room, and relaxing lounge. Now, its covered and heated patio [open daily] makes it possible to still try their incredible cocktails and equally impressive menu items as you wish. Alobar is chef-restaurateur, Patrick Kriss's third venture and mid-range establishment in terms of price point and formality.
We recommend–as Alobar does, too–starting with a beautiful cocktail [naturally, we go for the non-alcoholic sort] and a raw dish, like tuna tartar or king crab legs. Everything is done with the absolute freshest, premium ingredients and incredible attention to detail.
WHERE TO BUY SEEDLIP
Toronto's premier zero waste grocery store: Unboxed Market. We love everything about this planet-focused, sustainability driven store. You can get lost in aisles of everything from plastic-free bulk goods to pantry items. The impetus for opening Unboxed Market was realizing that 'the Province of Ontario says that Ontarians create enough food waste to fill the Rogers Centre five times every year.' In other words, a lot.
There's a disconnect between people and food. There's a need to raise awareness around not just packaging waste, but also food waste. This one-stop shop is not only a great place to stock up on some snacks or baked goods, but also an experience in recognizing our need to take individual action to reduce food waste where possible–and it is possible! That's the good news.