The Autumn months are abundant in beautiful colors, textures and fragrances. These warm and welcoming changes offer a sense of coziness as we begin to turn inwards with the changing seasons.
As ever, it's an opportunity to connect and deepen our relationship with the natural world. We spoke with Dr. Jacqui Wilkins [Plant Medicine Person, Naturopathic Doctor & Steward of the Earth] to get her recommendations for this autumnal garnish guide that celebrates the plants that grow in our local communities. She stressed the importance, when gathering any plants, to bear in mind the level of reverence and reciprocity that we have with Nature – we must avoid overharvesting, ensuring neither the environment nor ecosystem is harmed by the gathering.
These plants thrive in their particular environments for a multitude of reasons – remember that pollinators and other plants and animals in the ecosystem rely on these late-blooming flowers for their survival, as well. Jacqui's guide Working with Plant Medicines from the Heart provides in-depth information on the ethics of Wild Crafting.
Each of these plants is stunning in their own right, with unique textures, colors and fragrances. In choosing these particular species, Jacqui said, 'I've formed deep relationships with each of these Plants. They all grow in abundance, and may be worked with in a good way, without harm. If working with them as a garnish, I also suggest saving them after and making a tea, a smoke blend [external smoke, like incense], or even adding to a bath, depending on the Plant!'
Please note this guide does not touch upon how to harvest Plant Medicines in a sustainable, ethical & culturally appropriate way.
Here's Dr. Jacqui Wilkins' guide to locally grown garnishes for fall:
Aster [Symphyotrichum spp]
There are many species of Aster that grow in abundance and are Native to so-called North America. Commonly seen in fields and on roadsides, Purple Aster and New England Aster are two of my favorites, come in various shades of purple, typically with a bright yellow center. The heads of the flowers themselves make a beautiful garnish. When you touch them, you can feel their resinous quality, signifying their high amounts of volatile oils. They have a unique fragrance and are quite a powerful calming and relaxing plant ally! They also may be worked with for digestive complaints of bloating, as they are a carminative with a slightly bitter taste.
Goldenrod [Solidago spp]
Goldenrod is another gorgeous plant that is native to so-called Canada. They are bright yellow and can grow quite tall at times. Usually, they're found growing alongside Aster. Robin Wall Kimmerer has a beautiful chapter in her book, Braiding Sweetgrass, that will forever alter the way we see Goldenrod and Asters. They often are confused with Ragweed, a plant that many people attribute to seasonal allergies. Ironically, Goldenrod actually may help with seasonal allergies, as well as colds that have a lot of excess fluids [think: runny nose, watery eyes, cough with mucous, etc]. They are quite astringent, as well as anti-inflammatory. They may also be worked with as a dye for fabrics.
I love Goldenrod as a garnish, as the flowers bloom all along the stem, making them a unique and colorful addition to your cocktail – imbuing solar energies and embodying the autumn sun.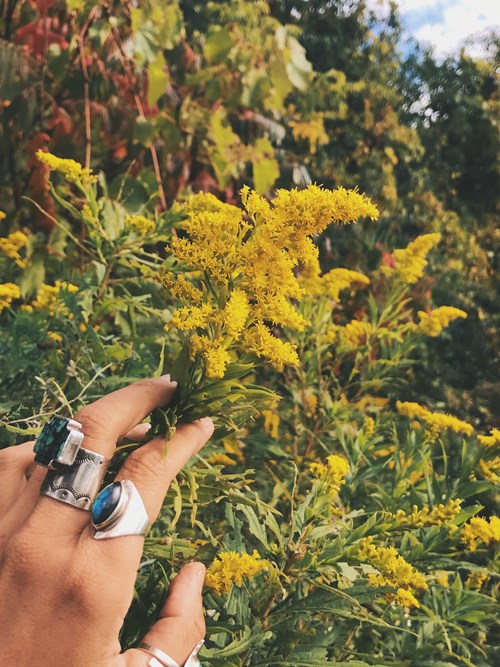 Teasel [Dipsacus fullonum]
Teasel is a very unique plant, just one look at their beautiful flower heads may remind us of otherworldly beauty. They are spiky and look almost as if they are a staff. The Root is typically worked with for potential healing of Lyme disease, as well as supporting balanced liver and kidney energy from a Traditional Chinese Medicine perspective [a very simplified statement].
They are considered an 'invasive species,' Native to North Africa, Europe & Asia. The flowers are a vibrant, almost neon, purple. To me, their essence holds the ability to help us sort through what is serving us, versus what we may need to release. Realigning our energy and helping us to heal what may be broken. After blooming, the seed heads remain and offer a very unique –and prickly – garnish. In this case, Teasel is typically a biennial plant, meaning they die back after the second year, which is when they produce flowers. So, they offer a quite sustainable, and striking, garnish.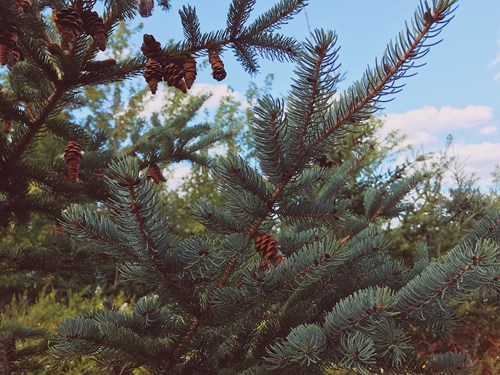 Conifers
Conifers are woody plants that bear cones, typically trees or shrubs. Many conifers may be worked with medicinally, though some, like Yew, may be poisonous in the right dosage. This guide highlights Tamarak cones [Larix laricina], as well as Spruce cones and needles.
They all make lovely garnishes for drinks, holding beautiful spiral symbolism, comforting fragrances and reminders of longevity and resilience. I love them as a garnish also because they can often be gathered after they've fallen off the tree, or from a fallen branch. The scent of Spruce will spark memories for most of us who have spent any time in the woods or outdoors as children or adults. The needles of Spruce are quite astringent [try chewing on one needle to feel this directly!] and may be supportive for coughs or a sore throat. They also contain Vitamin C. They are often harvested as Spruce tips and worked with as medicine. I love crafting Spruce tip and Rosehip vinegars, though a shrub or even a tea would be lovely, as well!
Chicory [Cichorium intybus]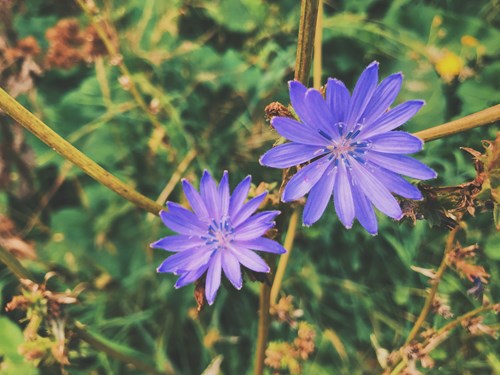 Chicory is a well-recognized plant that grows in abundance around so-called Canada, though Native to North Africa, Europe and parts of Asia. Their flower is a beautiful pale bluish-purple that is easily distinguished from other flowers, though they are relatives of Aster, as both are Asteraceae [a large family, also consisting of Chamomile, Echinacea, and others]. Some folks do have allergies to this family of plants. The root is often roasted and worked with as a coffee alternative. They are so rich, bitter and delicious!
Medicinally, the roots of Chicory may support the liver, as well as stimulate digestion through their bitter properties and act as a diuretic. The foliage may also be worked with as a poultice for reducing swelling and inflammation. The young leaves are edible. Typically, they are blanched and eaten in salads, or even added to stir fries. The flowers are also edible and make a beautiful Autumn garnish!
Follow Jacqui on Instagram here.