July is a wonderful time to visit UK gardens. Flower borders are bursting with bold, beautiful colours and the grass has yet to turn to the colour of straw. Thanks to our age-old love affair with garden design and success at cultivating new plants, most of the gardens open to the public are laced with an intriguing horticultural history kept alive by dedicated head gardeners.
Our favourite reason to visit gardens is to find inspiration. Make a note of the plants that catch your eye, take photos of any design elements that you could adapt for your own outdoor space. You might find something unique.
Here's our favourite gardens to visit in the UK this Summer.
RHS Garden Wisley, Surrey
Woking, Surrey GU23 6QB
You need a whole day for this one. Wisley is the flagship garden of the Royal Horticultural Society and is home to one of the largest plant collections in the world. There's a lot to see all year round but in the Summer the much-loved double mixed borders reach their peak and are brimming with Phlox, Helenium, Salvia and Nepeta ranging from pastel shades to hot colours. This year RHS Wisley opened a new welcome building and plant centre full of eye-catching plants and covetable garden sundries.
Hauser & Wirth Art Gallery, Somerset
Durslade Farm, Dropping Lane, Bruton, Somerset BA10 0NL
Designed by award-winning Dutch landscape designer Piet Oudolf, the Oudolf Field at Hauser & Wirth Art Gallery in Bruton, Somerset is spectacular in Summer. A wide gravel path interrupted with circular hillocks of green grass leads to the Radić Pavilion designed by Chilean architect Smiljan Radić at the top of the meadow. Either side of the path are two large meandering beds filled with swathes of naturalistic planting. Rudbeckia, Echinacea, Helenium and Sedum are a few of the plants used to create a undulating sea of texture and colour. There are over 26,000 herbaceous perennials in total. Make a day of it and stop for lunch At The Chapel, just a few minutes down the road in Bruton village.
Great Dixter House & Gardens, East Sussex
Northiam, Rye, East Sussex, TN31 6PH
Possibly one of UK's most legendary gardens, Great Dixter is the legacy of eminent gardener Christopher Lloyd. The iconic timber framed building gives away the historic nature of the site – one part of the house dates back to the 15th century. The gardens are now under the guardianship of head gardener Fergus Garrett who is responsible for the unmissable exotic garden. Look out for the famous peacock-shaped topiary and stop by the prairie where you'll find Common Spotted and Twayblade Orchids.
Beth Chatto's Gardens, Essex
Elmstead Market, Colchester, Essex CO7 7DB
If you have a small, urban space and you regularly neglect to water your plants, plan a visit to Beth Chatto's Gardens. There are lots of great areas in the garden to visit including a Water Garden and Woodland Garden, but our highlight has to be the Gravel Garden. Originally a car park, the Gravel Garden was set up as an experiment to grow drought-tolerant plants. The site is in one of the driest parts of the country and has poor, free-draining soil, but amazingly it's famous for never being watered and continues to produce a spectacular display every year. If any of the plants catch your eye, head over to the nursery where you can buy plants to take home.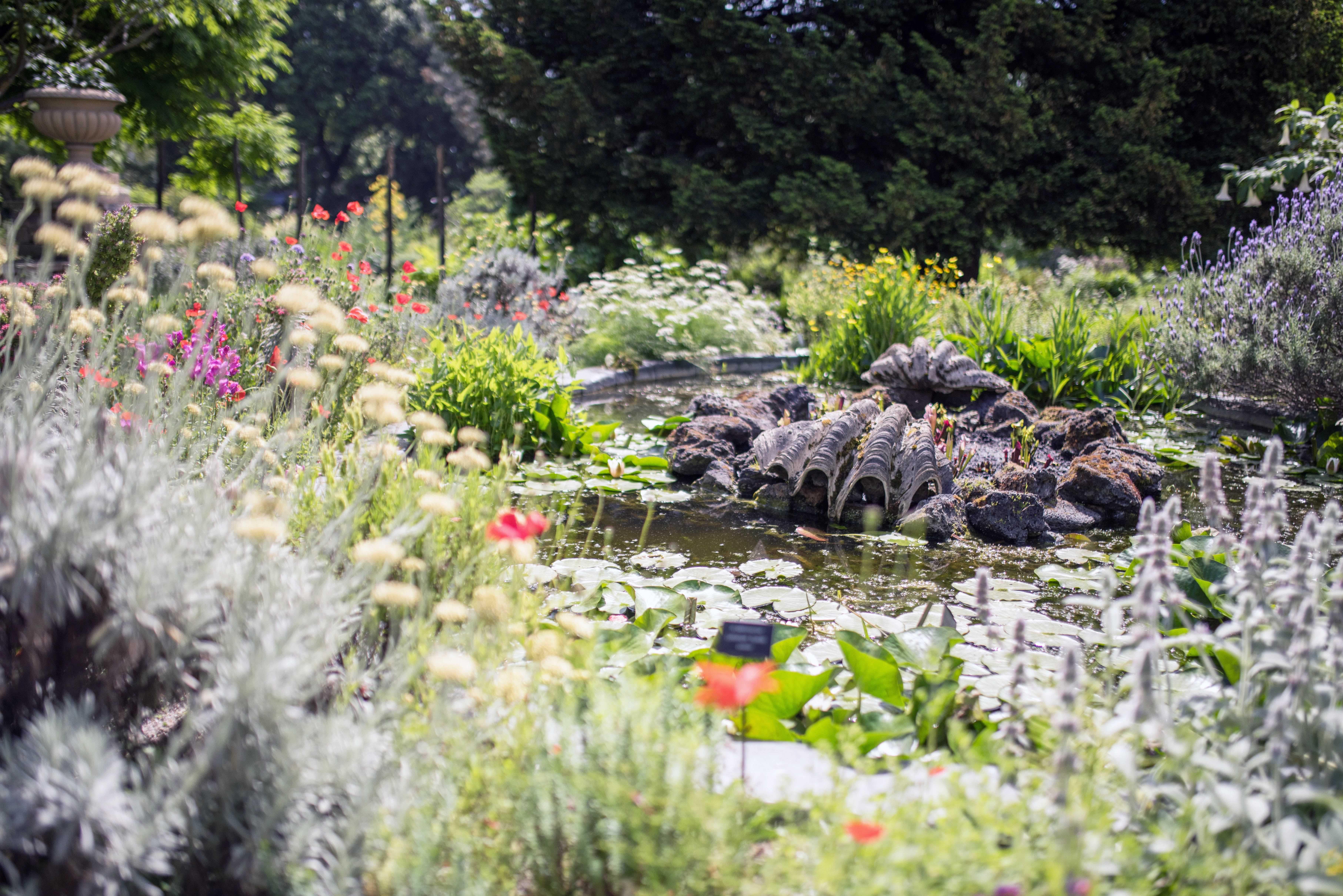 Lowther Castle & Gardens, Cumbria
Penrith, Cumbria CA10 2HH
Described as once the "envy of the North" Lowther Castle is an impressive ruin with recently restored gardens by RHS Chelsea Gold Medal winning designer Dan Pearson. The Parterre marries traditional form with a more wild-style of planting and the Garden-in the-Ruins celebrates the trees and plants that thrive quietly in the castle's shell. Wander through the wildflower meadows and take-in the views out to the Bampton valley beyond.
Chelsea Physic Garden, London
66 Royal Hospital Road, Chelsea, London SW3 4HS
Established in 1673 by apothecaries who wanted to grow medicinal plants, Chelsea Physic Garden is the UK's oldest botanic garden. It has a unique microclimate made possible by a south-facing aspect and good-quality warm soil enabling unusual and tropical plants to thrive in the garden, such as the UK's largest fruiting Olive Tree. Other highlights include 100-year old glasshouses, Europe's oldest rockery and The Garden of Edible and Useful Plants. Plus, there are workshops, walking tours and evening supper clubs held within the grounds.
Levens Hall, Cumbria
Kendal, Cumbria LA8 0PD
Dating back to the 1690s, Levens Hall boasts the world's oldest topiary gardens. Sculptural hedging, clipped to perfection, tower above an ever-changing display of over 30,000 bedding plants. The gardens span 10 acres and retain many of the original 17th century features. Levens Hall is another garden with beautiful herbaceous borders, so don't miss those but make sure to stop by the first recorded ha-ha wall in Britain and the willow labyrinth.
Gravetye Manor, Sussex
Vowels Lane, West Hoathly, Sussex RH19 4LJ
One of the most important historic gardens in England, head gardener Tom Coward continues the legacy of gardener William Robinson who landscaped the grounds in 1885. Robinson is famous for his concept of the wild garden, a landscape that celebrates nature rather than controls it and the current team of gardeners still emulate Robinson's style of gardening today. The kitchen garden is a must-see. All the produce is used in the Michelin Starred restaurant by Executive Head Chef George Blogg, who develops his menu to reflect the seasons.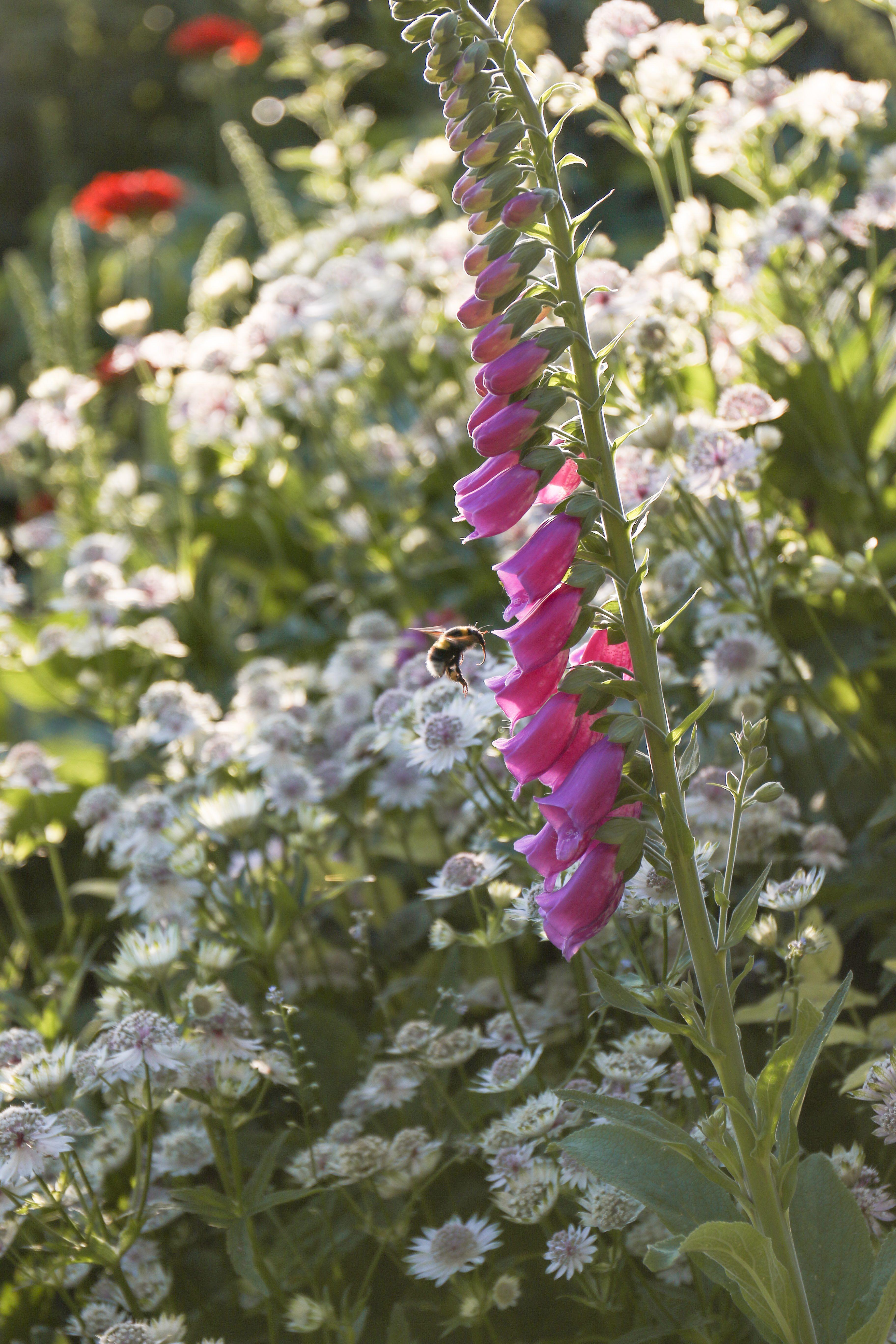 Forde Abbey Estate, Somerset
Chard, Somerset, TA20 4LU
Once farmed by Cistern monks to grow fruit and vegetables for their strict vegetarian diet, the land around Forde Abbey in Somerset has transformed into an award-winning garden complete with a centenary fountain that reaches to 160 feet. The garden, described as "history preserved not petrified" includes an arboretum, a living collection of woody plants, planted in the 19th century. Head gardener Joshua Sparkes is a leading light on soil health and is making a big impression on the garden's 900-year history. During July you can pick your own strawberries at the Forde Abbey Fruit Farm.
Cambo Gardens, Scotland
Kingsbarns, St Andrews, Fife KY16 8QD
You'll find Cambo Gardens on the East coast of Scotland, just South of St. Andrews. In July, as with other gardens around the UK, the herbaceous borders are looking their best but unusual for Scotland, the gardens also have a spectacular prairie garden in bloom this month too. Take a break from the heat and wander through the woodland garden to the Estate's very own beach.