Now in its 10th year, London Cocktail Week brings together the best bars and bartenders in the business to celebrate the unbeatable experience of sipping on a perfectly mixed drink. The hub of the event is undoubtably The Cocktail Village in the Truman Brewery on Brick Lane. Open 9th-13th October, the space is filled with 40 pop-up cocktail bars, live entertainment, Street Feast food and Seedlip, one of the few bars to offer a sophisticated non-alcoholic option.
Seedlip is excited to champion the NOgroni this year, a non-alcoholic twist on a classic Negroni, with the world's first NOgroni Bar. First launched in 2017 at the World's Best Bar Awards in London, the NOgroni cocktail at our pop-up bar is a complex, bitter and citrusy blend made with Seedlip Spice 94, Æcorn Aromatic and Æcorn Bitter.
Read on to find more information about the bar, plus a list of events and workshops that are taking place during the week.
Buy your London Cocktail Week Pass here (Enjoy 25% off using code Seedlip_25)
Seedlip NOgroni Bar
During London Cocktail week Seedlip will open the world's first NOgroni Bar to celebrate our world famous, non-alcoholic take on a classic Negroni. Excitingly the Bar also marks the launch of Seedlip's new bottled NOgroni, available exclusively at Selfridges, London.
Our pop-up bar at London Cocktail Week is a great opportunity to try this flavour-full cocktail for yourself. Hope to see you there!
When: 9th to 13th October
Time: midday to 11pm
Where: Seedlip NOgroni Bar, The Cocktail Village at London Cocktail Week, Truman Brewery, Brick Lane, London
NOgroni Bar Takeovers
This is an exciting opportunity to see world-class bartenders work their magic. During London Cocktail Week, two amazing cocktail bars in the UK will take over the Seedlip NOgroni Bar. Alongside our classic NOgroni, they will be serving their own unique non-alcoholic take on the drink.
Jake O'Brien Murphy from Present Company, Liverpool
When: 10th October
Time: 6-10pm
Tickets: Free entry with your London Cocktail Week Pass
Frederico Balzarini & Tom Hearn from The American Bar at The Savoy, London
When: 11th October
Time: 6-10pm
Tickets: Free entry with your London Cocktail Week Pass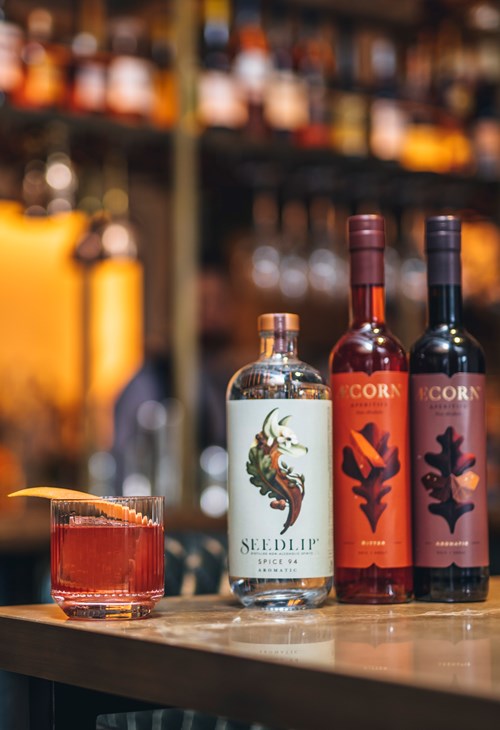 NOgroni Masterclass
Our NOgroni bar will also play host to four intimate masterclasses with Seedlip's UK Brand Ambassador, Jonny Shields and Research & Development Manager Luke Pearson. Under their trained eye you will learn how to make the ultimate NOgroni and find out about why it is the most famous non-alcoholic cocktail in the world.
When: 10th & 11th October
Time: 2pm & 6pm
Where: Seedlip NOgroni Bar at The Cocktail Village, London Cocktail Week
Tickets: £10 Buy here
Golden Hour with Æcorn Aperitifs & Coq d'Argent
Æcorn Aperitifs is partnering with the D&D Group for an evening of aperitifs and small plates on the Coq d'Argent roof terrace. Guests can enjoy a selection of four delicious aperitifs paired with dishes created by the Head Chef, Damien Rigollet. Damien will also give a talk about the beauty of food pairings alongside Æcorn's Brand Ambassador Ed Proctor. Bring your friends and indulge in the golden aperitif moment.
When: 7th October
Time: 6pm-7.30pm
Where: Coq d'Argent. No.1 Poultry, London EC2R 8EJ
Tickets: Free to attend