RHS Chelsea Flower Show returns this month from 21st-25th May. The prestigious event takes place in the grounds of The Royal Hospital, Chelsea and brings together world-class designers and plants people to celebrate horticulture and garden design. If you don't have tickets there are plenty of things to do near RHS Chelsea during Chelsea Flower Show week as restaurants, bars and retailers on the King's Road join in the festivities by creating floral displays, botanical or floral themed menus, and limited-edition cocktails.
If you're looking for a non-alcoholic way to drink in the floral atmosphere, look out for Seedlip Garden 108 listed on special Chelsea Flower Show themed menus at the bars and restaurants below. The spirit's quintessentially English set of ingredients, including Peas, Rosemary and Hay make Garden 108 the alcohol-free spirit of choice and it's a stunning pairing for floral-inspired menus.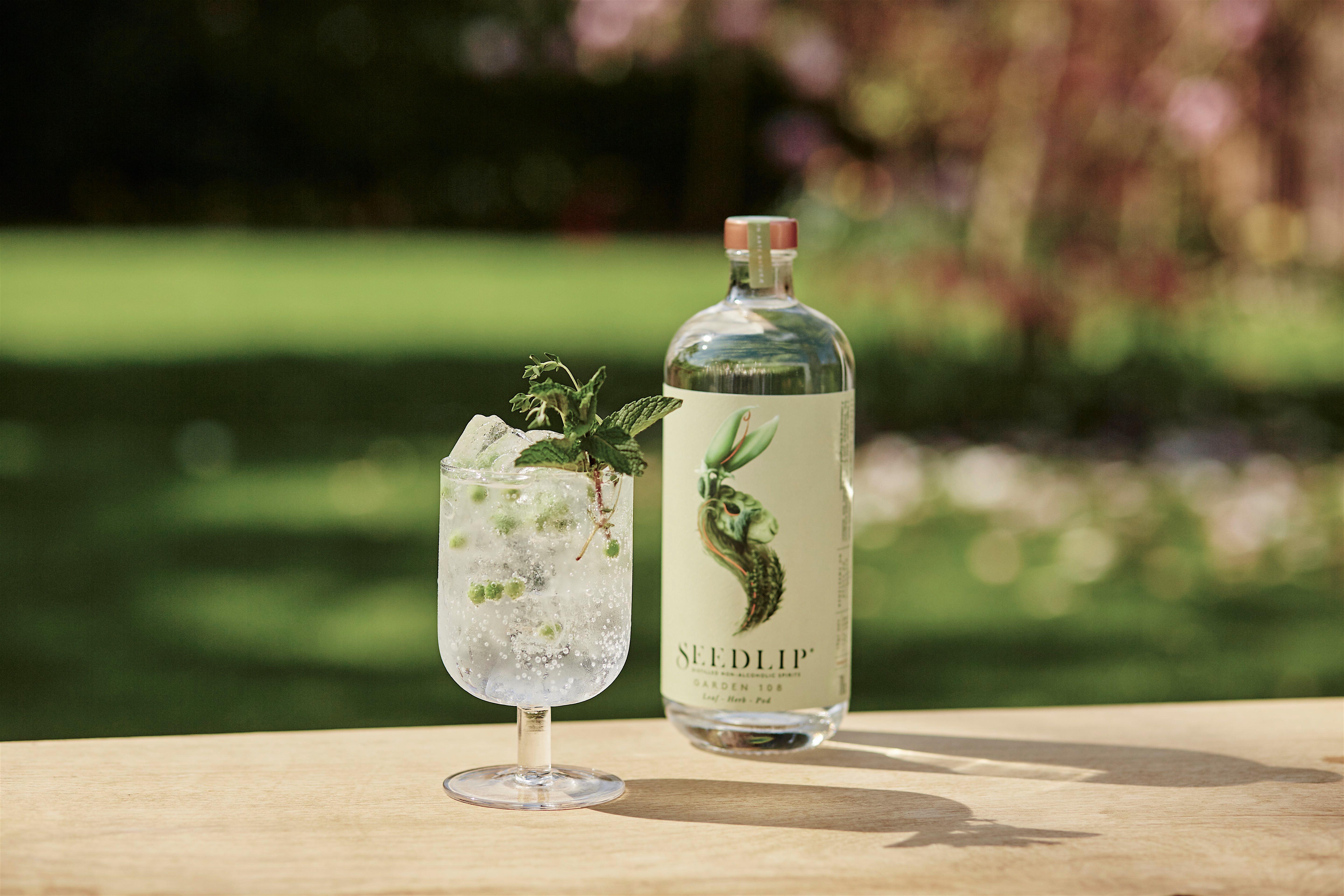 NO. 11 PIMLICO ROAD
No. 11 Pimlico Road, SW1W 8NA
A great place to escape the hustle and bustle of the Kings Road during the week of RHS Chelsea Flower Show, No. 11 Pimlico Road is decked out in contemporary colours to help guests relax. To celebrate the world-famous event, a limited-edition menu of seasonal fare and refreshing cocktails will be served 20th – 25th May. We're hoping to pop in and have the Spring Pea soup to start, whilst sipping on a Garden 108 cocktail, and indulge in a caramelised Elderflower custard to finish.
COLBERT CHELSEA
50-52 Sloane Square, SW1W 8AX
Taking inspiration from the classic Parisian café, Colbert Chelsea has an informal feel and is open all day for breakfast through to dinner. During Chelsea week they're putting on a special cocktail menu centred around Seedlip Garden 108 and creating a floral display inspired by the spirit. If you haven't tried the MartiNO, a non-alcoholic twist on the Martini using Seedlip Garden 108 & Æcorn Dry, head to Colbert where it's listed alongside The Bees Peas, a drink combining Seedlip Garden 108 and Bees Wax cordial.
FIVE FIELDS
The Five Fields, 8-9 Blacklands Terrace, SW3 2SP
Using their own kitchen garden in Sussex, Five Fields offers an intimate, Michelin-style dining experience and a menu of elegant, seasonal dishes made with quality ingredients. Over Chelsea week they will be serving Garden, a cocktail made with Seedlip Garden 108, Æcorn Dry and a dash of Grapefruit bitters to pair with their beautiful pre-dessert of Cucumber sorbet, Grapefruit and Coconut with a caramel tuille.
RABBIT
172 Kings Road Chelsea, SW3 4UP
Aimed at capturing the "freshness and vibrancy" of the English countryside, Rabbit Restaurant serves up seasonal British produce foraged and grown from the Gladwin Brothers family farm in West Sussex. To tie in to the Under the Sea theme for Chelsea in Bloom, Rabbit will be offering a Chelsea Flower Show inspired set lunch menu and drinks menu using all three alcohol-free Seedlip Spirits. We like the sound of Elderflower Power, a classic non-alcoholic pairing of Seedlip Garden 108 and Elderflower tonic.
WULF & LAMB
243 Pavilion Road, SW1X 0BP
The ethos at Wulf & Lamb is all about sharing great vegan food. The 100% plant-based menu includes a Chilli-non-Carne and a spicy bean burger called the Wulf Burger. During Chelsea week, they're offering guests a seasonal drinks menu using Seedlip Garden 108 mixed with Cucumber & Mint verjus and Soda to make a Garden Cooler, and Seedlip Spice 94 mixed with Pink Grapefruit juice and Strawberry jam to make a Picnic Smash.