For our latest extension of this series, we chatted with Dianne O'Connor, founder of Weston Table, an elevated marketplace for discovering goods for living, giving and entertaining beautifully. Aptly named after the scenic Massachusetts town where you can find its physical location, Weston Table's thoughtful curation makes this a New England destination for any who appreciate the simplicity of connecting around a dinner table, in good company, with a mutual appreciation for culture and nature, both near and far.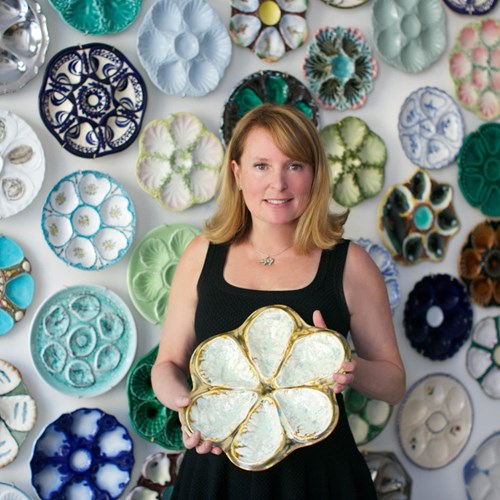 I. What inspired you to start Weston Table and what factors influence your curation process?
By nature, I am a custodian of collections. The stark contrast of landscapes near and far provide a wealth of curating opportunities, and little has captured my imagination more than the mountains and rivers of my youth. While I have grown to love Thoreau's woodlands and the oceanside cityscape I now call home, it is in the memory of a place 'where a river runs through it' that my heart still holds dearest. There is inherent warmth, nostalgia, and romance in the Last Best Place, and it is the inspiration behind Weston Table.
II. Where did you first discover Seedlip and what convinced you to carry it in your shop?
In 2014, I traveled to London on an antiques buying trip. Meeting up with a close friend living there, I was introduced to Seedlip over cocktails. It was love at first taste. I returned from that trip not only with a suitcase full of Seedlip bottles, but also with Kate, who today is Weston Table's Creative Director. I was eager to share this new distilled non-alcoholic idea with my friends and family. It was a huge hit! At the time, it was still unavailable stateside, so when friends would cross the Atlantic, I would bribe them with an invitation to dinner in exchange for bottles of Seedlip.
When Seedlip began U.S. distribution, it was an easy decision to share the brand with our discerning clients. We value provenance, authenticity, and quality, and scrutinize every product we sell through this lens. In addition, as a company, we seek to support craftsman-to-consumer choice in which artisans, family-owned workshops, and manufacturers who like us are committed to products in which beauty, function, and life values align. Seedlip was a homerun on every front. With the added advantage of some of the most beautiful packaging and branding in the world, we found ourselves with an exciting new product to offer our customers that helps us to share our beliefs in conscious consumerism and value-based living and purchasing.
III. What are some must-have tools you think everyone needs for at-home bars?
Three essentials for every home bar include a signature cocktail, a mighty fine personal selection of cocktail glasses, and a cocktail shaker.
Every host should have that killer cocktail that no one else knows how to make, but wants the recipe. Ours is called Bears Love It (a tribute to my Montana roots and my grandparents warning us during huckleberry season to make a lot of noise while picking a bear's favorite post-hibernation snack). It's a Seedlip Grove 42 & huckleberry shrub-based cocktail that is gorgeously purple, stupendously refreshing, drinker's choice served with or sans alcohol, and garnished with whatever is in season, like an edible flower picked from my kitchen garden.
Everything tastes better in a glass that is as beautiful to look at as it feels good in the hand. It is yet another way to express our belief in a 21st-century way of life that integrates the past, present, and future. Style is wordless speech.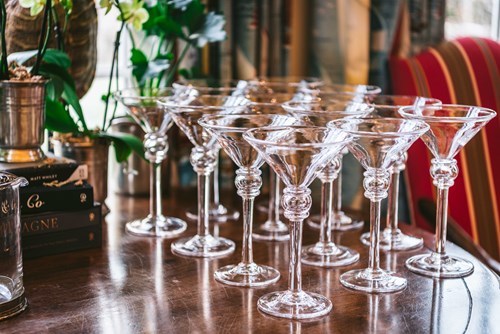 Shaking up cocktails is one of a mixologist's props, and the action itself can be mesmerizing and fun! Every home bartender should have a cocktail shaker that is at-once aesthetically pleasing and functional.
IV. What do you feel are some of the most important aspects of home entertaining?
Consistent with Weston Table values, home entertaining should be approached with intention, meaning, and heart. We encourage our guests to linger, to wander, and to discover. To make this happen organically, we create an atmosphere of surprises. We make it easy for our guests to relax. Regardless of the season, we always set up a mix-your-own-cocktail station. We print recipe cards in huge letters so no one needs to fumble for their reading glasses--there is always a recipe card for a non-alcoholic Seedlip cocktail.
During summer, we set up an oyster-shucking station under a climbing rose-covered pergola and give everyone a go at prying open bivalves (safety glove included).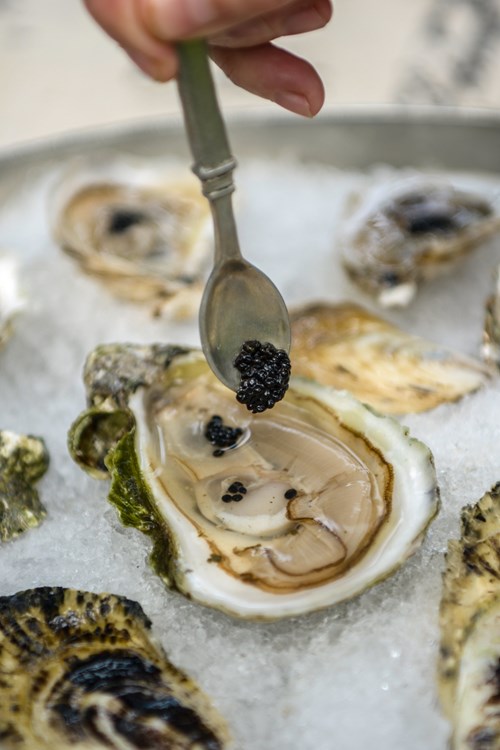 Dinner is an extraordinarily social event in which we invite guests to cook with us around an OFYR--a huge circular wood-fired grill designed in the Netherlands that is primitive by nature and creates a natural, warm invitation to cook and socialize. Imagine the surprise when we hand everyone chopsticks and invite them to grill their own sushi cut salmon and to eat it standing up! Dessert might be served on the picnic table, informally, with multiple sweets choices, glowing oil lamps and garden candles. Staging an uninhibited and relaxed atmosphere leads to some seriously fun story-telling and nights to remember.
V. How do you bring nature into your business, as well as your home?
At home and at Weston Table, everything is chosen from the bottom up with a less-but-better approach that is meant, like the Earth, to be cherished now and passed on later. As John Muir, the early advocate for the preservation of wilderness in America, noted, "Into the forest I go to lose my mind and find my soul." The forest is a metaphor and reminder of nature's impact on health and happiness. For me, my "forest" is my organic garden, 200,000 honeybees, 140 apple espaliers, and a collection of bird feeders that invite the rat-a-tat sounds of woodpeckers and the yoo-who call of the chickadee. We eat seasonally and are inspired by what we can pickle, ferment, jam, and otherwise preserve for the long, cold New England winters or early summer cocktails. We let nature inform our choices.
Weston Table is also committed to sustainability and we support like-minded eco-friendly artisans, craftsmen, and manufacturers that support the communities in which they live. From artisans forging the world's most beautiful garden tools, to Seedlip's careful distillation of botanical ingredients, to our own desire to deliver goods that are free from harmful chemicals and produced with environmentally sound practices, Weston Table shares its values to protect and preserve Earth.
VI. You're hosting a dinner party. You have six guests to invite. They can be dead, alive, fictional. Who would you invite?
My dream come true, if they accept my invitation! My guests would include Winston Churchill, Tom Brady, Oprah Winfrey, John Legend, Ruth Bader Ginsberg, and my husband, Tim. Why? Who wouldn't like to have Churchill lifting his glass at a party in her honor, seated next to the handsome G.O.A.T on one side and the world's greatest conversationalist on the other, all while listening to one of the nicest musicians croon in the background with someone else presiding over the evening while fighting for the things she cares about with my husband.
Follow Weston Table on Instagram or visit the website here.