During Seedlip's first US General Store in Los Angeles, Seedlip hosted a wide range of programming open to the public. Workshops included floral arrangements, non-alcoholic cocktail making and botanical tie-dying with Liz Spencer, known as 'The Dogwood Dyer.' In this Six with Seedlip, we talk with Liz about her passion for sustainable fashion and educating others on the process of using natural dyes to make beautiful crafts and clothing.
I. How did you start bringing plant color to the people?
I first started with a garden, actually. I always say that my entrance into natural dyes was backwards in that I didn't have any dying experience when I first started a garden, and growing only plants that have historically been used as natural dyes. While I was studying for my master's degree in sustainable fashion at the London College of Fashion, there was an opportunity to start a garden there. For me, it was a fun project to get me outside and get me involved with the local community, and to get away from my computer when I was researching and writing my dissertation.
Then I returned back to the states and lived in New York City for four years working in the fashion industry and incorporated my natural dye experience as a side project, doing production runs for small fashion labels. After a year or two of being in New York, I went full-time into being a natural dye artisan and teacher.
II. What plants and herbs do you extract color from? Which ones release the most vibrant colors?
So much has been done and experimented with already by people before us. Indigenous people have their own cultures and different plants they've used for natural dyes, so many of them have already been discovered. The really vibrant ones that I brought to our workshop are madder root which is a red, weld which makes a yellow, and we didn't use indigo in our workshop, but it's something I always use and is a good source of blue.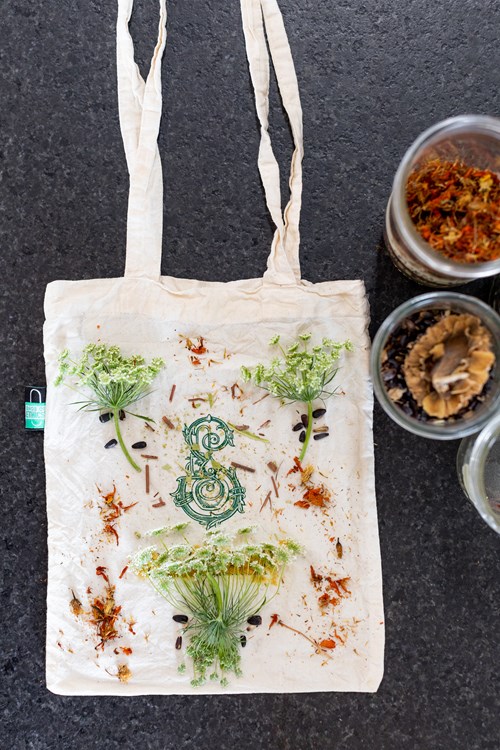 III. What do you hope to bring to the community through your workshops?
I really enjoy seeing people relax and have fun. I am proud to say that I always bring a scientific element and an understanding of what's actually happing on a chemical level. I really love seeing people have fun and relax, and do something intuitive for humans, which is to seek color from the natural world. That's the heart of why I continue doing what I do.
IV. Can you speak to your experience in fiber farming with sheep, alpacas, llamas and goats?
I haven't had the opportunity to do it personally since I moved away from the Pacific Northwest in 2011. It was incredible. I mean, it was another incredible learning experience of having a real appreciation for animal fiber and wool. From getting ethically raised fiber animals, from sheep to alpacas to llamas, and then sheering them, preparing the fiber, washing it, spinning it, in some cases dying it and then knitting it, I definitely have a real dedication for locally sourced fiber and real respect for farmers.
V. If you were a flower, what flower would you be and why?
One flower that I've grown consistently for the last five years or so are called orange cosmos or sometimes they're called sulfur cosmos. Cosmo flowers come in all colors, but the orange has been something I've always grown. They're beautiful. They're actually an edible flower and you can make tea out of them, they're high in vitamin C and they're being researched right now for their cancer-fighting possibility. They make beautiful color and they're easy to grow in Southern California because they're drought tolerant.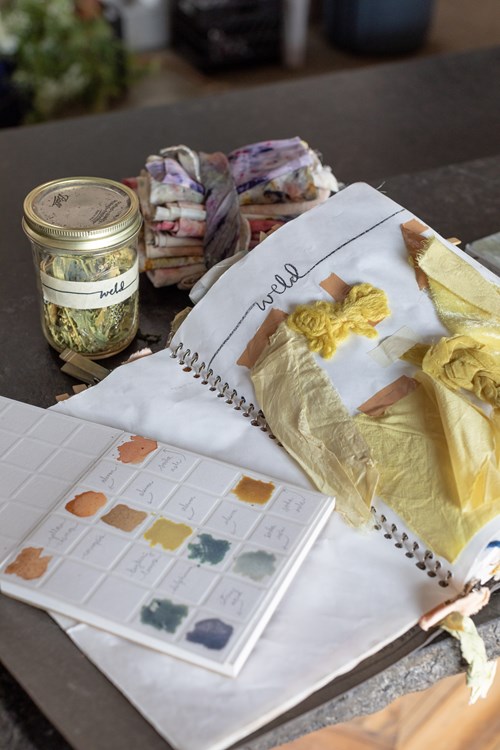 VI. Where do you draw inspiration from?
It really is the plants that I'm working with. I love trying a new plant and different water sources, and changing all the variables that I possibly can in the process to get different colors. So I guess my inspiration is directly from the process. It's not as easy as just dropping a powder into water, like synthetic dyes are. What I continue to draw inspiration from is just that it's endless. That's what keeps me going because I'm constantly learning.
Visit The Dogwood Dyer's Website