I. For context, tell us about the Pin Project–the inception of the idea and how you've made that a reality.
The Pin Project was, and continues to be, a tiny gem of an idea being cared for, utilized and watched over by a really caring and kind group of Bay Area service industry folks. It quite literally was born over years and years of hungover breakfasts.
In terms of the actual design and execution, I was really interested in the concept of non-verbal communication, and how the clothes we wear or the tattoos we get actually demonstrate a lot of unspoken things about us. I had a really eye-opening conversation with my friend Kenny Crocker from Trick Dog about how he uses his clothing as a way to express himself. All of this stuff was kind of swirling around and coagulated into the idea of using a pin–something much less permanent than a tattoo–to express one's intention to drink or not, without needing to say a word.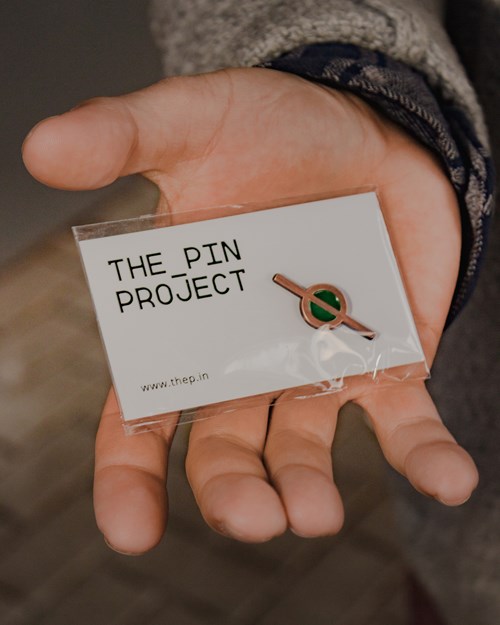 The on-off nature of the pin was instantly aligned with our concept of championing the choice of temporary sobriety–say, during an 8-hour shift surrounded by booze–and, more or less, everything just fell into place. I had lunch with Josh Jancewicz, who had just made a really neat pin for their latest menu at TD, and he helped me source suppliers and get these wisps of an idea into a cohesive project. Another fruitful lunch with Josh, this time Josh Harris, a trailblazer in the N/A bar world, helped further coalesce while also presenting the idea of applying to the brand new grant program at Tales of the Cocktail 2018. I was lucky enough to receive some money to make the first run of pins, and with the pin and website designer, Alyx Ryan's genius, we nailed down the copy and launched the site about a year ago! DiDi Saiki, Nick Melle and myself co-founded the Pin Foundation and have been sending pins across the globe ever since. There are so many people to talk about and thank. It really is just a piece of metal without the community and social construct around its meaning.
II. How does the idea of 'modern hospitality' resonate with you?
Well, that is a great question, since I really believe modern hospitality to be constantly changing and evolving whilst ever-containing some of the hardest jobs around. Modern hospitality is a multi-layered industry, full of both the most satisfying and soul-rewarding moments back-to-back with some of the most frustrating interactions with the less enjoyable sides of humanity. I think what's great service to the folk at the bar might actually be completely inappropriate to the next guest. Whenever I have had the very graciously given opportunity to help someone get their legs behind the bar, I really try to make sure they understand how much variance there can be in what it means to be successfully hospitable. Hit them with a little 'service echo-location', and let them show you what they need. Be as inclusive as you can with your offerings, and be ready to listen and react! Be flexible! Modern Hospitality is about inclusion, safety, comfort, connection, and the free sharing of ideas and techniques to better each others' lives.
III. What are your thoughts, advice, suggestions for anyone new to the non-alcoholic space?
Nick introduced us to the concept of the Third Space a while ago, and I think if you take a step back and think of society in that context, you can see how gosh darn ubiquitous alcohol is in social events. Museums, arcades, symphonies, movie theaters... there are very few activities that do not include the option to purchase booze. Now this is a wonderful thing, and I am all for autonomy, but it just makes it all that much more important to ensure you include non-alcoholic options beyond canned sodas and unbalanced lemonades.
Today, as I write this, is actually my two year anniversary of not drinking, and I would just like to say that it is very possible to work around booze and not imbibe. It is hard as hell and took me a long time with a lot of failures to find what works, but I am very lucky to have such an encouraging group of people to be around. Don't make anyone feel inferior for not drinking. It can be a really hard decision that is potentially barely standing on a foundation of unsure, embarrassed eggshells. Your words and reactions can matter! So be positive, don't treat your NA menu like a kid's menu, and have an open heart. All of the things aforementioned about modern hospitality are just as applicable to a dry bar as a college town bar that specializes in shotskis.
IV. What is your favorite ingredient to work with when making cocktails?
Oh man, that is a great question. Can I say sugar? No? Okay... acidity? No? That's not even an ingredient? Okay. Well, I'm personally into acidic or basic drinks. I am really lucky to be good pals with such world class bartenders. Lately, I've been really into shrubs, thanks mostly in part to being around Kat Bushnell and Candice Jae of No+Lo, and Nic Torres of True Laurel. I'll be honest when I first stopped drinking, I kind of lost my way a bit, but those three really inspired me to get back at it and find my, albeit momentarily, repressed love.
V. In our altered universe, what are your future plans for the Pin Project and supporting the bartender community at large?
Wow. So many future plans that just do not make a lot of sense in the current climate. But by a broad stroke, I really want to leave behind a large pot of money raised by the project to fund therapy, training sessions, and to host and throw events promoting all of the ideals of the Pin. I actually feel really guilty I haven't been able to do more during this time, but I look forward to getting our community back together and continuing the discussion when possible. There have been so many folks doing this before we came around, and I hope they know we are here to promote and carry on, not distract or get in the way.
This is a really important time to make sure we all come together and demonstrate how we are there for each other. We gave away a nice chunk of change at the start of the pandemic to places that had hosted or supported us, but I know I can speak for all of us when I say we would really love to have a tangible system for mental health services.
VI. If you could enjoy a Seedlip non-alcoholic cocktail wherever, with whomever, what would you choose?
My mom, my dad, and my two brothers back on the east coast. I love you all and miss you very much! But, that is not a very fun answer. How about a tie between Herman Hesse on Lake Lugano, or Sun Ra on whatever planet he wants.
For more information, follow The Pin Project on Instagram or visit The Pin Project website here.