For our latest Six wth Seedlip, we spoke to self-proclaimed Apartment Farmer, Plant Coach and 'Plantrepreneur', Nick Cutsumpas. He shares basic tips for creating optimal conditions for plants to thrive in indoor environments, as well as dishes on his favorite 'functional houseplants'–like easy-to-grow herbs–that can be used for cooking or cocktail making. You're sure to be inspired to embrace and succeed in Plant Parenthood.
I. Where did your love of plants stem from [no pun intended]?
I was ten years old when my mom introduced me to gardening. We had a small plot of tomatoes in a raised bed, and it was my responsibility to keep them alive.
I didn't rediscover plants until I graduated from college and my mom urged me to start the garden again, and what started as a simple summertime hobby soon became an obsession. Each year the garden grew more robust; sugar snap peas, sunflowers, sweet potatoes, and heirloom tomatoes burst forth from the earth like a jungle, and I took fierce pride in the life I was cultivating and sharing with others.
It was only a matter of time before Christmas clothes were replaced by experimental seed packets. Old sports memories were retired in lieu of epic war stories about the chipmunks who laid siege to my produce. And lazy Sundays became adventurous trips to the plant shop to see what plants would end up in my apartment room jungle.
70+ plants later there is still so much to learn.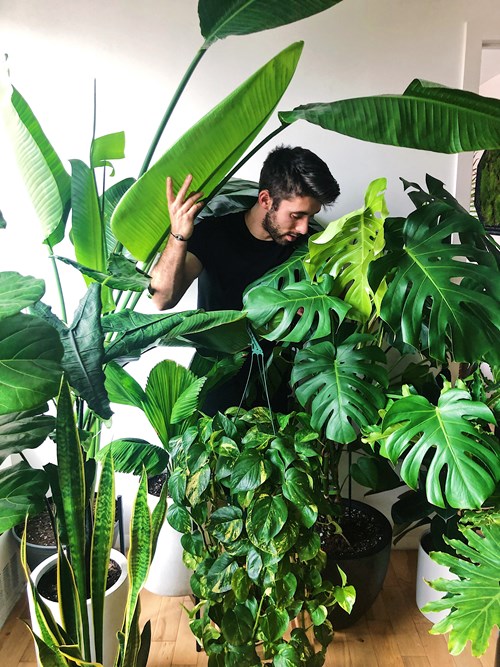 II. How many plants do you currently own & what factors contribute to healthy plant life in an indoor environment?
I currently have close to 77 plants, although that number seems to go up each week…. Most of these plants migrated from my NYC apartment to my parents' home in Westchester during the pandemic and to be honest, it has been a difficult adjustment for many of them.
The reason? They no longer have the OPTIMAL conditions to thrive. This is an important distinction when entering plant parenthood because there is a difference between thriving and surviving. In this new set up, some of my plants are struggling because they don't have the same amount of light and humidity they grew so accustomed to. With limited space and smaller windows in my apartment, I've had to get creative with grow lights and moving the plants around more than usual to find the best locations for each.
However, aside from factors like light, humidity, water quality, amount, and frequency, your own lifestyle and habits play a huge role in your plant's life. Too often we fail to recognize our place in our indoor ecosystem, and the more attuned and attentive we are to our plant's behavior, the easier the care becomes. Wake up, check in with your plants, develop a watering ritual, and you will find your plant rhythm in no time.
III. You call yourself a Plant Coach. Which type of plants do you recommend for easy home-growing & what tips do you have for new 'Apartment Farmers'?
As a plant coach, my mission is to give my clients the knowledge and confidence they need to sustainably create their own green spaces. This involves assessing their space to see what plants will survive and thrive, taking them plant shopping so they can learn how to select healthy plants, and bringing the plants home for repotting and design. There is nothing more rewarding than seeing my clients fall in love with their plants, and I am a firm believer that plant parenthood is a stepping stone to a more sustainable life.
My number one rule when building out your green space indoors is that you must properly assess your space before buying any new plants. People don't kill plants most of the time; the wrong environments do, and it is imperative that you take into account factors like light, humidity, heat sources, aesthetic, and your own lifestyle. Then, and only then, should you venture out to the plant shops.
That being said, here are three resilient options that are great for new plant parents:
Sansevieria - water once a month and put it basically anywhere–it nearly thrives on neglect. Great for corners and hiding unsightly wires.
Pothos - My go-to trailing plant for nearly all conditions. Super easy to propagate too and makes a great gift for friends. I love hanging it on bookshelves to save valuable floor space.
Strelitzia - Lush, tropical and the easiest large plant to handle. Will serve as your centerpiece plant and can handle periods of drought.
No matter how ambitious you might be, start small. Save your money, learn each plant's love language, and don't be afraid to experiment. The more patience you have in the beginning, the more fulfilling your plant journey will be. Plus, it is just another excuse to hit up your favorite plant shops over and over again.
IV. Which herbs do you recommend for growing in apartments that serve as 'functional houseplants', meaning they provide the benefits of indoor plants and can be used for cooking or cocktail garnishes? And how do you grow or propagate these herbs?
I am biased towards vegetable gardening because a) that's where my plant journey began and b) it is way more functional and sustainable. Growing houseplants is great, but their utility is somewhat limited since most are toxic to humans. Additionally, many of these plants are grown in more tropical climates and some houseplant enthusiasts will order plants that are shipped across the world. It's a lot of effort, money and carbon emissions for a plant that is only meant to be looked at.
Vegetable and herb gardening is a less expensive and more natural way of growing in your local climate. Seeds are inexpensive and you can produce a significant amount of food once you get the hang of it, but access to outdoor space can be hard to come by if you are living in a more urban environment. That being said, I still grow herbs in my south facing windowsill and leafy greens indoors under my grow lights.
My top performing herbs that are 'functional' as houseplants include:
Basil - The perfect garnish for anything Italian and it is easy to propagate by placing in water in a warm, sunny window. Pro tip: clip the stem between the leaves to encourage bushy growth.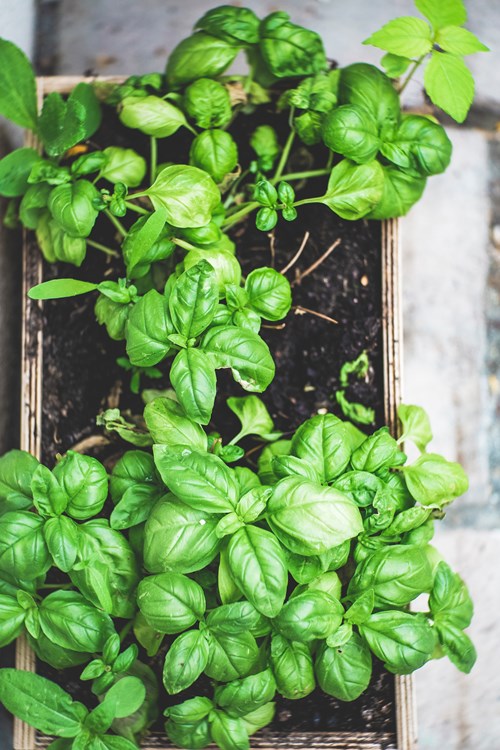 Oxalis - a beautiful purple plant that has a soury, tangy bite to it (similar taste to plum or grape skin). Most houseplant people don't know it is edible, but it provides a perfect punch to any non-alcoholic cocktail or salad.
Mint - these guys grow like weeds and there are so many varieties to choose from. My favorites are lemon balm and chocolate mint. Make sure to put them in their own pot, though.
V. You're studying Sustainable Garden Design at the New York Botanical Garden. Tell us about your experience thus far & how you plan to use this knowledge?
Studying at NYBG was the best decision I ever made. I loved the idea of being a self-taught plant coach, but as my business expanded, I knew I had to fill in the gaps in my knowledge and develop new areas of expertise. NYBG is a world leader in these types of programs and investing in myself and my botanical education has been so incredibly rewarding. I am learning the WHY behind the plant behaviors I see everyday, and the staff is so knowledgeable and kind.
Given that I started with edible plants and houseplants, my goal is to achieve a better understanding of landscaping plants. As my projects grow in size and scope, learning to handle larger backyards, terraces and rooftops is essential, and I am developing new roots in this area of the plant kingdom.
VI. If you could enjoy a Seedlip non-alcoholic cocktail with anyone–with whom, where and why?
David Fairchild. Although deceased, he was the most influential botanist in American history and was responsible for bringing thousands of plant species (edible and ornamental) to the US. He ventured around the world in search of new varieties, and I'd love to sip on a mocktail with him at his botanical garden estate in Florida.
For more information on Farmer Nick, follow him on Instagram or visit his website here.