Seedlip CA Brand Ambassador, Olivia Muniak, paints a poetic picture of her appreciation and approach to dining and entertaining. With an affinity for travel and cross-country roots, her ability to make memorable moments out of the everyday–to savor simplicities in life–is inspirational. Olivia dishes on how to 'create an occasion', which pantry staples to stock, basic principles of pairing, and more in our latest Six with Seedlip story.
I. You're from a restaurant family–tell us more about that, and the origins of your love of food, drink and entertaining.
I believe that eating and drinking well is an art, but it does not need to be fancy or intimidating. When I entertain, I want to create an elegant and relaxed atmosphere–from the table settings, to the actual food and preparation. When I'm designing a menu for a dinner party, most of the food can be cooked in advance and served at room temperature, or only requires a few simple steps. That way, I have quality time with my guests rather than being stuck in the kitchen when entertaining. I think the Italians have mastered this and I draw so much inspiration from their culture.
Growing up we had delicious, seasonal food at home–it was never fussy, but it was always thoughtful. I think my style of entertaining and cooking reflects those childhood experiences. My mother plated food with natural beauty and created stunning table settings, making meals memorable.
Neither of my parents were chefs, but they were brilliant collaborators. My parents opened Mangia in 1982, overnight they became the lunch destination in Midtown Manhattan and the chicest delivery option in the city. Mangia really shaped fast-casual dining in New York. The original idea was to create a casual, yet sophisticated café like you'd find in Italy.
My father immigrated to America from Poland when he was twenty-four and my mother is a native New Yorker of Sicilian descent. She was working at Vogue and got into my dad's taxi…it's a classic New York love story! They fell in love, combined their savings, traveled the world for six months for their honeymoon and opened Mangia about a year after returning.
II. What was the impetus for creating La Cura, your supper club series?
When I moved back to Los Angeles about three years ago, I met a lot of wonderful new people, but connections were fleeting. I was craving environments that could support real conversation, unhurried enjoyment, a place where we could linger. Despite my best efforts I couldn't find those opportunities–so I created them.
The idea came to me one evening when I had six friends around my dinner table. I recognized how special it was to share a homemade meal with a group of people without the interruptions of a typical night out. The conversation and the experience can be so much more meaningful than dinner at a restaurant. There is a particular moment at every supper club that I love. It's that hour after dinner when the conversation is as good as the food, everyone relaxes at the table and enjoys each others' company.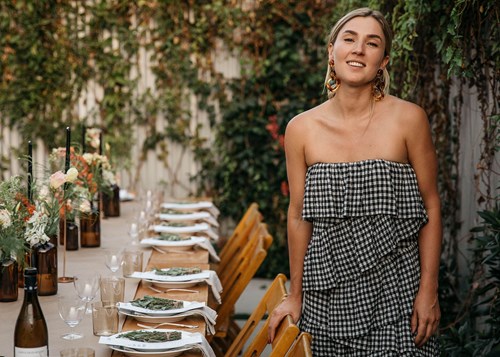 In addition to the supper club, La Cura was designed to be a creative platform where I could share how cooking, beautiful, seasonal food is actually really easy. People are often intimidated about entertaining and I want to show them how to do it with grace and ease. I share recipes and tips for the at-home chef (or aspiring to be) on my website lacuraevents.com and cooking tutorials on Instagram @oliviamuniak. YouTube will be launching this summer!
III. While at home, what tips do you suggest for 'creating an occasion' for the everyday meal?
It's the spirit of dining that makes an ordinary meal into an occasion. Start with an aperitivo (a pre-dinner drink)–this is not about the cocktail, but rather the social aspect; it's a daily ritual in Italy. Aperitivo is just as much about the food because in Italy, drinking and eating go hand-in-hand–serve a bagna cauda with fresh vegetables or a seasonal crostini. After a drink together, you can then step away from your guests to finish any cooking and plating before you all sit down.
There's no time in this life to be precious about your plates, glassware or family heirlooms; mix them in with your everyday pieces, enjoy the things you have, create memories out of it–don't wait for a special occasion.
I set the table for every meal with cloth napkins, a pitcher for water, and plate the food onto serving platters–even if it's take-out. I add other thoughtful touches like a unique salt cellar, a knotted napkin or sprig of greenery at each setting, and some fresh flowers. Side note: When I travel, I always hunt for special ceramics, serving utensils, and textiles. Every time I use a piece back at home, it reminds me of that particular trip.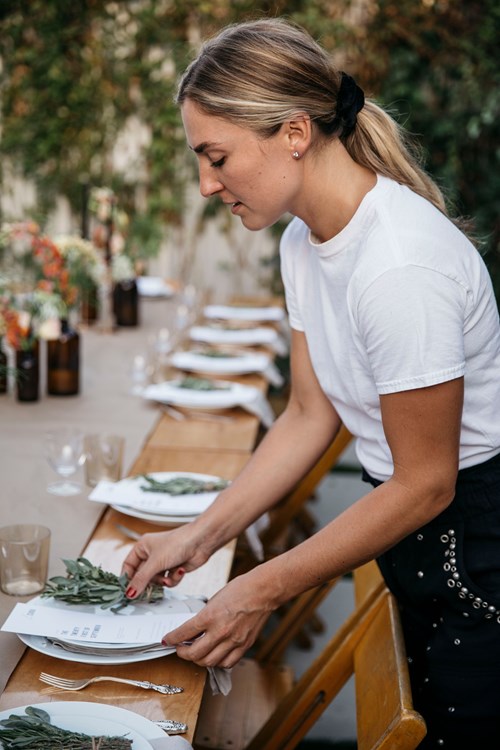 IV. Which kitchen essentials and staples do you always have on-hand–tools, pantry items, etc.?
I am always stocked with citrus: lemons and limes, and fresh herbs like flat-leaf parsley, cilantro, mint and dill, and all sorts of alliums: garlic, shallots, onions. It's also good to keep raw nuts, high-quality Parmigiano or Pecorino and chili peppers in the fridge.
In my pantry I have extra virgin olive oil, a high heat oil like grapeseed or sunflower oil, champagne vinegar, raw honey and anchovies packed in oil. I keep two types of salt on hand, a fine sea salt and Maldon salt to finish every dish. The better the quality of these basic ingredients, the better your food will taste. I can whip up a delicious dinner–a quick dressing for vegetables, add a crunch of toasted nuts, and a flavorful pasta with these ingredients.
My essential tools: Staub or Le Creuset cast-iron cookware, Vitamix or high-powered blender, microplane and a dough scraper for scooping up ingredients. Also, wooden spoons, spatulas and whisks in a variety of sizes.
Storage: I swear by Debbie Meyers green bags for produce storage. Tip: Store your fresh herbs in mason jars in the fridge, cheese in waxed brown paper to keep them fresh!
V. Any principles to live by when it comes to pairing food and drink?
When it comes to entertaining, I always offer two pre-batched cocktails, one Seedlip non-alcoholic option and a second classic cocktail, like a Negroni. And please, I urge you to offer your non-drinking guests something more interesting than sparkling water.
Your palate for pairing develops over time, but the basis is really simple. You want to balance or enhance the main characteristic of your food. Is it fatty, acidic, salty, sweet or spicy? For instance, a buttery Dover Sole can be balanced by a crisp, acidic Sauvignon Blanc or can be served with a full-bodied Chablis to enhance the richness of the dish. If you are pairing spicy food, go for a sweet Reisling, you'll be surprised how much the spice cuts the sweetness of the wine.
VI. What, where and with whom would you choose to share a cocktail with, if anything goes?
Honestly, I would do anything to have my grandparents around my table. I miss and love them. And, it would be pretty cool if Alice Waters, Nancy Silverton, John Lennon, and the Obamas also RSVP'd yes, too.