It goes without saying that we have a deep appreciation for the art of crafting cocktails. So, as we experiment and expand the boundaries of bartending at home, we've created an essential guide to the tools of the trade. Understanding these pieces of barware equipment, expertly maneuvered by mixologists, can help make mixing drinks at-home that much easier.
The complexity of any cocktail, non-alcoholic or not, can range–from one that's as simple as a Seedlip & Ginger, or layered with ingredients like shrubs, teas, syrups, and more. Regardless of the recipe, our list below is aimed to be simple and offer enough information to give you a little flair and confidence to shake, stir and sip your favourite cocktails at home in no time.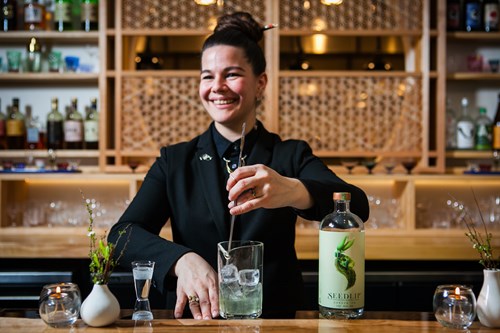 Julia Momose at Bar Kumiko in Chicago, IL
Bar spoon
A long-handled spoon used to stir and 'lift' cocktails. The length allows for the spoon to reach the bottom of cocktail shakers or tall jugs to mix the liquid fully. The handle is often twisted to allow the bartender to grip and rotate the spoon when stirring. The spoon itself holds about the same amount of liquid as a teaspoon.
Cocktail shaker
This is an essential, and perhaps the most iconic, piece of cocktail kit and its purpose is four-fold:
Mixing Ingredients
Cooling and chilling - a two to three second shake will do.
Aeration - this is useful when you want to add a foamy top on a cocktail, like the Espresso MartiNO
Dilution - This is less important when making non-alcoholic cocktails, as you don't have boozy ingredients that require a reduction of alcohol's burn.
Some shakers have built-in strainers and a lid, which is perfect for beginners. Or there's a Boston shaker, which is made up of two parts that slot into one another. If you're not ready to invest in a shaker just yet, a thermos or mason jar with a tight-sealing lid can stand in.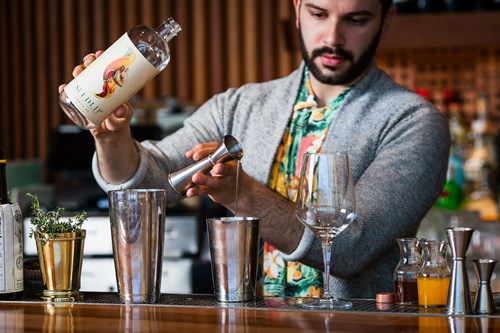 Cindy's Rooftop, Chicago, IL
Jigger
Used by bartenders to ensure accurate measure of liquids, a jigger is used for practically every pour. You'll find they're typically double sided, with different measures on each end, ½ ounce on one side and 2 ounces on the other.
Muddler
Similar to a pestle, a muddler is used to crush ingredients and, in turn, release their flavors. It's also handy for maceration–mashing fruits and vegetables with sugar–when making shrubs, for example. It's thicker, stubbier and heavier in the hand than a bar spoon.
Strainer
Strainers prevent ice cubes or chunky raw ingredients from being poured into a glass. They come in all shapes and sizes, but the most common is the Hawthorn strainer, recognizable by the coil that runs along the outside of its head. If you're going to have just one strainer on your home bar, this is it.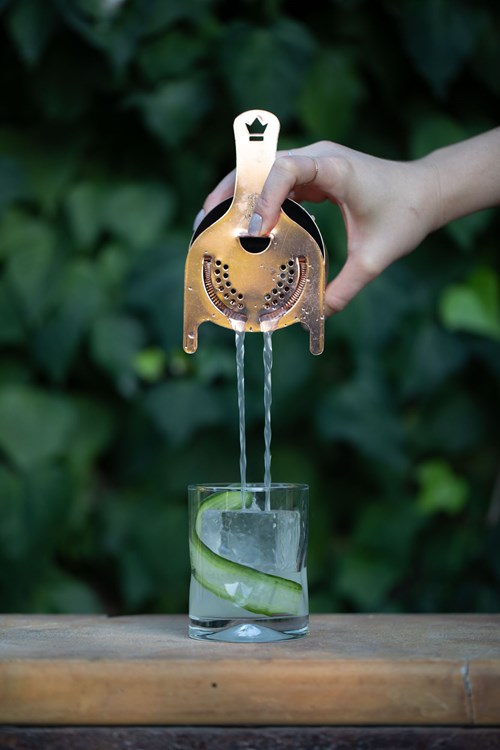 Peeler
An underestimated, essential tool that easily makes elegant cocktail garnishes. We feel it's worth splurging on a nicer one, that can glide through any rind or peel with ease.
Bottle opener
As we tend to top and serve many cocktails with a splash of Ginger Ale or Tonic water, our preference being Fever Tree brand, a bottle opener is necessary. It's likely something you have on hand already, and can do double-duty in the kitchen and bar.
Honorary mentions–other useful tools:
Mixing glass Ice bucket Range of glassware Ice tray Citrus juicer Paring knife