As cocktail recipes go, making a NOgroni is simple. It's a contemporary take on a classic Negroni cocktail, invented in 1919 by Count Camillo Negroni, made with non-alcoholic spirit Seedlip Spice 94, and non-alcoholic aperitifs Æcorn Aromatic & Æcorn Bitter. These three delicious ingredients are stirred over ice to create a bitter and citrusy blend that is traditionally enjoyed as an aperitif cocktail before dinner.
If you're ever stuck wondering what non-alcoholic cocktail to order at the bar, the NOgroni is a great choice. We've pulled together a list of some our favourite bars in London where you can buy a NOgroni and find out what our twist on a classic Negroni tastes like.
Here's a round-up of where to buy a NOgroni in London.
Hoxton, Holborn
199-206 High Holborn, London WC1V 7BD
Close to London's West End, The Hoxton is a hotel that serves coffee and cocktails all day long. Surrounded by green spaces to explore, this is a great pit-stop for when you're out and about. Pop-in for a NOgroni before (or after) a stroll in the park.
Farzi Café
8 Haymarket, London SW1Y 4BP
Bold, vibrant and full of flavour, the food at Farzi pairs perfectly with our NOgroni. Inspiration for the menu here comes from some of the most awarded restaurant concepts in India. If you're looking for somewhere sophisticated and fun to eat and drink in London, this is it.
Savage Garden
Floor 12, 7 Pepys St, London EC3N 4AF
The Savage Garden is all about the unexpected: injectable donught? Tick. Brutal, yet opulent décor? Tick. A non-alcoholic Negroni? Tick. It's a theatrical bar for all occasions, whether you're drinking or not. Located at the top of the DoubleTree by Hilton, this roof-top bar also gives you sky high views of London.
Kym's
19 Bloomberg Arcade, London EC4N 8AR
The dining room at Kym's is a beautiful space. Warm and atmospheric, it's an ideal place in which to hide from wet Autumn weather. The menu is made up of innovative Chinese dishes, and well-known favourites from all regions of China's culinary landscape.
Harry's Bar
30-34 James Street, Marylebone, London W1U 1ER
The menu changes according to the seasons in this Italian-inspired bar. As well as larger meals they serve light bites, so walk-ins can indulge in the much-loved aperitivo hour. The NOgroni, with its Italian roots is a natural fit.
Harry's Dolce Vita
27-31 Basil Street, Knightsbridge, London SW3 1BB
The sister restaurant to Harry's bar serving Italian dishes for breakfast, lunch and dinner.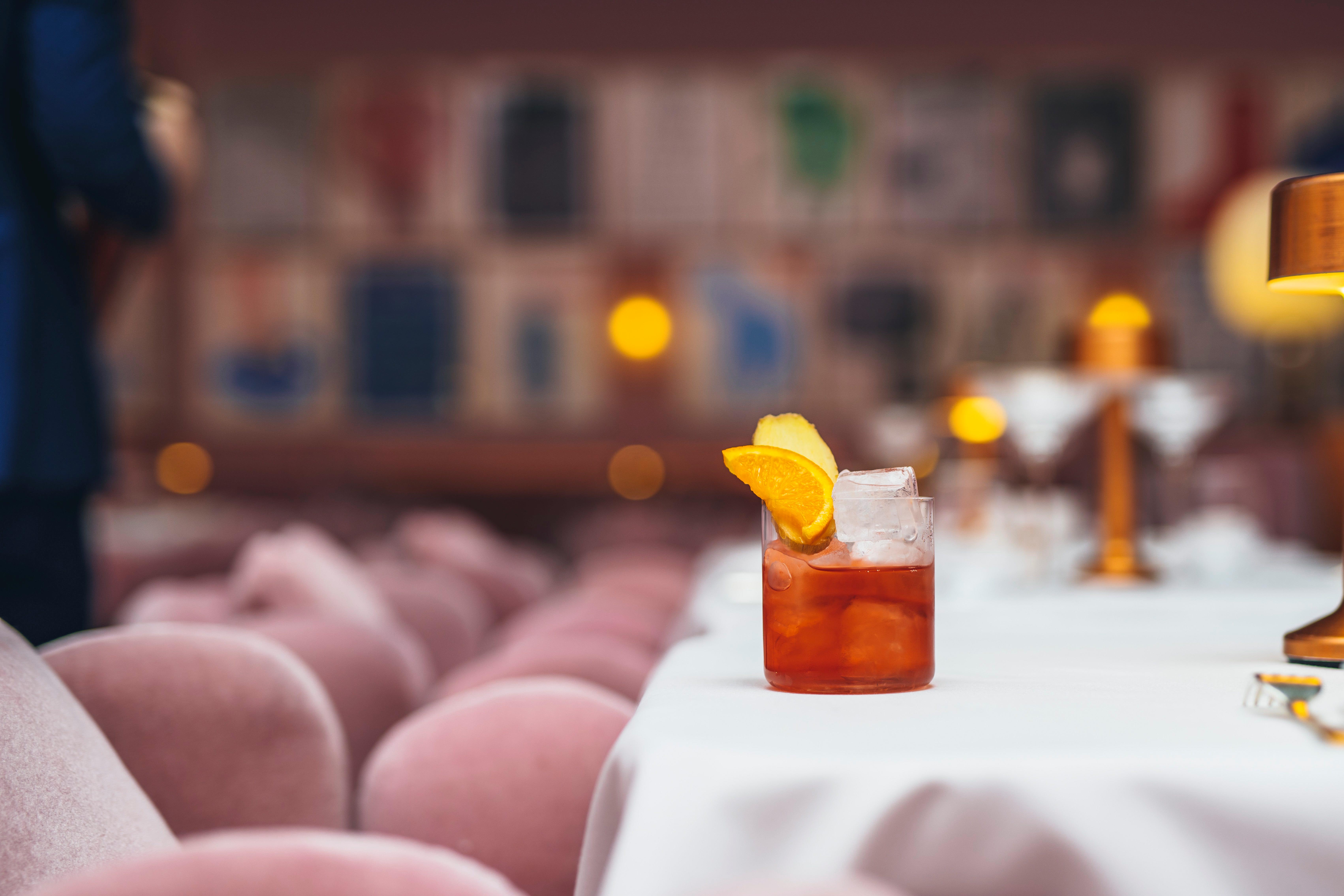 B&H Buildings
Bourne & Hollingsworth Buildings, 42 Northampton Road, Clerkenwell, EC1R 0HU
From light airy dining spaces to a small and sultry basement club, this Clerkenwell townhouse has it all. There are seven spaces in all including a cocktail bar with views out to the leafy park beyond.
Granger & Co
Chelsea, Clerkenwell, King's Cross, Notting Hill
With four locations across London, it should be easy to find a Granger & Co. The group is influenced by the sunny, easy-going Australian spirit and its breakfasts are legendary.
Soho House & Co
This is a global private members club, originally set up to serve people in creative industries. Restaurants, spas, workspaces, bedrooms and cinemas are some of the services offered in Soho's clubs. If you're lucky enough to have a membership, make sure to try out our NOgroni next time you stop by. It's on the menu.
Darwin & Wallace
"Neighborhood bars. More home than highstreet" is the way Darwin & Wallace like to describe their collection of accounts. They have eight bars in total: No 197 Chiswick Fire House, No. 1 Duke Street and No.11 Pimlico Road to name a few. To find your nearest hang-out, check out their website. Link below.
D&D
A collection of 42 restaurants and bars in London, Leeds, Manchester, Paris and New York, each with their own unique design and feel. The NOgroni is on the menu in every account. Visit their website to find the nearest one to you.