As part of this year's Tales of the Cocktail, we partnered with Focus on Health, a for-profit company that advocates for the health and wellbeing of the food and beverage industry, to help sponsor 11 bartenders from across the country to attend Tales of the Cocktails. 
Meet one of the scholarship recipients, Alice Brandt, a bartender based in Minneapolis, Minnesota who was also working the bar at our Spritz & Splash Pool Party. 
I. How did you feel leading up to working our event?
I was so excited to work my first event that is non-alcoholic! I haven't been drinking for over a year and am grateful for the opportunity to be around so many people doing similar things.  
II. How did you get into the hospitality industry?
Honestly, I answered a newspaper ad to work at a fried smelt shack on the shores of Lake Superior, because I knew it would be a nice bike ride.
III. What's your favorite non alc cocktail? 
Anything bitter, I love a non-alcoholic spritz, but I am also swayed by beverages featuring flowers and mushrooms. 
IV. Why do you think non-alc/zero proof cocktails are trending with millennials and gen z right now? 
I think that millennials and gen-z have had enough time to learn and grow from the generations before them. I, as a millennial, have grown up in a world where for the most part, self-help and therapy are openly talked about and there isn't really the same stigma around not drinking that there used to be. Plus, zero-proof cocktails have developed to a place where they are more fun and interesting to drink.
The movement towards herbally-curated beverages holds a lot of appeal to me as a non-drinking millennial because I totally want the option to drink an NA that might tone down my anxiety at an event, or give me a lil boost to stay up at another.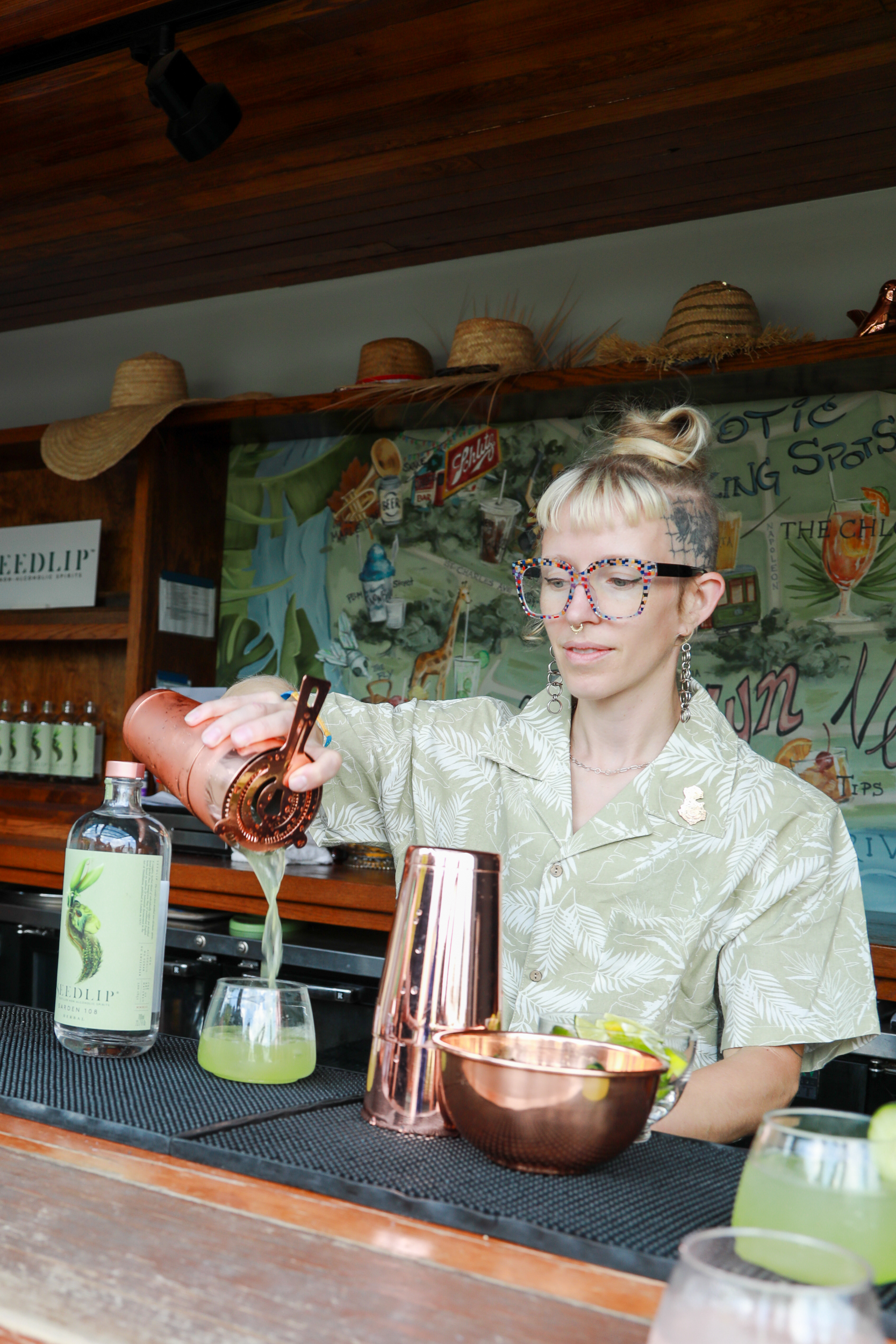 V. if you had a crystal ball, where do you see the category going in the next five years? 
What I see right now in the NA world is a lot of development in great directions to make NA more appealing to broader audiences. The audience has been growing a lot, and with that has come some larger producers. I think in the next five years we will see a larger localization of producers.
As a consumer I love local, it speaks to my values of sustainability and supporting small businesses in my community. I believe this is a shared value and that with the larger market we will see the opportunity for more small producers to make their way into their local beverage scenes. 
VI. What do you enjoy most about being behind the bar and working in hospitality?
I enjoy finding new ways to push myself creatively in this medium, specifically cocktail/mocktail creation. I also enjoy how active the job is, but then there are those moments of job satisfaction that come from listening to a guest and creating the best beverage for them that night, or enhancing their experience through sharing knowledge or connection. 
Follow Alice @hmalicenow