The mission of WeGotNext, Seedlip's 1% for the Planet partner, is brought to life by their incredible ambassadors & their projects. Seedlip connected with WeGotNext & their ambassadors to explore the infinite definitions of what nature is & how it connects us all through sharing these individual experiences- these roots. 

For this installment of this series, we caught up with Scott Briscoe, founder and executive director of WeGotNext.
I. How did you come to create WeGotNext? 

WeGotNext was born from the feeling of not belonging in the spaces I loved. While I've had the opportunity to work, recreate, adventure, and socialize in white dominant spaces, as a Black and Latino I often feel like I don't belong. My experiences and how I relate to nature, decisions surrounding conservation and land equity are different than that of the dominant culture and in time I witness others having similar experiences. We hear it all the time, "everyone has the right to belong in nature", yet the organizations and spaces I occupies weren't really making any real cultural changes to act on those words. WeGotNext was created for underrepresented communities to see that not only do we belong, we are and have been in outdoor spaces all along and we recreate, adventure, conserve, wild and love nature the way we choose.  
II. How do you define "nature" and how do you connect to it consistently?  
In discussing nature, Gary Snyder and Richard Louv consider nature to include the material world and all of its objects and phenomena . . . this is nature for me. Louv says, "On it's face, New York City [aka "urban" or "inner-city"] may not appear natural, but it does contain all manner of hidden, self-organizing wild places, from the organisms secreted within the humus of Central Park to the hawks that circle above the Bronx.  In this sense, a city complies with the broadest laws of nature; it is natural and wild in its parts." As part of the movement to protect the spaces we love, we need to reimagine a more inclusive definition of what nature can be for everyone. In consideration of inclusion and belonging it becomes necessary to reconsider language, perspective and definitions. 
III. What is one action we can each take today that supports the mission of WeGotNext? 
Find an organization that is local to you and is owned by, led by, organized by, directed by underrepresented communities . . . Bodies of culture, LGBTQ+, neuro or physically diverse . . . and ask them what they need. If it's funding use your resources to raise funds, if its skill based, use access to your resources to find people you can donate skills. Elevate organizations that are led by underrepresented community members.  


IV. As a father, what is a favorite lesson your children have taught you? 
To slow down.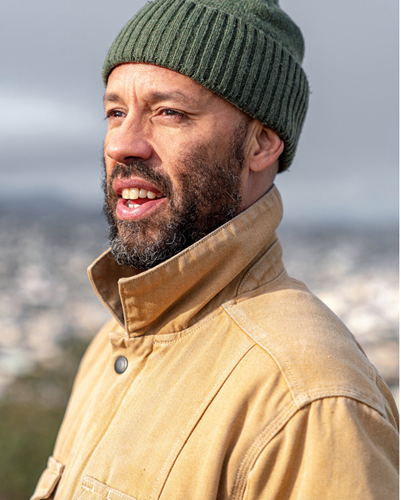 V. What advice do you have to inspire others to connect to their roots?  

My only advice is to trust that your roots are whatever you feel them or remember them to be . . . they can be strong, frayed, deep, shallow. They can be still growing, uncertain, disconnected or connected. They are your roots and in whatever form they take, they are yours and are powerful in being yours. 
VI. If you could invite 6 individuals to a dinner party you're hosting, who would they be and why? What Seedlip cocktail are you serving? 
-a family member who is an ancestor, my father.  
-a visionary, Octavia Butler 
-a hero for the natural world, Wangari Maathi.   
-a galvanizer for deep cultural change, Resmaa Menakem 
-a storyteller, James Baldwin 
-a revolutionary, Reinaldo Arenas 
-And, I'd sneak in my littles, Semiya Sage Strongheart Briscoe and her little brother, Luca Menakem Strongheart Briscoe 
Watch Scott's 'My Roots' story below.