Recently, the Seedlip team in Los Angeles had the pleasure of meeting the incredible people behind Alma Backyard Farms. Cofounders, Erika and Richard started ALMA to reclaim lives of formerly incarcerated people, repurpose land into productive, urban farms, and reimagine disenfranchised communities in the wider Los Angeles metro area. In their own words, 'The farm is a space that facilitates the sacred interaction between people and plants.'
Read more about their transformative work in our latest Six with Seedlip interview.
I. TELL US ABOUT ALMA. WHAT WAS THE MOTIVATION BEHIND IT?
A simple explanation of the name Alma Backyard Farms reveals our motivation to grow food and grow community. Alma in Spanish means soul. Through our approach to urban agriculture, we grow food to satisfy a deeper desire of the soul, a longing to belong to community. Alma also refers to Alma Avenue in East Los Angeles, where we started our first backyard farm. We farm with people impacted by the criminal justice system and for people facing the challenge of food insecurity.  
While Los Angeles may be known as a world class city, there remains real challenges for people reentering society after prison and for families and children in lower-income neighborhoods to have access to healthy and nutritious food. For all of LA's glitz and glamour, the injustices stemming from a broken criminal justice system and food insecurity are challenges in everyone's backyard.  Hence the word Backyard in our name.
We grow food in a combined 1.5 acres between East Los Angeles, Compton and San Pedro and plant intensively to produce over 20,000 pounds of organic produce each year.  The last word in our name Farms describes our effort to grow a volume of produce, enough food to offer people at our farm stands, to distribute to local restaurants, and to give away to people in need.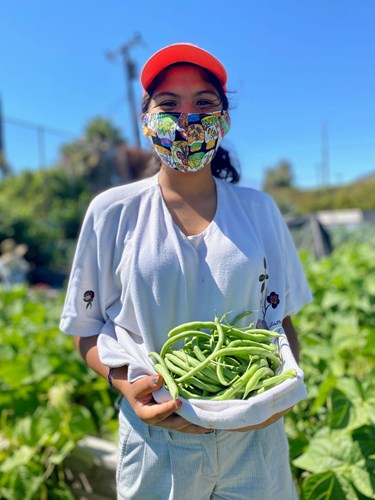 II. WHO BENEFITS FROM ALMA'S WORK – BOTH DIRECTLY AND INDIRECTLY?
ALMA's work upholds the principle of kinship, where we all belong to each other – plants and people.  ALMA's work impacts peoples' lives and urban landscapes. Our work reclaims lives of previously incarcerated persons by offering training in job- and life- skills. Our work repurposes underutilized spaces into productive urban farms. Our work re-imagines historically underserved communities as spaces for empowerment. The farm is a space that facilitates the sacred interaction between people and plants. 
III. WHAT HAVE YOU LEARNED ABOUT GARDENING THROUGH THIS VENTURE THAT YOU DIDN'T ALREADY KNOW? 
The plants are our teachers.  While we may feel that there's a considerable amount of physical output to perform farm duties, there's a reciprocity between the farm and us.  The farm works on us, providing a sacred space for each person to learn more about themselves and their purpose in the world.
IV. WHAT RECOMMENDATIONS DO YOU HAVE FOR PEOPLE IN URBAN AREAS WITHOUT CLOSE PROXIMITY TO GARDENING SPACE?
Gardening can happen anywhere. Start with a small container and make it a point to pay attention to it.
V. WHAT DOES NATURE AND SUSTAINABILITY MEAN TO YOU?
For us at ALMA, nature refers to the living and breathing world that sustains us. Sustainability, we believe, means reciprocating this nourishment from the living and breathing world by doing all we can to build it up. Building up this world can be as simple as composting to transform food waste into valuable nutrient dense material that we can layer back onto the earth.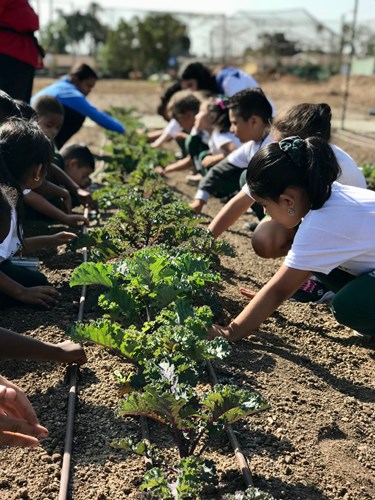 VI. DO YOU HAVE EXPANSION PLANS FOR THE PROJECT IN ANY FORM?
In late Summer 2021, ALMA will open its Farm Stands in Compton and San Pedro to offer fresh, local, organic, and affordable produce to those communities. Our Farm Stands will also offer educational workshops in gardening and cooking. And also create additional jobs and training opportunities for people reentering society after incarceration.
VII. IF YOU COULD SHARE A COCKTAIL WITH ANYONE – DEAD OR ALIVE – WHO WOULD IT BE, WHERE, AND WHY?
I would share a cocktail with Jesus in Compton because he was known to turn water into wine. And I'd share the cocktail with him to get his feedback on our carpentry work and ask that he come up with the parable of the urban farm.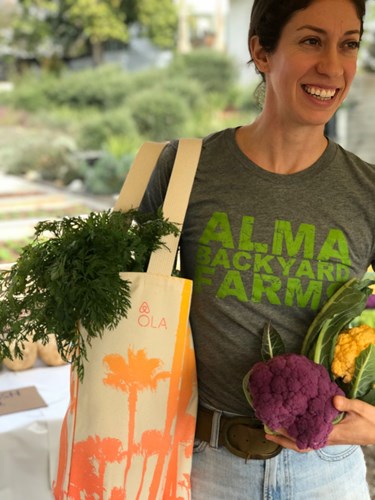 Learn more about ALMA, or get involved.
Follow ALMA on Instagram.