For this month's Six with Seedlip, we interviewed Lauri Kranz, founder of Edible Gardens LA. What started as a volunteer project at her son's school soon grew to a passion that reminded Lauri of her time as a child spent gardening with her father. In addition to helping her clientele create their own beautiful gardens, Lauri Kranz recently published 'A Garden Can be Anywhere: A Guide to Growing Bountiful, Beautiful, Edible Gardens,' is an inspiration for anyone to grow their own food.
I. What inspired you to start Edible Gardens LA?
When my older son started school, I needed to volunteer for something on a long list of committees the school gave to us. I went through that list and saw gardening. I remembered being in the garden with my father when I was growing up. We grew sunflowers that towered over my head, watermelons, corn, tomatoes and more. It was a place of magic and my dad and I would work side by side in the garden talking and laughing and harvesting beautiful food. I wanted to have this same experience with my own son. I signed up for the garden and became completely obsessed. I took books out of the library, began a garden of my own at home and learned everything I could from the farmers at the local farmers market, who became my friends. When my younger son started school, they didn't have a school garden, so I asked if I could start one and they happily agreed. Parents saw that garden and asked me to help them with their gardens at home. Soon, friends of theirs would see the gardens I built for them and then ask me to help them with a home garden as well. From these first gardens, Edible Gardens LA was born.
II. What's your favorite crop to harvest and why?
I love growing and harvesting fava beans. They are beautiful in the landscape, with their tall stocks that burst into magnificent flowers. Out of those flowers come the seed pods where plump and juicy fava beans form. When you open the pods to harvest the fava beans, you discover the fur-like lining inside each seed pod. In the school gardens, the students enjoy running their fingers along the seeds pod's soft interior. Fava beans are also packed with protein and are a delicious and healthy addition to our diets.
III. When you are not gardening, where can we find you?
When I am not in my client's gardens you can find me on the Edible Gardens LA FARM. It's a beautiful piece of land in a canyon in East Los Angeles where we grow organic flowers, vegetables and herbs. When I can, I take hikes with my husband and every night we cook dinner and listen to music in the kitchen. And now and then I force my kids to visit LA's great art museums with me.
IV. As a New Yorker turned Angeleno, East Coast or West Coast & why?
I can't choose. I treasure both for different reasons. East coast: peonies and lilacs, Maine summers, NYC in the fall and spring. West coast: growing food outdoors 365 days a year and no snow days.
V. What are some tips for growing and maintaining a bountiful garden?
Spend time in your garden. Make it part of your weekly routine. Take your morning coffee or tea out to the garden and enjoy it there while you tend the vegetables and flowers or end your day in the garden with a refreshing drink while you tie up the wild tomato branches or pick caterpillars off of the broccoli and kale plantings and gently place them away from the vegetable beds.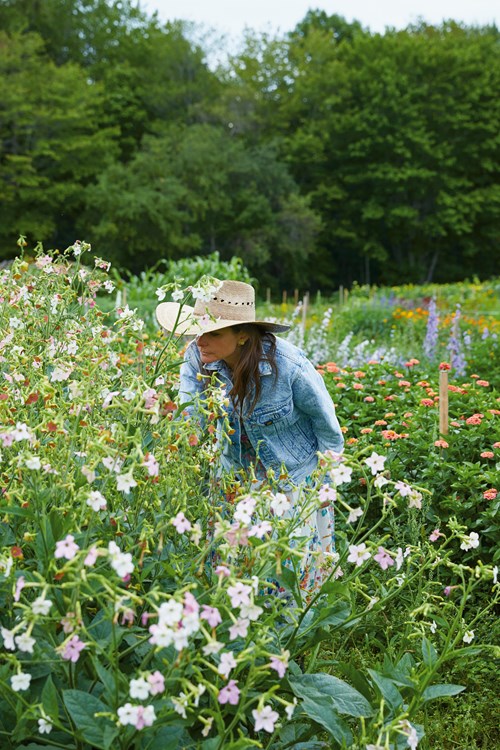 VI. Resolutions for 2020?
In my book, "A Garden Can Be Anywhere," I say you should grow what you love and then one thing you don't. That's a way to approach life. This year I'll try something new, grow something new, go someplace I have never gone before, and laugh often.
Follow Lauri @ediblegardensla
Purchase 'A Garden Can Be Anywhere'